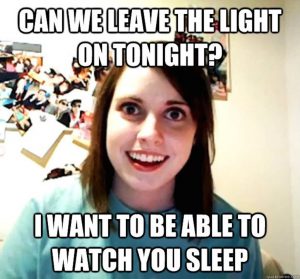 Let's not…
  Uh, oh
       So, you two said forever, but now you feel as though forever     should have ended yesterday. Your significant other is too busy.     Too clingy. Too far. Too close. Just too much! You used to scream the L word without hesitation, but now you're second guessing yourself. You spend time replaying interactions and something just feels…off.
Take a deep breathe. This is normal.
    Seeing how this is NOT an advice column, I will not become the UMass Lowell version of Ask Suzie, and I won't tell you what to do with your relationship. However, I will say that you have to remember what your goals are. Many times, students let relationships divert their paths. It's one thing to alter plans. It's another thing to forget about the future, yourfuture, because you're so caught up in the here and now. If you have a hard time identifying what you like to do without your partner, if you don't mind failing as long as you're pleasing your partner, or if you feel useless or worthless without your partner, it may be time to re-evaluate yourself and your relationship. You two should push each other to be the best versions of yourselves. If this isn't happening, then something has to change.
Domestic Violence Help
  If you or someone you know is in an abusive relationship, call The National Domestic Violence Hotline at 1-800-799-7233. At UMass Lowell there are numerous resources from Resident Advisors to any faculty member you can find. Anonymous resources include: Counseling Services: 978-934-4331 in the Wellness Center, University Crossing, 3rd floor // Campus Ministry: 978-934-2100 in University Crossing, 3rd floor // Student Health Services: 978-934-4991 in the Wellness Center, University Crossing 3rd floor // Victim's Advocate: Jacquie Keeves, 978-934-2127, Assistant Director for Violence Prevention.
It's okay to be selfish, it's your future.
-EAY