Coming to college means you'll be in a whole new setting. It also means that you'll have to find new places to visit and hang out with friends. Here are some places to check out in the Downtown Lowell area for when you're not sure where to go first.
Wings is a chain restaurant with locations throughout Massachusetts where you can get almost any type of wing your heart desires. It's open until 1 AM, so it's the perfect place for a late night snack.
This coffee shop is perfect if you want a cool, hipster vibe. Dogs are also allowed inside, so there's a good chance you get to pet one!
Life Alive is a vegan restaurant with an eccentric atmosphere. You can grab your meal to go or sit and enjoy it with friends.
4. Lowell Memorial Auditorium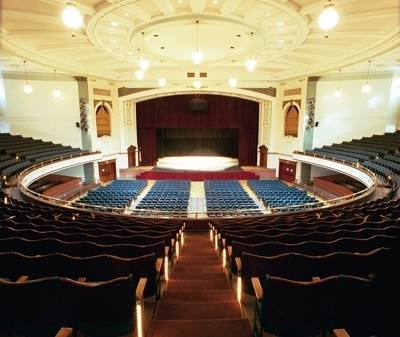 The Lowell Auditorium is a small, beautiful theater that hosts anything from plays to country concerts! It's only a short walk from the ICC, making it easily accessible to students.
Lydia's is a locally owned candy shop that has some of the best homemade candy and treats around! They have a second shop in the Boston Public Market for when Lowell is too far away.
The mill is a hidden gem. Inside, you can find cute shops, yoga studios and even a cafe. The mill also has it's own indie theater.
This is the theater located inside Mill No. 5. They play mostly indie films, but some more popular ones will appear every so often.
This is our city's own urban garden. You can visit anytime and even volunteer here!
The Boott Mills are a great place to hangout and relax. They also have a museum showing what Lowell was like during the days of the Industrial Revolution.
A new addition to downtown, the Ramen Bar is a modern restaurant that serves ramen noodles with a twist! This is a great place to go for dinner on a Friday night.
Beer Works is another local chain restaurant with locations around Massachusetts. It is only a short walk from campus, and serves classic American food.
Fuse is great place for a weekend lunch. With fresh and fun items on the menu, you're sure to find something you like. Make sure you save room for the delicious desserts.

The Club Diner serves delicious breakfast food through the night. They also have a lunch and dessert menu!
The Owl Diner is much like the Club Diner, but is located a little further from campus. My recommendation is a blueberry muffin hot off the griddle.
This is an art supply store with a gallery attached. There is also a dog who frequents the store!
16. American Textile History Museum
This museum is a great place to learn the history of Lowell. See how our city has grown over the years.
This park is a great place to relax and watch the hustle and bustle of Downtown Lowell. It is named after the infamous Jack Kerouac.
Whistler was a nineteenth century painter from Lowell who created abstract art. Come check out his work here!
An art gallery in downtown that doubles as a music venue.
Right by the Athenian Corner, this Gallery has both local artist's works, and a vintage shop in the back