On Wednesday, September 28, 2016, DifferenceMaker held its Season Kickoff event College Competition announcement! Starting at 5:30 in Moloney Hall at University Crossing, students had the opportunity to hear more about the DifferenceMaker program from Professor Steve Tello.

Students also heard from professionals about each of the three college competitions coming up this semester. Chris McKenna introduced the Francis College of Engineering Prototyping Competition, Jim Regan spoke about the DCU/MSB Innovation Contest, and Glenn Morgan discussed the FAHSS Creative Venture Competition. Holly Butler, Director of the DifferenceMaker program, then introduced an ideation activity to engage students in entrepreneurial thinking.
At the end of the ideation session, students had the opportunity to network with members of the professional community like mentors, advisors, faculty, and alumni.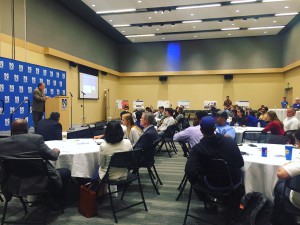 The applications for the 2016 College Competitions close on October 31.