On October 16th, 2019, we held our DifferenceMaker Thank You Celebration at Moloney Hall in University Crossing. This event was to give a huge thank you to everyone that has been helping out and supporting DifferenceMaker!
The night started off with lots of networking. About 105 people were in attendance, consisting of Faculty Fellows, student teams, directors, alumni, and more. Brian Rist, '77, Manning School of Business, and CEO of Storm Smart, along with Chancellor Jacquie Moloney, also stopped by to celebrate.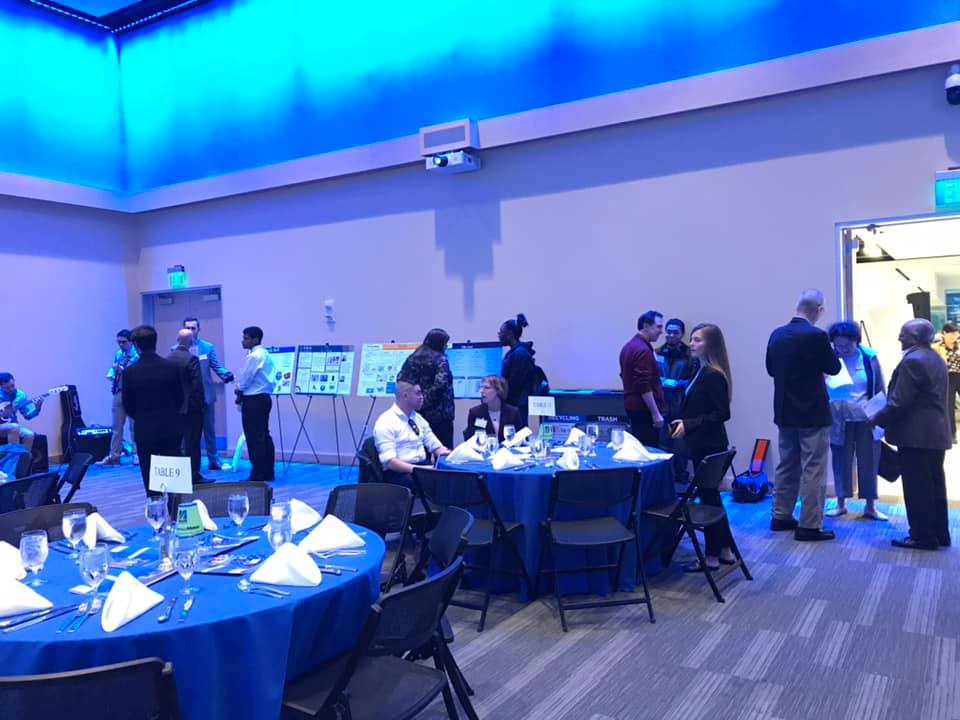 Following the networking, there was a dinner reception. Steak tips, along with seasonal roasted vegetables and potatoes were served. Everyone ate and networked with each other some more.
After the dinner reception, Entrepreneurial Initiatives Project Director, Holly Butler, gave opening remarks and an introduction of the night to the crowd.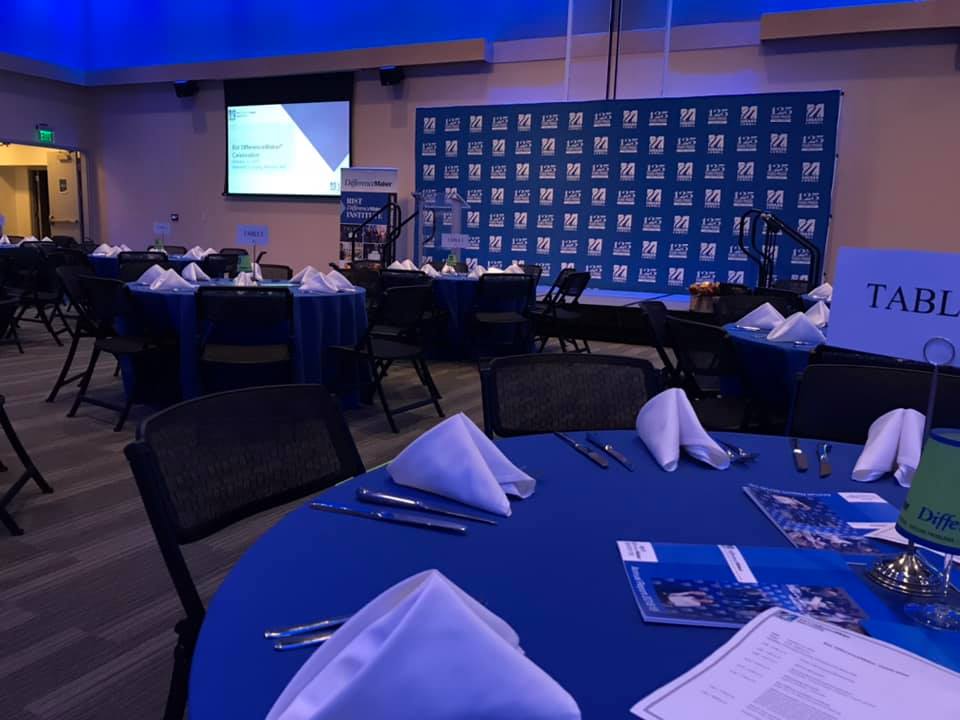 After the introduction, Chancellor Jacquie Moloney followed up afterwards by giving welcoming remarks to everyone. She spoke about how much DifferenceMaker has grown since it first started in 2013 and how it's been successful in getting students involved with learning about startups, being an entrepreneur, and making change in the world.
Brian Rist, followed up the Chancellor's speech by speaking about his recent donation to establish the Rist DifferenceMaker Institute. Without the education he received from UMass Lowell, he would have not been as successful as he is now, being the CEO of his own company, Storm Smart. His donation to establish the Rist DifferenceMaker Institute was a way to give back and to help give students a boost in working to become their own CEOs' as well. Towards the end of his speech, he gave everyone pieces of advice about startups. A quote of advice that was given to him which also inspired the crowd was "Businesses don't fail, people quit."
Following the speeches by Brian Rist and the Chancellor were pitch updates from former and recent student teams. Ha Pho, Entrepreneurial Initiatives Project Manager, introduced each team. The teams (some whom are now companies!) that pitched were Nonspec, Preventions Possible, invisaWear, Operation250, Benji Ball, and CAT Mat.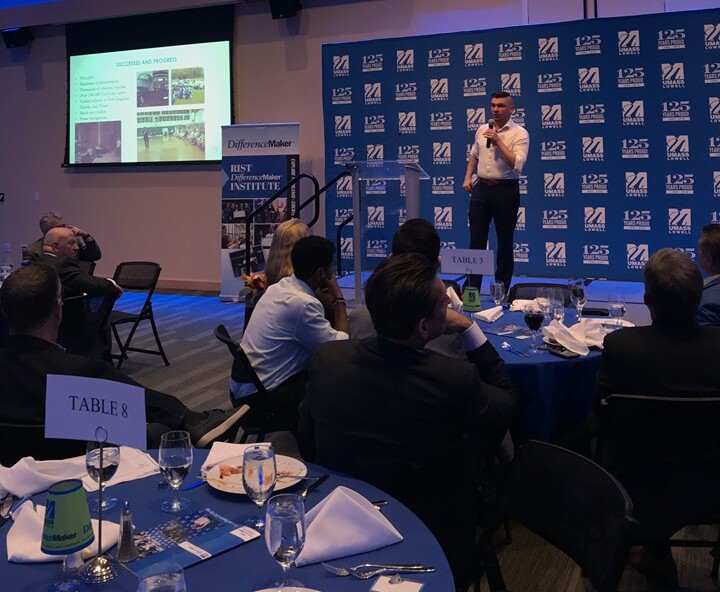 There was a Q&A session after each team's pitch update to engage the crowd. The night ended with closing remarks by Vice Provost Steven Tello, along with dessert and more networking and poster viewing.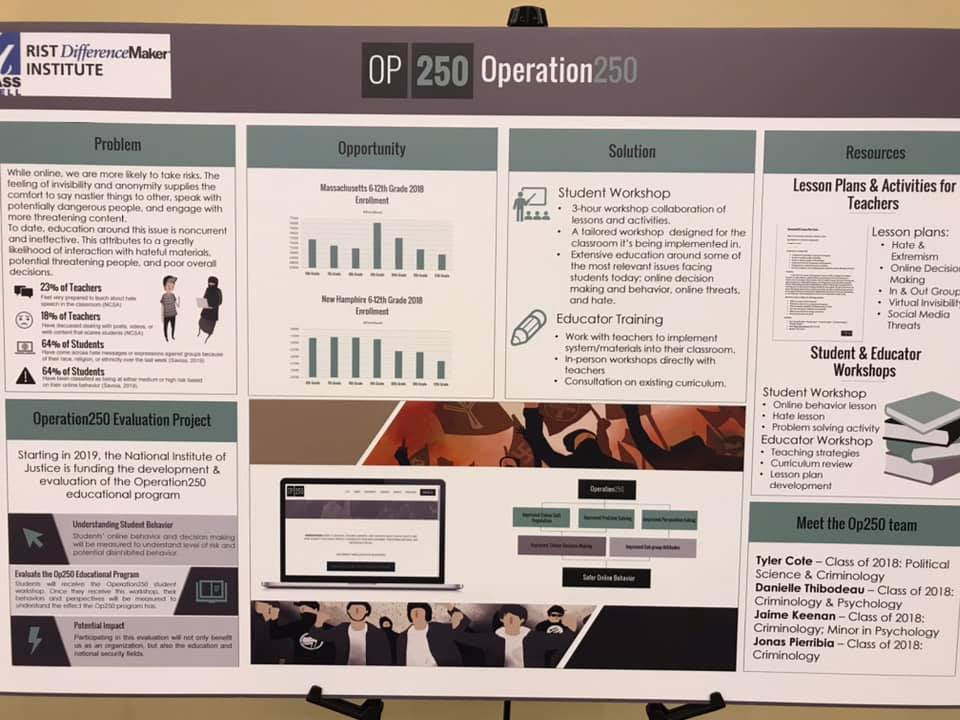 Thank you to everyone that attended this night! DifferenceMaker would not be where it is at right now without you all.
Please save the date for the upcoming College-based competition finals and 2020 Idea Challenge.
Digital Federal Credit Union/Manning School of Business Innovation Contest Finals: December 3, 6-8:30 p.m., in the Saab Center Perry Atrium.
Francis College of Engineering Prototyping Competition: December 4, 3-9 p.m., in the Saab Center Perry Atrium.
2020 $50,000 Idea Challenge: April 15, 2020, 5-8:30 p.m., University Crossing, Moloney Hall.