Summer Boot Camp Session 4 was bittersweet; us at DifferenceMaker are thrilled to see what the teams have to accomplish, but we will miss meeting with the students every Thursday! The session began with a Mad Libs activity. Each team filled in the blanks regarding the problem they're solving, their goal, and product. The results were outstanding, everyone was creative and willing to share. The teams presented hypothesis' that were followed by answers and solutions. The teams received insight from eight different advisors during the Round Robin Advising. Each team introduced their idea to an advisor and received feedback. They moved to a different advisor every seven minutes. Since all the teams were present for all four sessions, they received permission to use $1,000 of the funding they won at the DifferenceMaker Idea Challenge. The students left with homework to work on for Demo Day.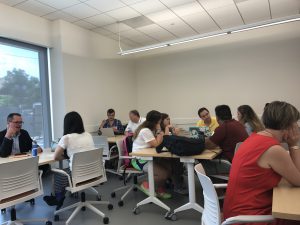 DifferenceMaker would like to thank Michelle Bazin, Jack Wang and Hunter Mack for their undivided support and attention these past four weeks. Their efforts were greatly appreciated!
Michelle Bazin

Professor – College of Fine Arts, Humanities and Social Sciences
Co-Director of Legal Studies and UML, Lawyer, Non-profits
DM Guest Speaker – Entrepreneural Speaker Series

Jack Wang

DifferenceMaker and EforAll Mentor
Business development, finance/accounting, Non-profits

Hunter Mack

Professor – Francis College of Engineering, Mechanical Engineering
DifferenceMaker Faculty Fellow, Francis College of Engineering
Thank you to our Round Robin Advising guests!
Gary Ainsworth

UML New Venture Fellow
Business dev. and strategy, engineering, sciences

Stephen Powell

UML MSB Faculty, Market research and intelligence, product management, strategic pricing

Michael Ciuchta

UML MSB Faculty, finance, strategy

Deb Finch

UML MSB Faculty and DM Fellow, non-profits

Steven Geyster

UML Eng. Alumni, entrepreneur, med-device

Nancy Saucier

UML Staff, New Venture Development

Ira Turner

UML Sciences Alumni, Lawyer, Patent Law

David Vatalaro

UML Eng. Alumni, software engineering