On Monday, September 21, from 5:30 – 7:30 pm, DifferenceMaker held its' Annual Season Kick-Off and College Competition Announcement event! This event was held virtually via Zoom. Over 120 people registered, 88 of which were students interested in solving problems and making a difference in the world.
The event kicked-off with remarks from Holly Butler, Entrepreneurial Initiatives Program Director. Next, Joseph Hartman, Provost and Vice Chancellor for Academic Affairs, welcomed the participants with inspiring words and success stories about previous DifferenceMaker teams. Then, guest speakers Adam Basma and Yeaharne Hout, two DifferenceMaker interns who have been part of the DifferenceMaker team for 3-years, presented an overview of the DifferenceMaker Program and fall events calendar.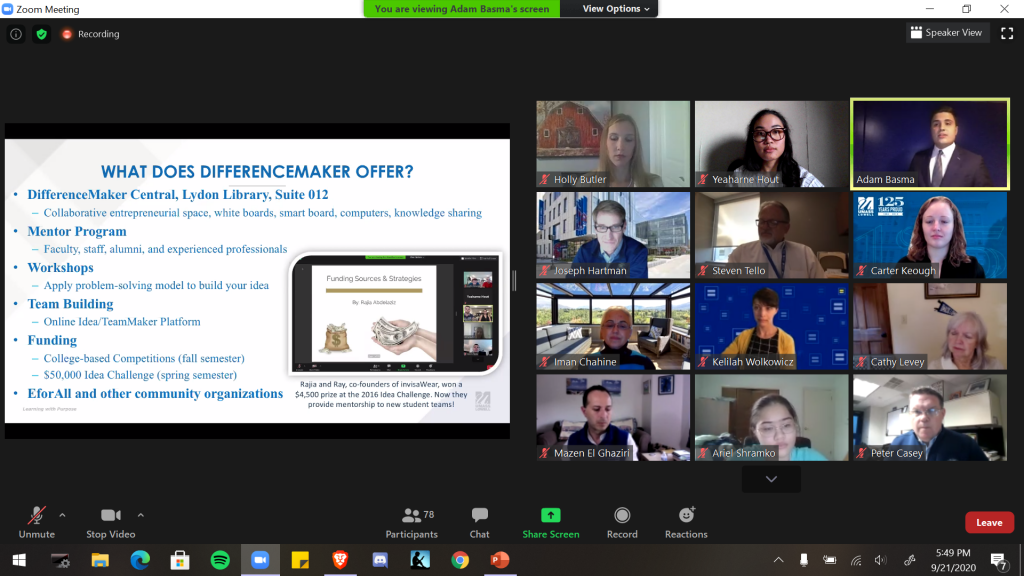 Then, the two College-Based Competitions taking place this semester were announced. Thomaz De Moura, Innovations Director at the Digital Federal Credit Union, announced the DCU/Manning School of Business Innovation Contest. Dr. Hunter Mack, Professor at the Francis College of Engineering and DifferenceMaker Faculty Fellow announced the Francis College of Engineering Competition. Both competitions are now open, and applications close on October 21st at 5 p.m. Apply today!
After the guest speakers, the fun, interactive ideation activity began. Students and faculty were divided into virtual breakout rooms to work together to solve problems.
This activity was composed of two parts – Part 1: identify a problem, research that problem, draw/build a representation of that problem, and present it; Part 2: develop a solution to that problem, research that proposed solution, draw/build a representation of that solution, and present it.
When all participants gathered in the main event session, students presented their problems and solutions to the crowd. The ideas were diverse and creative – ranging from solving the problem of food waste to solving problems around COVID-19, such as creating environmentally friendly, reusable, washable gloves. Some student participants even built prototypes with household goods!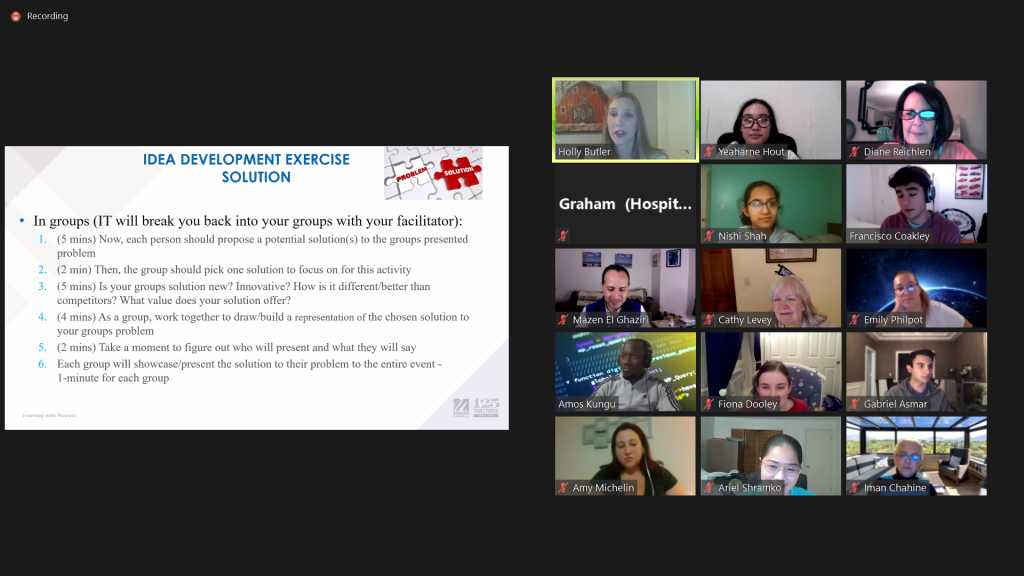 Thank you to everyone that attended this event!
Don't forget to apply for the DCU/Manning School of Business Innovation Contest or the Francis College of Engineering Prototyping Contest! Applications are open from now until October 21st.
Interested in seeing the event? The event video is now live!