On November 12, 2019, the UMass Lowell innovation community partnered with Johnson and Johnson Innovation to host an event at M2D2 located at the Innovation Hub in downtown Lowell. The event was called – The Promise of the Next Generation of Wearables. RE-VIVE, who won Honorable Mention, a $2,000 award at the 2019 Rist DifferenceMaker Idea Challenge, was chosen to pitch at this exciting event!
Innovations such as the Apple Watch and FitBit, also known as wearable devices, have become one of the trendiest accessories to hit the consumer world. The smart wearable device market is projected to double by 2022.
Steven Tello, Vice Provost for Graduate, Professional and Online Studies, gave welcoming remarks. After the remarks, expert thought leaders in this space, such as Cris De Luca, Global Director of Digital Innovation, and Jeff Champagne, Director of Business Development at MPR Associates, Inc. discussed the true value and definition of "wearables devices" and "smart clothing".


There were various three minute pitches, presented by startup teams with products related to wearable technology. Alison Michell and Nicholas Lydon, two UMass Lowell seniors studying chemical engineering, pitched their idea for RE-VIVE. RE-VIVE aims to address the opioid epidemic by preventing fatal overdoses. RE-VIVE consists of a wearable auto-injection system to administer Naloxone to those suffering from a drug overdose. This will help decrease the number of fatal overdoses that tragically occur, and hopefully combat the overall epidemic.
There was an expert feedback panel, featuring Stefanie Dhanda, Ibraheem Badejo, and Cris De Luca. Everyone on the panel were Directors from Johnson and Johnson Innovation. After all of the pitches, they voted for their top favorite teams. RE-VIVE came in 2nd place!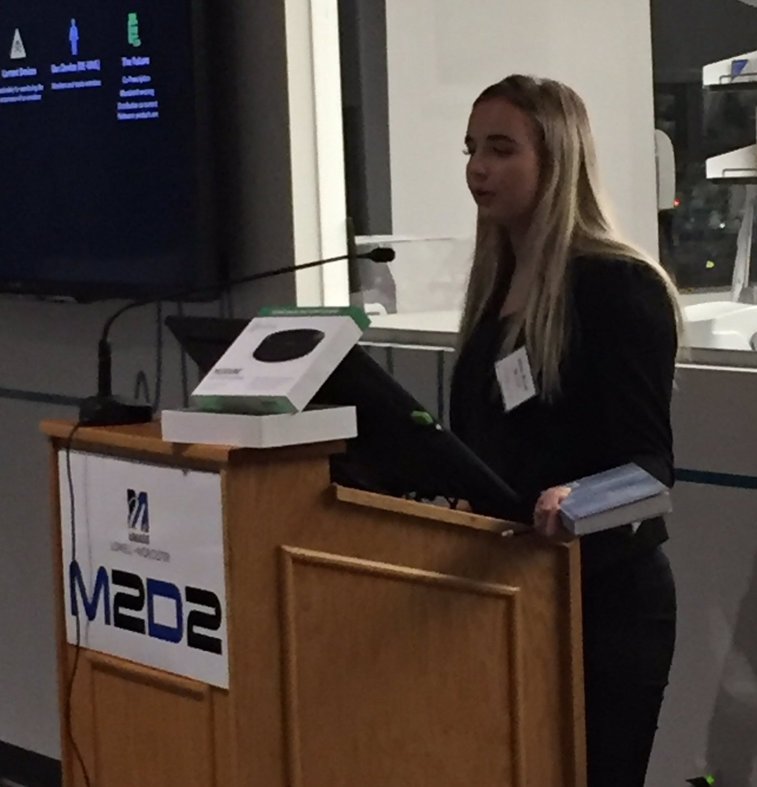 Congratulations to RE-VIVE! We're very proud of their hard work!