On Wednesday, December 4th from 4-9pm, the UMass Lowell DifferenceMaker program co-sponsored two exciting pitch contests back-to-back: The College of Fine Arts, Humanities and Social Sciences Creative Venture Competition and the Digital Federal Credit Union Innovation Contest.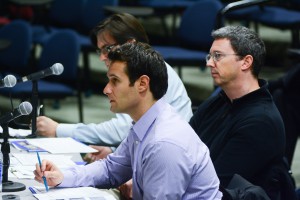 The night started on South Campus at the Creative Venture Competition where FAHSS undergraduate students from four teams pitched their creative ideas for a viable product, service or program capable of delivering a tangible social benefit or launching a new business venture. These teams included @THAT, Band Together, Dream Share and Playright. Each of these finalist teams received $250 for their achievement. In the end, Ethan May, a senior in Graphic Design won first place consisting of a $2500 award for his idea called Dream Share. Dream Share is a social networking website that allows users to share, discuss and explore their dreams in an innovative way.  The judges for this event included UMass Lowell alumni Glenn Morgan, partner, Skyworld Inc., and Nickolas Pappas, manger, Advance Polymer Inc.. along with Skyworld Inc. partner, Michael Ratner.
At 6pm, the DCU Innovation Contest kicked-off at the M2D2 Innovation Hub.  Six student teams pitched cutting-edge banking and financial concepts which could drive future success in the banking industry. These teams included Electronic Register, Auto Credit, For When it Matters, DCU Money Management: Receipt Tracking, Complexity. Simplicity. Convenience., and Financial Analytics Software.  Each team member received $100 for making it into the finals.  In the end, Auto Credit won first place and was awarded $1000. Auto Credit is a banking credit card concept that would link one's personal checking account to a credit limit equal to the account balance. The differentiator for this concept is its emphasis on eliminating overdraft fees and building customer credit history. This team consisted of Alexander Martinez-Forte, a freshman majoring in business, economics, and mathematics, and Greg Bohenko, a senior majoring in business with concentrations in both finance and management.
There was a twist in the DCU event when two second place winners were also chosen. These two teams had similar ideas, so the hope is that they will utilize their $250 award and combine ideas to develop an even better concept and prototype. These teams included Electronic Register (Joshua Carter and Matthew Gleason), and DCU Money Management: Receipt Tracking (Domenic Tutela, Joseph Polcari, and Michael Zangri). The judges for this event included UMass Lowell alumni James Regan, President & CEO, DCU;  Dr.Kathryn Carter, Dean, Manning School of Business; Dr. Steven Tello, Associate Vice Chancellor, and David Araujo, Vice President, Information Systems, DCU.
The winners of each event are automatically qualified for the DifferenceMaker $25K Idea Challenge which will be held on campus in April 2014. For more information regarding the DifferenceMaker program please visit www.uml.edu/differencemaker or email differencemaker@uml.edu .