On Wednesday, August 31, 2016, UMass Lowell welcomed nearly 2,600 new freshmen and transfer students at convocation. That is the largest incoming class to date!
DifferenceMaker welcomed new students with a fun and interactive pitch contest where students themselves were the judges! With simple text-voting, everyone attending convocation was able to vote for the team they thought pitched the best! Three DifferenceMaker teams pitched at this year's convocation.
eNABLE Lowell took 1st place and won $1,500! eNABLE Lowell is a chapter of the larger, national eNABLE organization that helps provide low cost prosthetic hands to children in need.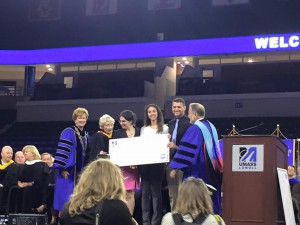 invisaWear won 2nd place and a prize of $1,000! invisaWear is a wearable device that sits discretely within a piece of jewelry that when activated, alerts predetermined contacts, as well as the emergency services that the individual wearing invisaWear has been attacked and is in danger.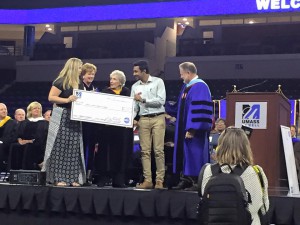 Happy Heart Cart won 3rd place and a prize of $500! Happy Heart Cart is an initiative to help bring fun activities to patients in hospitals. Keeping a mind and heart happy while in the hospital leads to better recovery and shorter stays!
After convocation, DifferenceMaker, along with the three teams that pitched, spoke to students about the program at the tables at Club Fair! Students interested in the DifferenceMaker program were able to ask more questions with our Co-Op students and sign up to hear from our Newsletter! We also had lots of free give-aways and trinkets for students who visited our table!