On July 9, 2020, DifferenceMaker held its first Boot Camp speaker series session! Past DifferenceMaker Idea Challenge winners and guest speakers Katie Muise and Michelle Mallioux shared their experiences with pursuing their business, Ambulatory Innovations.
Ambulatory Innovations won Honorable Mention, a $2,000 award, at the 2019 $50K DifferenceMaker Idea Challenge. Since then, they have grown their business and improved their product, the C.A.T. Mat.
The C.A.T. Mat system is a modular set of one square foot mat pieces that simulate uneven outdoor terrains, therefore helping to improve gait training. Since 2019, Michelle, Katie, and their team have gone on to win other competitions and accolades, such as:
· 2020 MITEF Startup Spotlight Demo Day: 1st Place
· 2020 Venturewell E-Team Program Stage 1: $5,000
· 2020 EforAll Lowell/Lawrence: Finalist
· 2019 UMass Lowell Francis College of Engineering Prototyping Competition: Best Biomedical Device $1,500
· 2019 MIT Beantown Throwdown: 1st Place
· 2019 I-Corps Spark: Participant
· 2019 UMass Lowell DifferenceMaker Convocation Competition: 1st Place $1,500
· 2019 Foley and Lardner Legal Services: $5,000
· 2019 UMass Lowell DifferenceMaker Idea Challenge: Honorable Mention $2,000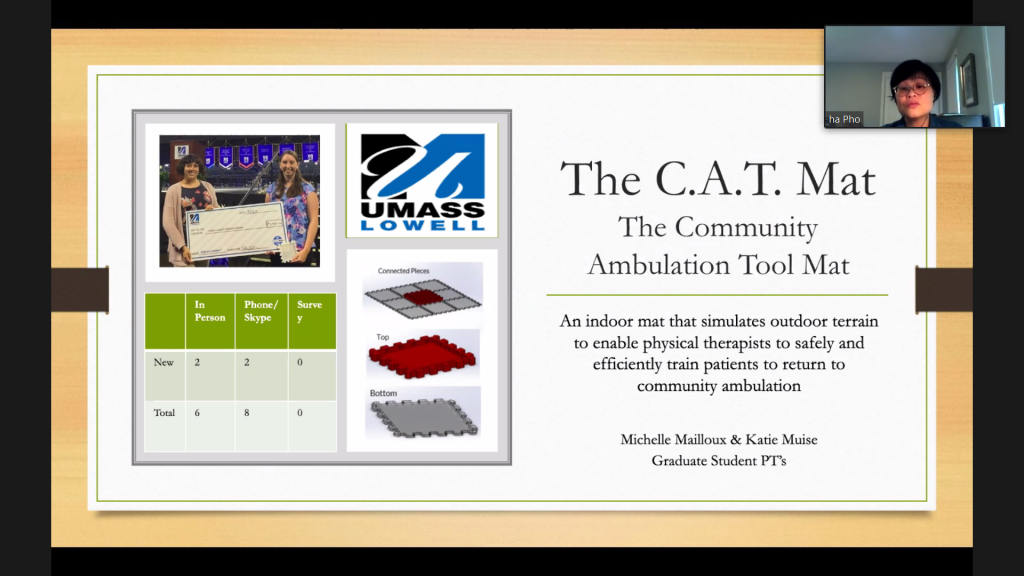 During their presentation, Michelle and Katie spoke about their experiences with customer discovery and gave advice to the current 2020 Idea Challenge student finalists about how they can research and discover who their customers and users are. They spoke about the hurdles they encountered, tips for connecting with customers, and experiences they had at other competitions.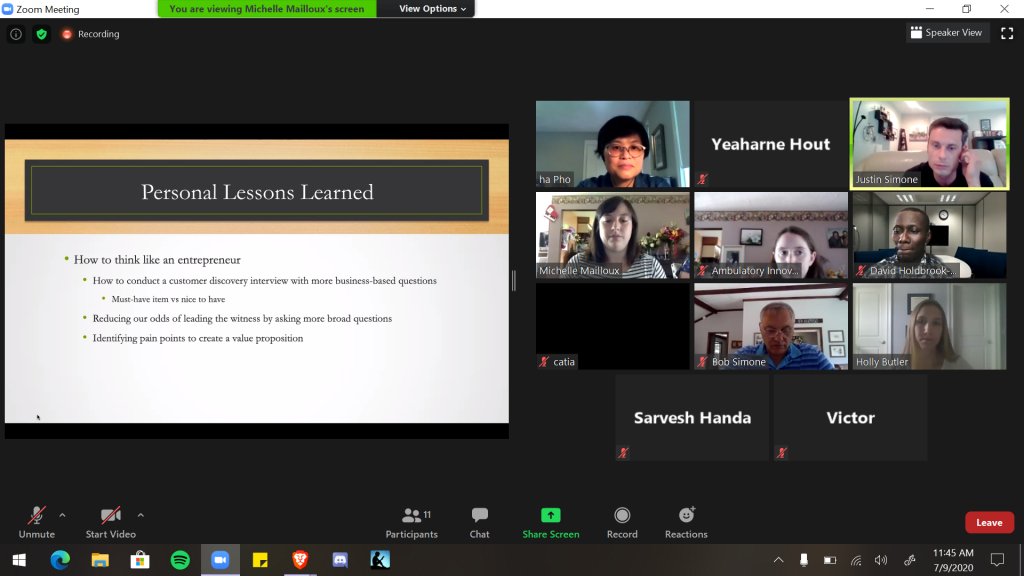 Towards the end of the session, Michelle and Katie answered questions from the student teams. The participants asked questions regarding how to manage a startup while being busy with work and school, how to find additional funding opportunities, and advice on speaking to potential customers. Katie and Michelle answered each question with lots of detail and clarity!
We would like to give a huge thank you to Ambulatory Innovations for being guest speakers at the Boot Camp Speaker Series and for inspiring future entrepreneurs!
To learn more about Ambulatory Innovations, please visit their website and social media platforms:
Website:
https://www.ambulatoryinnovations.com/
Email: info@ambulatoryinnovations.com
Facebook:
https://www.facebook.com/ambulatoryinnovations
Instagram:
https://www.instagram.com/ambulatoryinnovations/
LinkedIn: https://www.linkedin.com/company/ambulatory-innovations/
Twitter:
https://twitter.com/ambinnovations