Here is our summary of DifferenceMaker's first proper academic year, taken from the DifferenceMaker Annual Report:
FRESHMAN MAKE A DIFFERENCE-FRESHMAN ORIENTATIONS: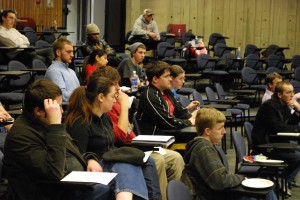 These orientation sessions were a collaborative effort between UMass Lowell's office of Orientation, Student Activities and Leadership, and Residence Life in order to introduce all incoming freshmen to the DifferenceMaker Program, as well as engage them in creative problem-solving within the University, community, region, and world.
INTRODUCTION TO DIFFERENCEMAKER-FRESHMAN SEMINARS:
A series of in-class discussions in collaboration with the Manning School of Business, The Francis College of Engineering, The College of Arts, Humanities, and Social Sciences, and The College of Health Sciences in order to introduce the DifferenceMaker Program to students of all disciplines and to inspire them to explore their passions through creative problem solving.
DIFFERENCEMAKER LIVING LEARNING COMMUNITY (LLC)
A partnership was formed between the DifferenceMaker Program and the Division of Student Affairs in order to provide freshman with the opportunity to reside in a dorm with an entrepreneurial atmosphere consisting of creative problem solving and innovation. The LLC aims to expose students to social problems in the University, the community, and the world.  In addition, it provides students with critical thinking exercises to help them find solutions to various problems.
FRESHMAN BUSINESS CLASS-PROBLEM SOLVING LEGO ACTIVITY: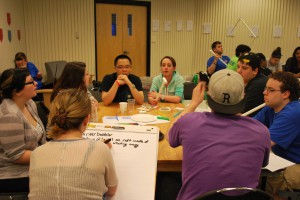 This Lego activity was a collaboration effort between the DifferenceMaker Program and The Manning School of Business to acquaint students with the ideation development process and problem solving method, as well as helping them strengthen their ability to work in a team.
INTRODUCTION TO ENGINEERING-EXTRA CREDIT PROJECTS:
This activity was a collaboration effort between the DifferenceMaker Program and The Francis College of Engineering to introduce freshman engineering majors to the DifferenceMaker Program, innovation, and entrepreneurship. In this introductory activity, the students' innovative ideas were explored and presented in a format which would enable their projects to be candidates for both the DifferenceMaker Program Idea Challenge and Campus Catalyst program.
DIFFERENCEMAKER HONORS PROGRAM:
The Honors Program was a collaborative effort between the DifferenceMaker Program and The Commonwealth Honors Program to create a three credit lecture/seminar course. This course features dynamic speakers from across all colleges, to introduce a wide variety of innovation and facilitate discussions on innovation and its social impact.
INTRODUCTION TO DIFFERENCEMAKER:
A series of events where students were introduced to DifferenceMaker Program concepts, shared their ideas and interests, explored innovative solutions for common problems, and connected with each other to form teams. These events included DifferenceMaker Convocation, Climate Change Teach-in, DifferenceMaker Team Building Dinner, and many more.
PROMOTING THE CAMPUS CATALYST PROGRAM:
The DifferenceMaker Program worked closely with the Merrimack Valley Sandbox, a community business incubator, to encourage students to generate and develop their entrepreneurial ideas. The Sandbox Campus Catalyst program information was provided to students at all DifferenceMaker events. Students also received consultation when applying to the Campus Catalyst Program.  The DifferenceMaker application and Campus Catalyst application were similar in content so that unity between these programs would be maximized.
DIFFERENCEMAKER PROGRAM PROMOTION: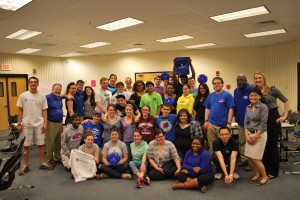 In order to market DifferenceMaker, many efforts were taken to raise awareness and provide updated information to faculty, staff, and students about the program's activities across the University. These activities included program launch events, website, Facebook, Twitter, posters, postcards, presentations to classrooms, workshops, office hours, email blasts, and information tables.
DIFFERENCEMAKER FACULTY FELLOWS:
Faculty Fellows were hired as an effort to involve all departments and majors in the DifferenceMaker Program. Seven faculty members (at least one from each department) were recruited to actively support and contribute to the development of the DifferenceMaker Program. Furthermore, the faculty helped in recruiting and mentoring the student teams that applied to the Idea Challenge.
DIFFERENCEMAKER ENTERPRISE CO-OP STUDENTS:
The Center for Innovation & Entrepreneurship recruited and sponsored four DifferenceMaker Enterprise Co-op students throughout the year.  These students were from various disciplines and worked together to assist in the implementation of DifferenceMaker activities.
DIFFERENCEMAKER CENTRAL: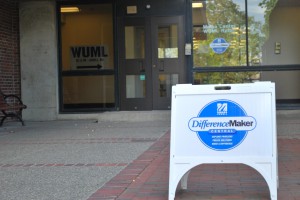 DifferenceMaker Central was opened in May 2013.  This space is a dedicated entrepreneurial area with a vibrant start-up community atmosphere.  The space was made for all entrepreneurial teams to come together to work, brainstorm, and network. Student teams have access to flexible workstations, televisions, computers, mentors, and a dynamic meeting space to developtheir ideas and collaborate amongst their teammates and fellow students.
DIFFERENCEMAKER IDEA CHALLENGE:
The DifferenceMaker Idea Challenge is an annual event held to engage UMass Lowell students in creative and innovative problem solving around major issues such as Climate Change, Access to Health Care, Support for the Arts, Cyber Security, and Disability Access that affect our region and our future.
We hope to compliment our successful endeavors so far with a successful future. To see what's coming next, subscribe to our RSS feed and bookmark our blog!
You can also follow us on facebook and twitter:
Twitter: @Difference_UML
Facebook: facebook.com/UMLdifferencemaker