On Wednesday, October 13, 2021, from 6:00 – 8:30 p.m. the Rist DifferenceMaker Institute held its' 10 Year Anniversary Celebration at Moloney Hall in University Crossing! The purpose of this event was to reunite, celebrate 10 years of DifferenceMaker, and to support the success that our UMass Lowell alumni and students have experienced in the program.
The event started with poster viewing and networking. There were a multitude of posters from past and current teams, showcasing their mission and work. This was a wonderful opportunity to network, revive old relationships and form new ones!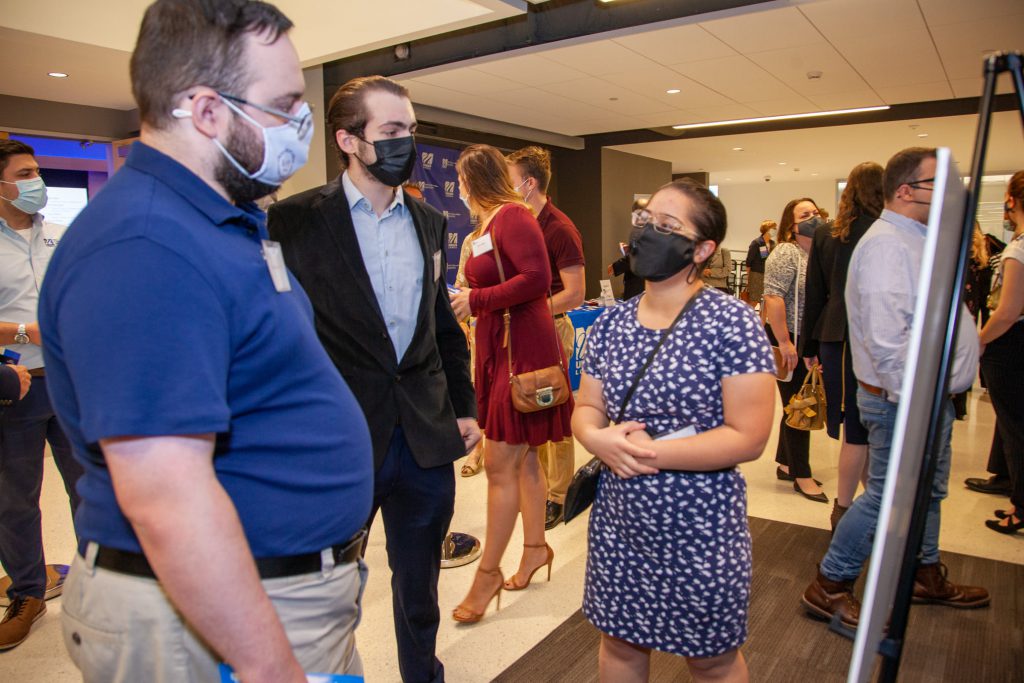 After networking, there was a delicious dinner reception. This allowed guests to connect more while sharing a meal. Each guest also received a gift at their seats. Holly Lalos, director of the Rist DifferenceMaker Institute, made announcements and thanked everyone for attending the evening.
Following the dinner reception, Steve Tello, Vice Provost of UMass Lowell's Graduate, Online and Professional Studies, gave opening remarks and introduced the night's events. He then welcomed the Chancellor of the University, Jacqueline Moloney, who also provided welcoming remarks to all attendees and guests. Steve Tello, Holly Lalos, and Provost Joseph Hartman surprised Chancellor Moloney with a special award for co-founding DifferenceMaker and being instrumental in its development over the last decade. Then, another surprise award was presented to Steve Tello for co-founding the program and leading it to success. Congratulations to Chancellor Moloney and Dr. Tello!
Kim and Brian Rist, Manning School of Business '77, established the Rist DifferenceMaker Institute in 2019. When Mr. Rist was in college, he learned a lot about business operations which helped him and StormSmart succeed. He guest spoke to the audience and shared positive comments about the institute and the importance of entrepreneurship education, something that he and Kim strongly supports.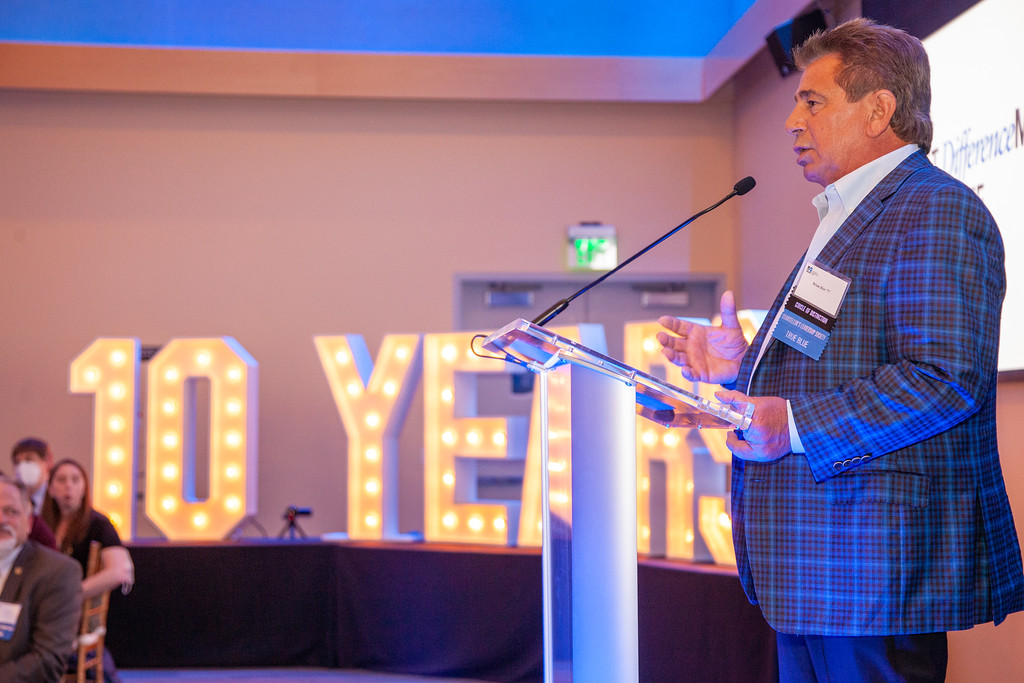 Next, several successful DifferenceMaker startups shared updates, successes, and learnings. The businesses that presented were NonSpec, invisaWear, Operation 250, and Ambulatory Innovations.
Nonspec was created by Francis College of Engineering students, Jonathan Perez de Alderete and Erin Keaney, who won the 2013 Campus-Wide DifferenceMaker Competition. Nonspec is a company that supplies low-cost high functionality replacement limbs with an acceptable amount of customization for children in developing nations.
invisaWear was created by Kennedy College of Sciences and Francis College of Engineering Alumni Rajia Abdelaziz and Francis College of Engineering Alumni Ray Hamilton, who won the 2016 Innovative Technology Solution Award. invisaWear creates wearable safety jewelry that connects to a smart phone via Bluetooth. With a simple push of a button, it sends help messages and location information to predetermined emergency contacts and 911. They recently announced a partnership with ADT, the #1 name in household security, and have been featured on many news outlets nationwide!
Operation250 was created by Fine Arts, Humanities, and Social Sciences Alumni Tyler Cote, who won the 2017 Campus-wide DifferenceMaker award. Operation250 is an online platform focused on educating both young adolescents and parents on how to prevent online radical extremist recruitment.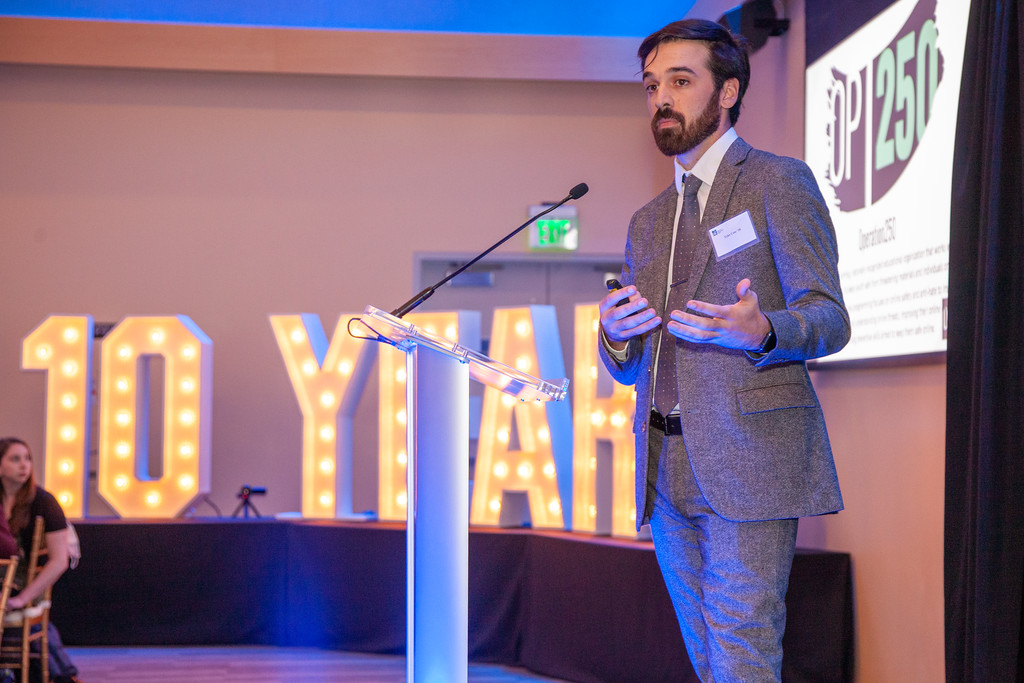 Ambulatory Innovations was created by Zuckerberg College of Health Sciences Alumni, Michelle Mailloux and Katie Harrington, who won the 2019 Honorable Mention prize. Ambulatory Innovations is an ambulatory mat that allows physical therapists to treat their patient's deficits throughout the body, from the musculoskeletal system to sensory systems. It simulates walking outdoors to help patients prepare for community ambulation. They have won many additional startup competitions, like Beantown Throwdown where they won against schools like Harvard and MIT, and their product, the CAT Mat, is currently patent pending!
To conclude the event, Provost and Vice Chancellor of Academic and Student Affairs left the audience with some inspiring words. Then, more networking took place. Thank you to all attendees for celebrating this milestone event; the amazing tenth year Anniversary of the Rist DifferenceMaker Institute!