On March 16, 2022, from 5:30 – 7:30 pm, Rist DifferenceMaker Institute held its fourth workshop series session at the Saab Center, Perry Atrium., North Campus. The guest presenters for the evening were Professor Cathy Levey, College of Fine Arts, Humanities, and Social Sciences, Professor Kevin Willett, Manning School of Business CEO of Friends of Kevin, and Rick Sherburne, CEO, SherburneCommunications.
Semi-finalist teams attended this session to learn about delivering their rocket pitch for the Preliminary Pitch-off on April 6th. At this event, teams have a chance to advance to the $50,000 Idea Challenge Final event. The semi-finalist teams who will be pitching at the Preliminary Pitch-off are:
App Track
Bridged Connections
Catnap
CryptoPigeon
EcoShield
FilaMill
Innovation
MediLingo
NeuroLyze
Quick Release Window Bars
RDZ
Rent Scoop
Riverhawk Risk Managers
Shared Vision/Vision House
Smart Azan
So-Health Box
Solar Crowdfund
Solar Sails
Underdogs of Lowell
Votecational
To start off the workshop, Rist DifferenceMaker Fellow, David Vatalaro provided a recap of the past workshop sessions, which addressed topics such as Identifying Problems, Assessing Opportunities and Value Proposition, and Developing Business Models.
Then, Professor Cathy Levey opened and discussed the content that should be addressed during the DifferenceMaker pitch presentation: the problem, opportunity, solution, needed resources, as well as being prepared for judge questions. She also spoke about additional considerations to look out for during and after the rocket pitch session.
Afterwards, Rick Sherburne spoke about the challenge of presenting an idea. To tackle this, he discussed being confident and sharing your topic with lots of energy and passion. In addition, he mentioned the reasons why people struggle with stage fright. Self-consciousness in front of large groups, past failures, and fear of being nervous are a few examples. He also talked about having relevant pictures on each slide, as well as limiting the words per slide, which helps keep the audience engaged.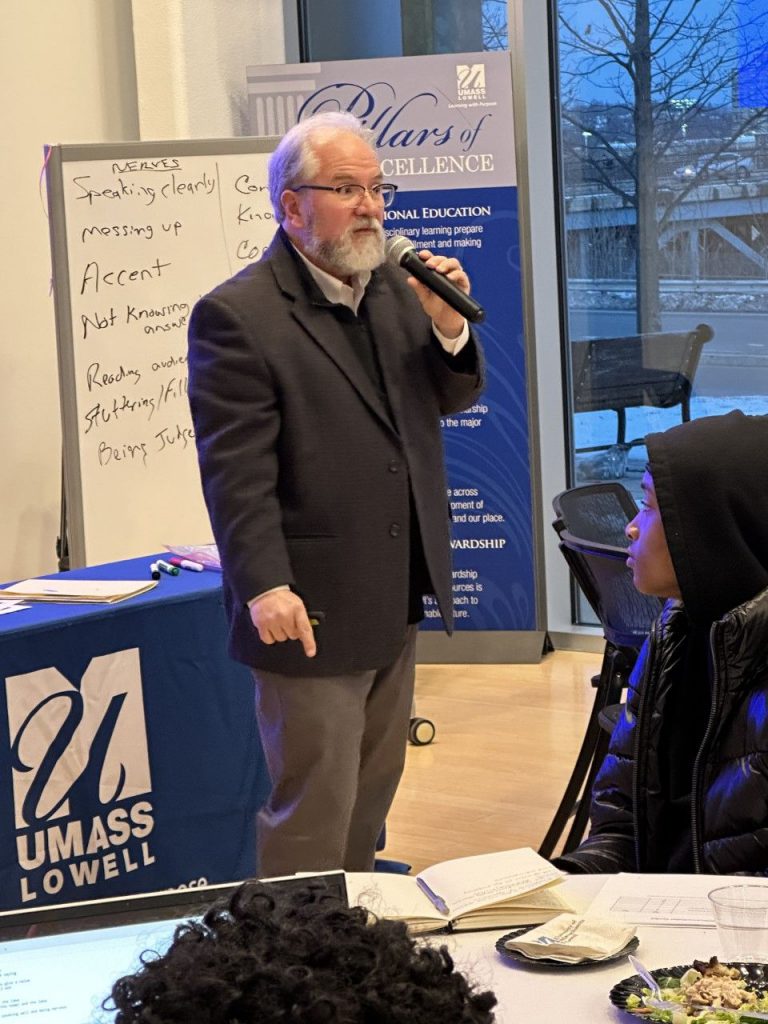 Mr. Sherburne also facilitated an engaging activity where the students were encouraged to stand up and say "oh" to various scenarios. This allowed the students to see how tone changes based on the scenario you are in. For example, the volume and tone used is different when speaking to an infant versus seeing a win at a sporting event.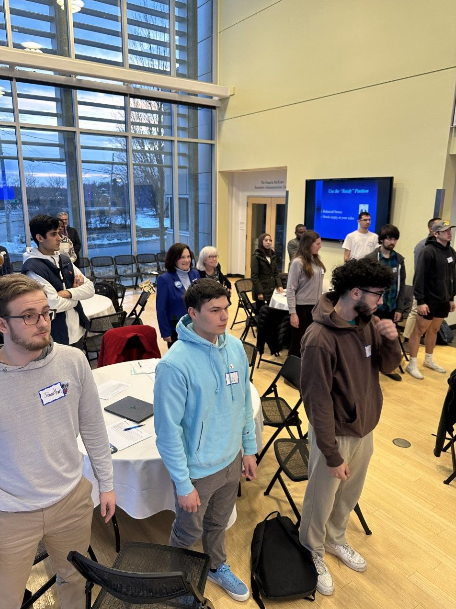 To conclude the night, Professor Kevin Willett highlighted examples of past student team presentations, such as III Point Stick. This allowed students to compare what they just learned to an actual pitch presentation that occurred. Students can watch and learn from other past pitches that are on the DifferenceMaker YouTube page, which can be utilized while practicing for the Preliminary Pitch-off.
Thank you to everyone who attended Workshop 4! Good luck to all teams pitching at the Preliminary Pitch-off on April 4 at the O'Leary Library, Mezzanine. Register for the Preliminary Pitch-off: http://bit.ly/3VNSxEa
Additionally, the 2023 11th Annual DifferenceMaker $50,000 Idea Challenge will take place on April 13 at University Crossing, Moloney Hall, Room 260. Register for the $50,000 Idea Challenge: http://bit.ly/3VNSxEa