On Wednesday, April 19th, the 2017 DifferenceMaker Idea Challenge event was held in Moloney Hall at University Crossing. 10 Finalist teams pitched to a panel of judges to compete for $50,000 and many semifinalist teams presented to attendees about their projects in competition for the Fan Favorite award. Thank you to the sponsors, participants, and guests! A special thank you to Chancellor Moloney for supporting the DifferenceMaker program and all of its teams!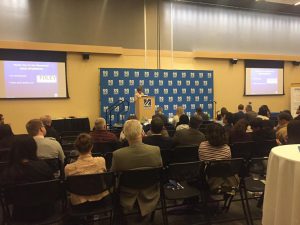 Campus Wide DifferenceMaker
Operation250 – $6000: An online platform focused on educating both young adolescents and parents/educators on how to prevent online radical extremist recruitment.
Tyler Cote, Senior, Political Science and Criminal Justice
Jaime Keenan, Junior, Criminal Justice
Jonas Pierribia, Senior, Criminal Justice
Nicollete SanClemente, Sophomore, International Business
Danielle Thibodeau, Senior, Criminal Justice and Psychology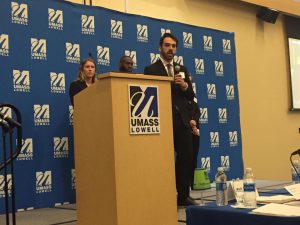 Significant Social Impact
Guardian – $4500: A sensor platform that attaches to commercially available drones for use in search and rescue operations.
Julie Pham, Senior, Business
Yomar Salazar, Senior, Business
Austin Stevens, Junior, Electrical Engineering
Kyle Stuart, Senior, Electrical Engineering
Contribution to a Healthier Lifestyle
QBell– $4500: A mobile app nursing call bell system allows patients to request nurse assistance, and nurses to manage and prioritize lists of requests through mobile/tablet devices.
Jeremy Arzuaga, Graduate, Computer Science
Vivien Chow, Graduate, Computer Science
Theresa Fullerton, Senior, Nursing
Gao Gao, Graduate, Computer Science
Andriana Kanellos, Senior, Nursing
Renee Vigneault, Senior, Nursing
Stephany Wilson, Senior, Nursing
Innovative Technology Solution
Project Starfish – $4500: A non-invasive and cost-effective prosthetic hand using a combination of cutting edge technology including 3D printing and advanced machine learning software.
Roma Aurora, Junior, Marketing
Gregory Dorian, Junior, Mechanical Engineering
Christopher Johnson, Junior, Accounting
Travis Kessler, Junior, Computer Engineering
Maxwell Roy, Junior, Electrical Engineering
First to Market
Breezy – $4500: A real-time air quality monitoring device which can be tracked with phone or online.
Anne Faber, Senior, Mechanical Engineering
Honorable Mention
Bioprinting with Multimedia Curriculum – $2000: A cost effective 3D bioprinter with multimedia curriculum and optional homework module for early STEM education in high schools.
Siddhant Iyer, Freshman, Chemical Engineering
Venkatesh Manikantan, Junior, Electrical Engineering
Bala-Ji Sathyamoothy, Graduate, Robotic and Computer Engineering
Vaishnavi Srinivasan, Junior, Biotechnology
Stephanie Stroll, Junior, Biotechnology
Clot Catch – $2000: A new designed clot filter to eliminate the risks of current filters such as shifting, vessel puncture and strut fracture.
Alexander Anthony, Senior, Plastics Engineering
Terry Fox-Koor, Junior, Plastic Engineering
Elena Mottola, Junior, Nursing
Cyborg – $2000: A hybrid musical instrument, designed to transform any object into a touch sensitive musical instrument.
Jishnu Menon Asokakumar, Graduate, Computer Engineering
Ram Das, Graduate, MSITE Adam Ferguson, Graduate, Sound Recording Technology
ChandraSekhar Kolli, Junior, Mechanical Engineering
Dhiren Rathod, Junior, Mechanical Engineering
Digibank– $2000: A digital financial transaction system that allows consumers to directly deposit change obtained from cash transactions at retailer point of sale system into a designated account via an issued card and/or mobile app..
Siven Hang, Junior, Business
Cullin Lam, Alumni, Computer Science and Biology
Bun Soth, Alumni, Computer Science
Kody Thach, Sophomore, Computer Science
Daniel Uk, Senior, Political Science
Spread The Love – $2000: A website for lesson plans that would be given to schools with 50% or more students with free or reduced lunch.
Julie Bornstein, Junior, Accounting
Autumn Sacramone, Senior, History
Fan Favorite
UML Green Roofs – $1000: A program to implement safe and ecologically friendly outdoor study spaces into UMass Lowell's campus by designing and building green roofs for buildings such as libraries and dorms.
Rachel Papazian, Freshman, Biology
Mike River, Freshman, Biology
Meagan Timmins, Freshman, History
Kierra Walsh, Freshman, Biology
Also, a special thank you to all of our judges!
-Mark Boden, Boston Scientific
-Mary Burns, Splash Media Group Boston, LLC
-Jon Geanakos, Capital Markets, Americas JLL
-Don LaTorre, L & G Management Consultants Inc.
-Joseph Lerner, Cycle Power Partners
-Taniya Nayak, Taniya Nayak Design LLC
-John Pulichino, Group III International Ltd.
And a thank you to our sponsors!
Jim Dandeneau
Joseph C. Day Chancellor's Fund
Digital Federal Credit Union
Foley and Lardner LLP, Corporate Sponsor
Joseph P. Donahue Charitable Foundation
Nancy L. Donahue Endowed Fellowship in Values & Ethics
Enterprise Bank
Mitchell Kertzman Endowed Discretionary Fund
Robert J. Manning Endowment Fund (Robert and Donna Manning)
Francis L. McKone Chancellor's Discretionary Endowment Fund
Glenn Morgan, Class of 1986, FAHSS
Pernick Chancellor's Endowed Discretionary Fund
James Regan, Class of 1988, Manning School of Business
Spinola Angel Investment Fund for Entrepreneurship
Jack Wilson Endowed Presidential Entrepreneurship Award Fund