On Wednesday, April 5th at 2:00p.m., 29 student teams began pitching their ideas to several panels of alumni judges. Of the 29 teams, ten became 2017 Idea Challenge finalists, who will compete for $50,000 on April 19th.
Congratulations to our ten finalist teams, Bioprinting with Multimedia Curriculum, Breezy, Cyborg, Digibank, Guardian, IVC Cloth Filter, Operation 250, Project Starfish, Qbell, Spread The Love! Also thank you to all the teams who competed in the preliminary pitch off!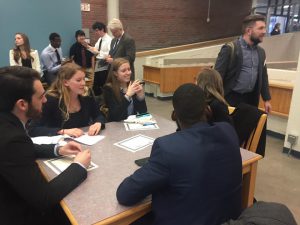 A huge thank you to the alumni judges – David Ameen, Gino Baroni, Janet Benvenuti, Ron Boudreau, Wayne Coll, Cindy Conde, Kerry Costello, Laura Deming, Matthew Donahue, John Dowling, Bob Dudley, Josh Entner, Steve Geyster, Michele Holland, Patricia Karl, Wendy LaBate, Jay Lang, Richard Lynch, Brenda Maille, Joanne Mavroides, Chris McKenna, Jeff Mead, Glenn Morgan, John Norden, Ed Roberts, Steve Schultz, Andrew Sutherland, Jack Swartz, Ira Turner, Joseph Vaillancourt, Bill Yelle.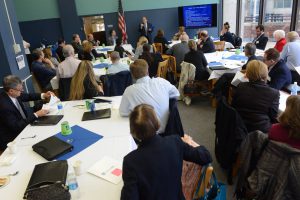 And thank you to our guest speaker, Dave Heller, Owner of the Lowell Spinners!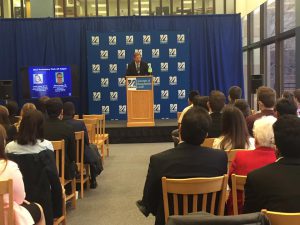 Please join us again on April 19th in University Crossing, Moloney Hall, at 5:00p.m. to watch and support the 10 finalist teams as they pitch for $50,000!