DifferenceMaker, working through the Center for Innovation and Entrepreneurship and various faculty on the UMass Lowell campus, provides an environment for ideas to cultivate and grow. Activities and resources are provided by DifferenceMaker to help students understand how they can make their idea a reality and a force to make a difference.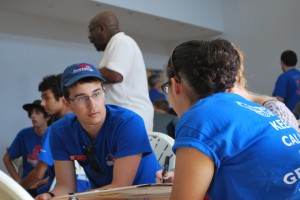 Students are given a kick-start with the DifferenceMaker program through freshman classroom visits and presentations and the DifferenceMaker Living Learning Community. Once entered in competitions, they are provided with resources to secure funding, mentors, workspace, and many more tools to help them get their innovation off the ground. With programs such as HawkHatch, the DifferenceMaker Idea Challenge, and the Reverse Pitch, students can easily find a way to garner support for their project in a positive and entrepreneurial environment.
We already know that UMass Lowell students make a difference, as our many successful alumni are evidence of this. Rather than waiting for future graduates to discover their chosen career path, though, The DifferenceMaker Program introduces academic and extra-curricular programs that specifically engage our students in innovative and entrepreneurial problem-solving prior to graduation.