On Thursday, February 28th, DifferenceMaker held its final workshop series session! This was a four-part series designed to help student teams gain knowledge to help them move their project forward for the Rist $50,000 Idea Challenge. The theme of this evening was developing your rocket pitch.
The evening started off with dinner, refreshments, and networking. Shortly after, Ha Pho, Entrepreneurial Initiatives Project Manager, opened the session with reminders of deadlines coming up and recaps of all the previous sessions. She then introduced our guest speaker for the evening: Professor ‪Mike Ciuchta, Manning School of Business.
After the introductions, Professor Ciuchta presented about how to develop a rocket pitch that will engage the audience and judges. He showed examples of previous team pitches' along with the power point presentations that teams used in the past.
He then opened a discussion to the attendees. What were the teams' strongest aspects of their pitches? Is there anything that they could've improved on? Everything that he presented helped teams think deeply about the way they plan to pitch: how will they pitch in a way that will help people understand the problems they are trying to solve, while keeping in mind that they will have five minutes on the stage to do so? Every second counts!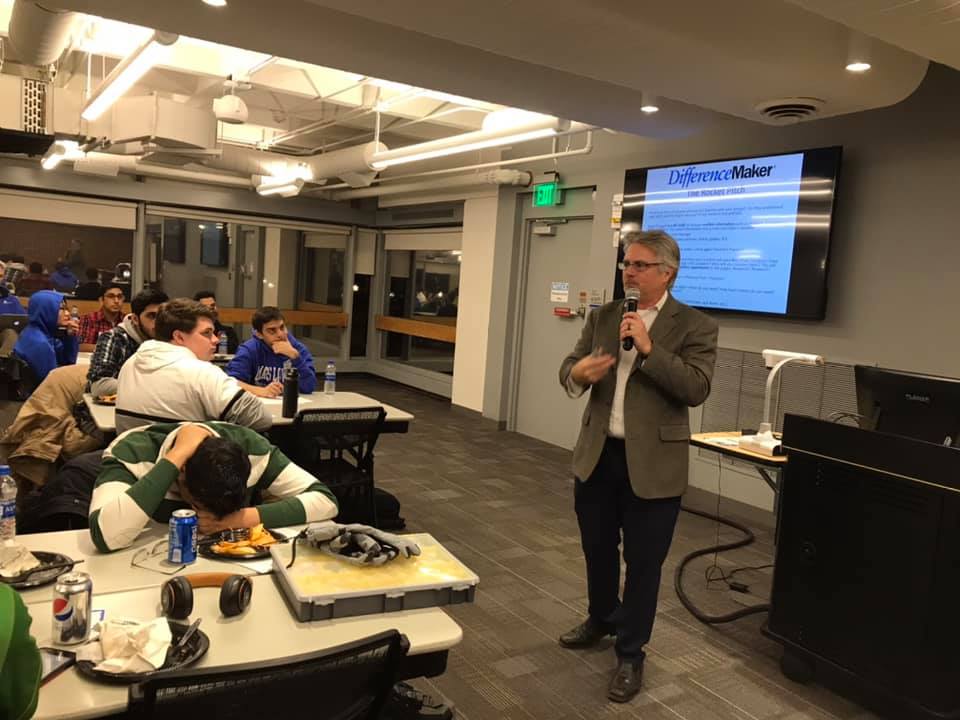 Students then broke off into their teams and worked on their rocket pitches. Faculty fellows and guest speakers David Vatalaro, Ha Pho, and Mike Ciuchta walked around and gave each team feedback about how they could improve their pitches even further.
Then, students pitched their projects and got live feedback about the parts that were well done and what parts needs improvement. This was a useful practice test before pitching in front of the judges at the Preliminary Pitch-off and $50,000 Idea Challenge!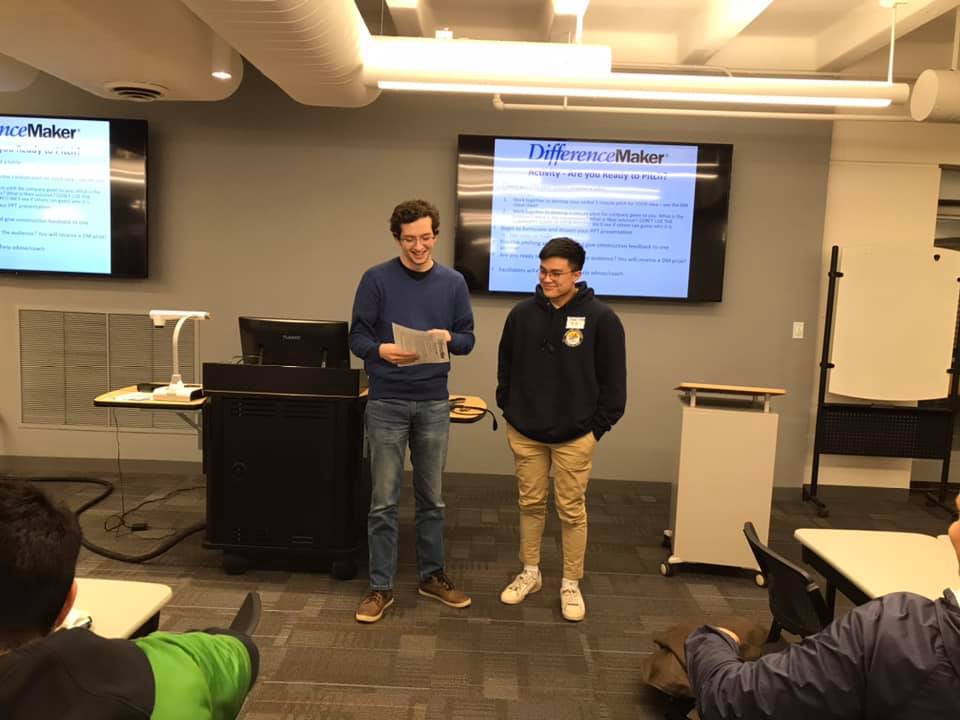 We would like to thank everyone that attended the third workshop series session! Another huge thank you to guest speaker Mike Ciuchta for leading this session!
Don't forget to also keep working hard to prepare for the $50,000 Idea Challenge! Some important dates coming up:
March 2, Idea Plan Due by 5 p.m.
March 16, Semi-finalists announced by email and social media
March 27, Revised Idea Plan, Rocket Pitch Presentation, and Poster Due by 5 p.m.
April 7, Preliminary Pitch-off
April 15, 2020 DifferenceMaker Idea Challenge Finals!