Workshop 4: Delivering Your Rocket Pitch was held on Wednesday, February 27th, in Lydon Library. As over 30 students arrived, they made their way over to serve themselves fresh salad and a delicious lasagna dinner.
Professor Michelle Veilleux, DifferenceMaker Faculty Fellow in Fine Arts, Humanities and Social Sciences, and Professor Michael Ciuchta, Faculty Fellow in the Manning School of Business, led our fourth workshop with a focus on how teams should properly and effectively pitch their ideas to the judges at the upcoming Preliminary Pitch-off and Idea Challenge. Professor Veilleux and Professor Ciuchta emphasized the importance of clearly stating the problem, opportunity, and value of each teams' solutions. Students were even shown videos of DifferenceMaker teams' pitches at past years' Idea Challenges and were able to work together to analyze what each team did well and what they could have improved on.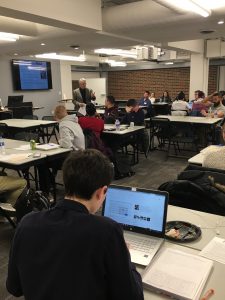 To end the night one brave team volunteered to practice their pitch to the rest of the audience. After the pitch, the audience was able to give valuable feedback and ask questions that may be brought up by the panel of judges!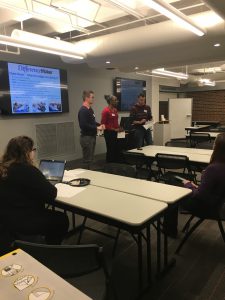 We would like to thank all the students, faculty, and speakers who made our 2019 Workshop Series fun, engaging, and very informative! We hope that everyone learned some valuable information and advice for the upcoming Idea Plan, which is due on March 4th!
Please join us at our upcoming competitions!
Preliminary Pitch-off:
April 4, 5- 6p.m.
O'Leary Library, Mezzanine, South Campus
$50,000 Idea Challenge:
April 25, 5- 8:30 p.m.
University Crossing, Moloney Hall