The 3rd Boot Camp of the summer was the most exciting session yet! Multiple teams brought in their prototypes to share with their advisors and peers. Up to date, many individuals in the room had only heard each other's ideas, but seeing physical products gave the teams a boost of enthusiasm! Once again, the session was focused on their target market and the stages necessary for their products development. In previous sessions, the teams were advised to interview individuals and contact professionals in their field. During their presentations, they explained the information they found and the changes they made to their business model canvas. Like always, the advisors were impressed by the progress each team made. At the end of the session, teams were given the task to research customer relationships, key resources, and their cost structure. We can't wait to see what they bring next session!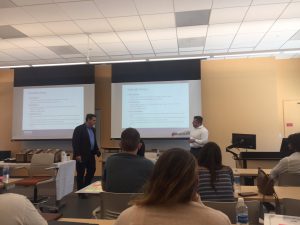 UML alum Chris McKenna and Dave Kantaros from Foley & Lardner LLP informed the teams about the multiple types of patents and corporations, as well as receiving funding.
Thank you to the sessions special guests!
Michelle Bazin

Professor – College of Fine Arts, Humanities and Social Sciences
Co-Director of Legal Studies and UML, Lawyer, Non-profits
DM Guest Speaker – Entrepreneural Speaker Series

Jack Wang

DifferenceMaker and EforAll Mentor
Business development, finance/accounting, Non-profits

Hunter Mack

Professor – Francis College of Engineering, Mechanical Engineering
DifferenceMaker Faculty Fellow, Francis College of Engineering

David W. Kantaros

Foley & Lardner LLP Partner

Christopher J. McKenna

Foley & Lardner LLP Partner