The DifferenceMaker teams met on June 8, 2017 with a whole new perspective of their projects. Since the first Summer Boot Camp, the teams have made it their mission to interview and speak to as many individuals as possible. Ha Pho advised that they avoid "yes or no" questions. Asking the right questions gives them ideas of what they should work toward and what they should leave behind in order to move forward. Many of these teams revealed that they received different insight from individual's opinions. Their findings were further enhanced with guidance from the advisors at the Boot Camp. Since multiple teams have a focus in the medical field, Erin Keaney and Jonathan Perez de Alderete from Nonspec joined us during the team's presentations. From knowledge and experience, they were able to answer questions and give the teams information about individuals that could potentially help them. The teams continued to make changes to their business model canvas, then left the session with tasks to fulfill for the following Boot Camp Session.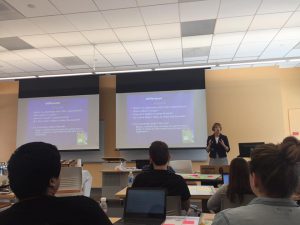 Guest speaker, Professor Deborah Finch from the Manning School of Business informs the teams about non-profits and the process involved in receiving donations from supporters.
A special thank you to the sessions special guests!
Michelle Bazin

Professor – College of Fine Arts, Humanities and Social Sciences
Co-Director of Legal Studies and UML, Lawyer, Non-profits
DM Guest Speaker – Entrepreneural Speaker Series

Jack Wang

DifferenceMaker and EforAll Mentor
Business development, finance/accounting, Non-profits

Hunter Mack

Professor – Francis College of Engineering, Mechanical Engineering
DifferenceMaker Faculty Fellow, Francis College of Engineering

Erin Keany

Vice President/Co-Founder of Nonspec

Jonathan Perez de Alderete

President/Co-Founder of Nonspec

Deborah Finch

Lecturer – Manning School of Business
Marketing Entrepreneurship and Innovation