DifferenceMaker's 2016 Idea Challenge Kick-off and Idea Hack was held on Thursday, January 28th in Moloney Hall at University Crossing. We were expecting around 50 guests and nearly 100 attended! This included students, faculty, and staff. The event turnout was amazing! Guests enjoyed refreshments while networking with other attendees from the six UMass Lowell colleges.
Professor Steve Tello, Associate Vice Chancellor for Entrepreneurship and Economic Development and Chancellor Jacqueline Moloney kicked off the evening by introducing the DifferenceMaker Program, as well as the 2016 4th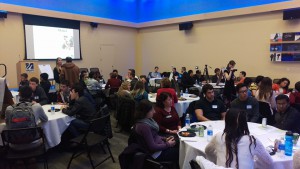 Annual $35K Idea Challenge. Following the introduction, Holly Butler, Entrepreneurial Initiative Project Director, interviewed a panel of real-life DifferenceMaker teams. The two teams that participated in the panel were Playable Therapy, represented by Mark McGrotty and Hannah St. George and Zhuum, represented by Andy Lau and Darin Eidens. Attendees also had an opportunity to ask the student panel their own questions.
Next, guests broke off into groups that were formed on problems they wanted to solve. At the beginning of the event, each student wrote down a problem they wanted to solve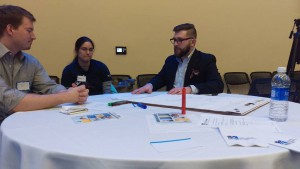 . These problems were then categorized into similar groups. These groups focused on specific areas such as education, innovative technologies, global warming and climate change, and more. In these groups, team members worked together to clearly identify problems. Then each group had the chance to pitch their problems. Next, students began to think about possible solutions to solve those problems. Most students stated that they wanted to apply to the Idea Challenge with these problems and ideas.
The Kick-off and Idea Hack was a wonderful event where creative minds worked together on real-world problems.
Announcement: Please apply to the 2016 Idea Challenge by this Friday, February 5th!