We are all metaphorically dying.  The work is piling up and the deadlines are all cropping up out of nowhere.  All means of staying organized and managing time that you set at the beginning of the semester have gone out the window and you are just clinging on for dear life.  It's that point in the semester.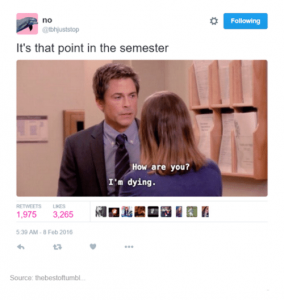 In a lot of ways, the mid-to-end of the semester sense of existential dread builds a sense of community on a college campus, from the under-eye bags to the sweatshirts everyday to the knowing glances among your peers.  The internet seems to come together for the communal reassurance that you are not alone in the struggle to push through to the end of the semester.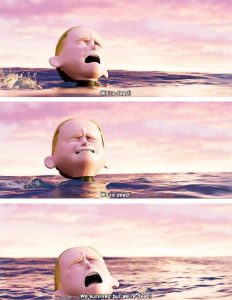 Even though it is tough, there are ways to find motivation to finish out the semester strong.
Take a step back. It is totally okay to take breaks for self care and re-establish your routines for organization and time management.  If you don't take time for yourself, you are setting yourself up for failure!
Stay organized! Remember that planner you bought at the beginning of the semester? Now is the time to take it back out so you can have a visual representation of your deadlines, which will make it easier to stay on top of things.
Go to class and do your homework. This one speaks for itself. I know that it gets overwhelming, but it's so important to your success!
I know that it's really hard to stay on top of everything, but you got this!