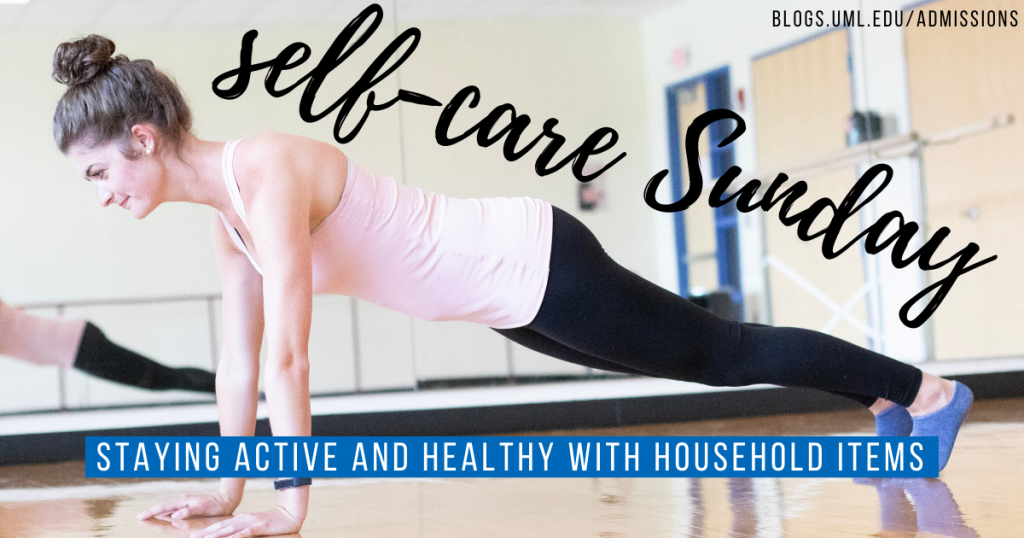 Staying active at this time is a big ask for most of us. But it's probably the highest-ranking self-care task you can do for yourself. Some good news: UML's Campus Recreation Center (a.k.a. CRC or the Campus Rec Center) has you covered.
Certified Functional Strength Coach and CRC Fitness Instructor, Rebecca Olivieri (who is also working on Ph.D. in Physical Therapy at UML), recorded herself doing a fitness routine with everyday household items.
Don't have a full gym in your house? No problem.
Rebecca's DIY gym is fantastic. You'll be able to get your heart rate going—easy-peasy—with these five exercises that target your core, legs and arms.
Our videographer, Alfonso, spruced up the video so you could follow along.
Staying active with household items: The Routine
There are five exercises in this routine. Do each exercise 12 times before moving on to the next one.
Once you finish 12 reps of all five exercises, rest for 60 seconds. This should be an active rest for recovery—don't come to a complete stop. You don't need to do anything intense—light movement will work (walk around a bit, step side to side, etc.).
You should work through the routine three times all together. Obviously, only workout within your comfort range and ability—don't feel bad about doing less reps or taking a longer break after you finish the five exercises.
1. Single Arm Swings
What you'll need: A jug of laundry detergent
How many reps: 12
2. Backpack Squats
What you'll need: Your backpack filled with some textbooks
How many reps: 12
3. Backpack Good Mornings
What you'll need: Your backpack filled with some textbooks
How many reps: 12
4. Canned Food High Plank Stacking
What you'll need: Two cans of food
How many reps: 12
5. Basketball Russian Twists
What you'll need: A basketball, soccer ball, volleyball or something similar
How many reps: 12
Check out more of Alfonso's videos.
Good luck. You got this. See you next week!
Miss last week's Self-Care Sunday? Catch up here.