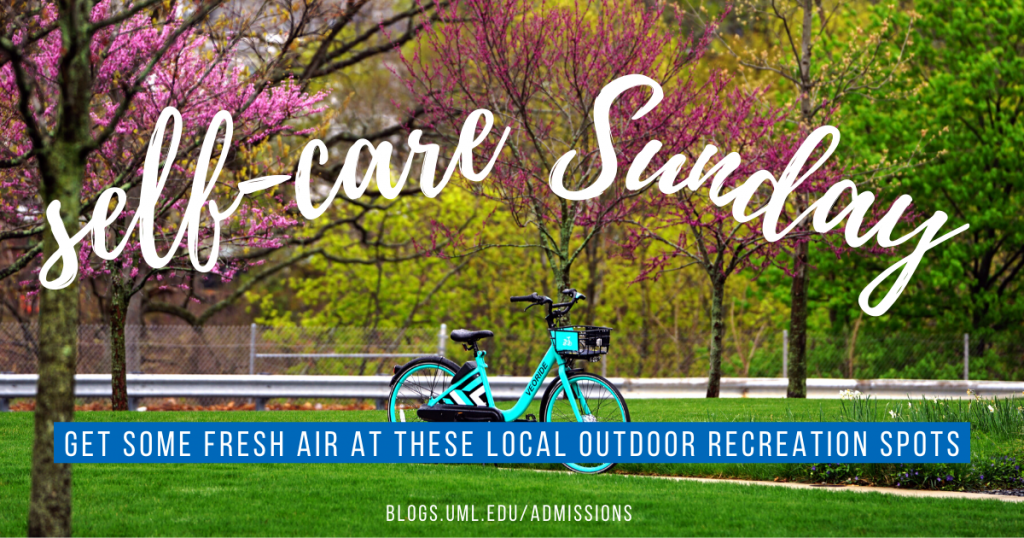 Spring isn't on hold just because we're all practicing social distancing. The daffodils are in bloom and trees are starting to bud. I'm sure if you look outside your window, you'll see signs of spring and pops of color.
This week, take some time to go outdoors. Walk a trail, sit on your stoop, smell some flowers—just spend time outside. It's a literal breath of fresh air and can do wonders for your mental well-being.
And if you're local, you're in luck. Not only has the Campus Recreation Center gone virtual, they've also updated their list of local outdoor recreation places to visit.
Local outdoor recreation spots
In this list, you'll find information about local nature trails, bike paths, river walks and rock climbing spots you can visit. Most of it is within walking distance of the UMass Lowell campus. There are also places you can visit that are within 10 miles of campus as well.
*Check that the parks are open before you go— some places may have limited facilities operational. For example, a quick peak at the Nashua River Rail Trail's website tells you that they've closed their restrooms, visitor center, playgrounds, etc.
The list includes outdoor spots in the following towns and cities:
Lowell, MA
Dracut, MA
Chelmsford, MA
Westford, MA
Tyngsboro, MA
Andover, MA
Carlisle, MA
Acton, MA
Billerica, MA
Lawrence, MA
Littleton, MA
Windham, NH
We're fortunate in New England that spring came early this year. Take some time to enjoy the nice weather this weekend at these local spots or in your own backyard!
Want to see more Self-Care Sunday? Check out all the posts.
See you next Sunday!