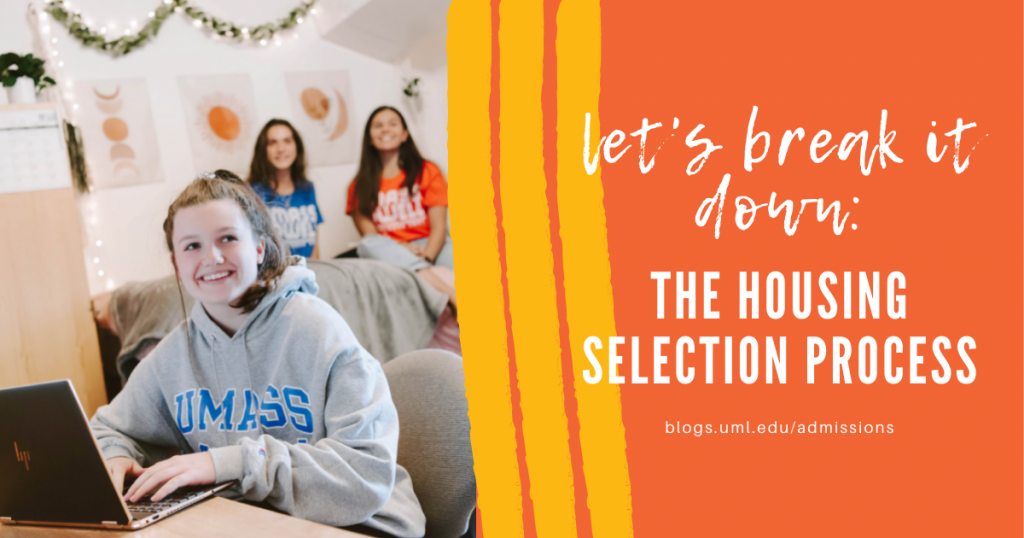 Where are you going to live for the next year? When I put it that way, choosing where to live on campus at UMass Lowell may seem like a big deal, but I'm here to give you a quick tutorial on the housing selection process from beginning to end and offer some tips to help you find your perfect room.
1. Determine which campus to live on
The first step is determining which campus to live on, and this typically has everything to do with your class schedule. If most of your classes are on North Campus, living a 10-minute walk from them on East Campus is probably the way to go. However, if most of your classes are on South Campus, then it's probably worth checking out the residence halls on South.
2. Find the residence hall that fits your needs
After determining the campus you will be living on, it's time to decide which residence hall fits your wants and needs. If you want to live in a suite-style residence hall with four to eight other students, Donahue Hall, Sheehy or Riverview Suites may be the best choice for you. These suites each have their own common area and bathroom. However, if you're looking to live in a room with only one or two roommates, Bourgeois Hall, Concordia, the Inn and Conference Center or Fox Hall is the way to go. These rooms are typically more affordable and have a nice common area on each floor.
3. Check out Living-Learning Communities
If you qualify for any Living-Learning Communities (LLC), that may be another factor to consider. They are located within residence halls and designed for students who share the same major or interests. Each LLC is geared towards a specific theme and academic college that helps like-minded students make friends and engage in the UMass Lowell community.
4. What comes next?
OK, so you figured out which residence hall you're going to live in… Now what?
Make sure you have a completed the Intent to Enroll Form and submitted your enrollment deposit. Once you do that, you will get your UML account login information and you can head over to the housing portal to have the opportunity to apply for housing. In the application, you'll create a roommate profile, list your hall preference (in the case that you choose not to select your own room when the time comes) and view the meal plans.
All roommates selecting the same room need to be in a group in the housing portal (you'll receive an email about matching with roommates from the Residence Life office once the process is open on the portal). During roommate matching, you'll be able to search for anyone who has completed their application and matches with your criteria (gender, LLC or non-LLC, etc.). Residence Life will also email you your designated timeslot to pick your room.
Pro tip: Submit by May 5 to have more options for room selection (you'll be able to choose your own roommate and room). If you submit your application after May 5, housing staff will assign these options for you.
5. The Big Day
Once your room selection date comes around, select your residence hall, the room you want, and you're done! If you're in a roommate group whichever roommate in your group has the earliest timeslot is the person who should log in and select a room/suite for the group. You will eventually have to reserve a move-in time, but that won't be until a couple weeks before your move-in date.
Pro tip: Select an early move-in time so you can choose the bed you prefer. Other than that, just make sure you pack smart and enjoy your move-in day!