Managers/Supervisors who approve employee time will notice a new certification screen as part of their approval. Here is an example..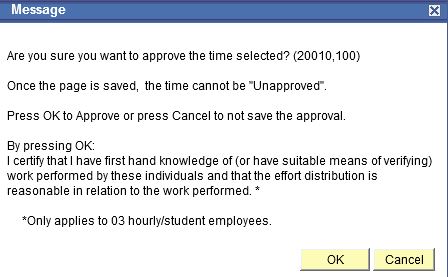 While this does apply to all manager approvals, this change was implemented tomake the time certification process for grants employees more efficient. See email from Mike Accardi and Hilary Clark below that was shared with all Principal Investigators:
++++++++++++++++++++++++++++++++++
Dear Principal Investigator:
We wish to advise you of an important change in HR Direct which will eliminate certification of '03' hourly staff & students in ECRT. This change will significantly reduce the certifications in ECRT for PI's. Beginning 8/25/13, when you access the HR Direct system to approve time, you will see a new 'Certification Statement' on the timesheet that will appear prior to you approving your hourly employee's time. The certification statement will be the official record for Time and Effort Certification, and meet audit requirements.
The new certification will be effective for theFall 2014 certifying period.
Please continue to certify in ECRT all cards for your projects for the 2013 Spring and Summer periods, as you do currently. The new certification statement change will not be on the timesheet for that timeframe.
Please contact your Effort Coordinator with any questions you may have:
Kevin Mascoll ' ext. 43646, Kevin_Mascoll@uml.edu
' Graduate School of Education
' Manning School of Business
' College of Engineering
Suzanne Mahoney ' ext. 44726, Suzanne_Mahoney@uml.edu
' College of Health Sciences
' College of Sciences
Thank you.
Hilary Clark, SPHR ' Director of HR/Payroll Operations
Human Resources and Equal Opportunity & Outreach
University of Massachusetts Lowell
Wannalancit Business Center
600 Suffolk Street, Suite #301
Lowell, MA 01854
Phone: 978-934-3534 Fax: 978-934-3045 Email: hilary_clark@uml.edu
Payroll General Line: 978-934-3530 Email: payroll@uml.edu
And
Michael V. Accardi
University of Massachusetts Lowell
Office of Research Administration
Assistant Controller/Director ' Grant Accounting
Wannalancit Mills, Room 239
600 Suffolk Street
2nd floor South
Lowell, MA 01854-3643
Phone: 978-934-4717
Fax: 978-934-2027