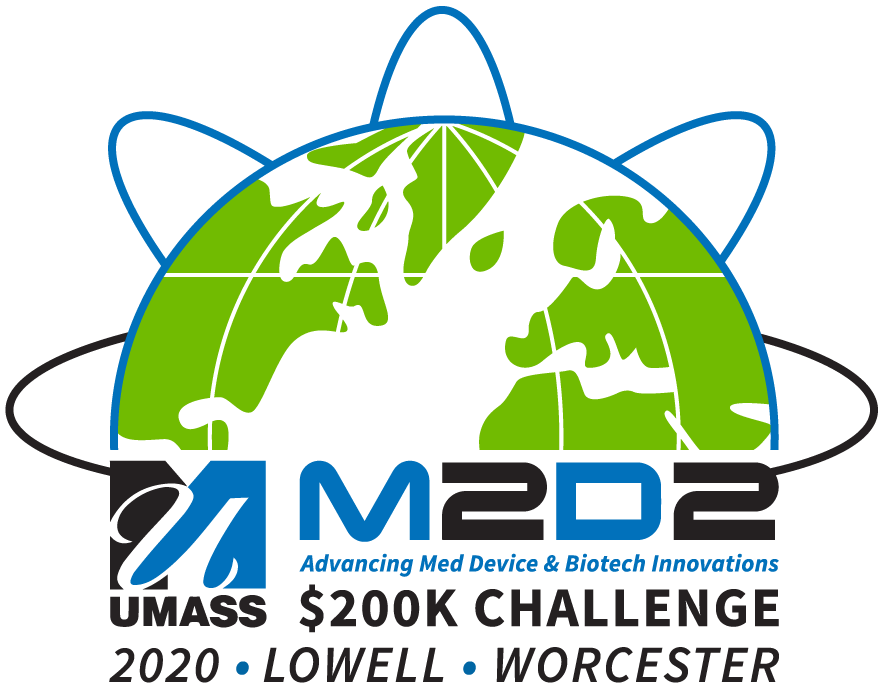 15 finalists have been selected from more than 250 applicants for the 9th Annual M2D2 $200K Challenge. This year's participation sets a new record for the competition!
LOWELL, Massachusetts – The University of Massachusetts Medical Device Development Center (M2D2) today announced the finalists in its 9th annual $200K Challenge after reviewing a record-setting 250+ applications.
The 15 finalists, all early-stage medical device, diagnostic, and biotech companies, will be eligible for a share of $200,000 in sponsor-provided, in-kind services. These services can include use of facilities including lab and office space; and engineering, product development, legal, regulatory, clinical, and business services.
Mary Ann Picard, M2D2 Director of Operations, commented on the Finalist selection process: "Every year, the Challenge gives us a peek at amazing early-stage ideas in medical devices, medtech, biotech, and therapeutics. It's an all-consuming task to sort through dozens and dozens of entrants. But it's also exciting and energizing because the entries are always novel and innovative.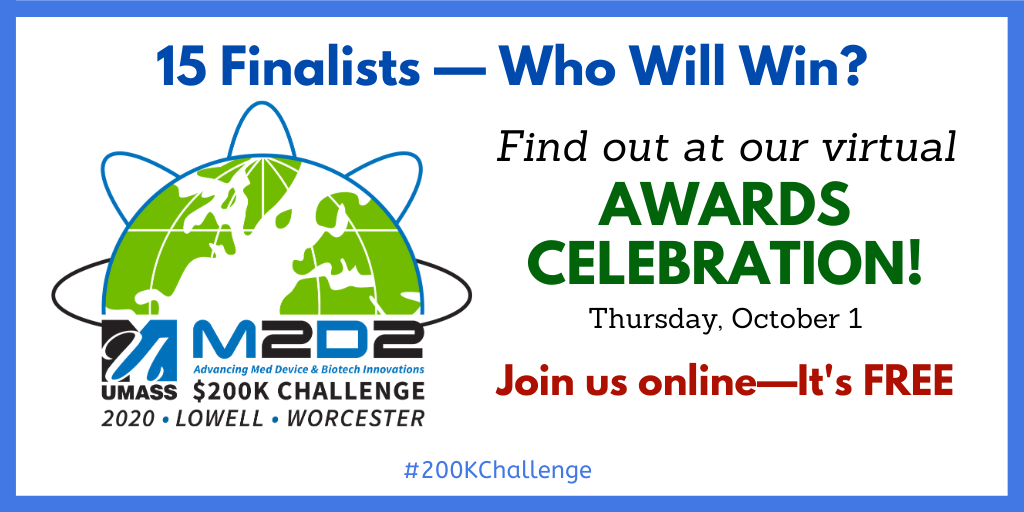 "Plus, there's often a moving personal story that's driving the creator to develop his or her idea. The innovators who enter the Challenge truly want to make the world a better, healthier place. We're happy and proud to help them along their path forward."
About M2D2
M2D2 assists entrepreneurs in the medical-device and biotech sector in moving new products from concept to commercialization. It is a joint venture of University of Massachusetts Medical School, which provides medical expertise and assistance with clinical trials, and the University of Massachusetts Lowell, which offers expertise in business and engineering. M2D2 has three locations, two in Lowell and one on the campus of the UMass Medical School.
Meet our 2020 $200K Challenge Finalists:
Aidar Health – MouthLab, is a non-invasive, at-home, rapid health assessment device for early detection and management of exacerbation in COPD patients
Amachumu Bio – A supplement to cure intestinal worms that disproportionately affect individuals in developing countries to free them of poverty-strapping parasites
AiM Medical Robotics – Novel robotics platform with AI and machine learning
Arrow Dx – A sensitive, inexpensive user-friendly test to screen early for NAFLD & NASH
CranioSense – IPASS device that helps save lives by rapidly assessing a patient's intracranial pressure non-invasively following traumatic brain injury
Cx Therapeutics – A novel device to reduce preterm birth and improve outcomes for pregnant women with cervical insufficiency
ExonanoRNA – Platform biotechnology company developing a new class of RNA nanotechnology-based therapeutics for cancer treatment
Hyalex Orthopaedics – Transformational synthetic cartilage technology and implant systems for diseased and damaged joints.
Lowell Therapeutics – Small molecule short-acting anticoagulant and will be the only approved anticoagulant for ICU patients in need of an artificial kidney
MicroBioMed – Patented vaginal biomechanics analyzer is an operator-independent measurement device to quantitatively study vaginal wall skin properties
Navigation Sciences – An image-guided surgical navigation system for real-time GPS guidance to precisely locate and excise tumors with optimal margins
Oriel Research Therapeutics – A platform for early detection of diseases using AI-Learning and Deep Neural Network methods
Prolifagen – Developing a medicine for regeneration of cardiac muscle in patients with large myocardial infarcts, with the objective to prevent development of heart failure
RBI Medical – Selective nerve stimulation platform offers patients better therapy options for life-altering conditions
Savran Technologies – A unique and patented "lab-on-a-chip" technology to capture rare (~1 in a billion) cells from a tube of ordinary blood
UPDATE: Virtual events with new dates
In response to the COVID-19 pandemic, M2D2 will be hosting all events related to the 2020 $200K Challenge online. Free registration will be offered through eventbrite as a result of shifting to the virtual platform, Zoom.
All finalists will display and demonstrate their ideas virtually at the M2D2 Challenge Finalist Pitch-Off on Thursday, September 17th from 5:00-8:00 pm. The Challenge winners will be announced on October 1st at 5:00 pm during the Awards Celebration & Networking event.
Register for FREE virtual 2020 $200K events
Thanks to our 2020 $200K Challenge sponsors: