We have lot more events happened in past few days:
There was a new start up Biosyl Technologies Pvt Ltd. Sarah DSouza and Amith of BVB Alumni told us their story. When they did their final year Engineering project they felt the need to anaerobic work station for some biological process which equipment is not available in market. This was the ignite point for them to get an idea to build such a workstation and then they demonstrated in many Entrepreneurship Fair and get recognition, won many awards and grants and ultimately done the patent. Apart from that they started to test the food quality like they founded chemicals to identify the adulteration  in milk, depicted about the marketing strategy and customer feedback on packaging and they made almost 50% profit in 3500 kit sold. Now a days, they collaborated with State government to test the various industry level food quality. Their success story and patience really makes us inspired to strive for innovation.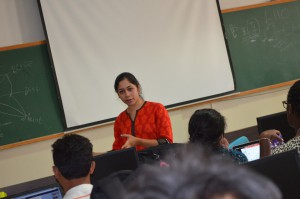 Pavan Shintre from LabinApp, another Alumni of BVB, described his glorious journey and huge grant and recognition like 100,000 dollars. They prepared artificial Lab station for Physics, chemistry and Biology for High School. This is very niche product and 60 school in Karnataka already started to consume this kind of lab. His untiring effort brings an enormous motivation in our mind.
We have visited Akshya Patra. This is a huge automation process which can have capacity for food preparation of 250,000 students even though they are providing food for 140,000 students of Karnataka State schools currently. It costs around Rs. 150,000 per day. 50% of costs sponsored by State government and 50% costs  by Akshay Patra Foundation. This is an height of an social entrepreneurship.
We have ethnic day celebration too. Almost girls wore traditional Salwar suit or sarees. We have lots of group photos to make it memorable as Chinese, Japanese and American looks totally different in Indian traditional dress.
We have attended Conference Enabling "Make in India" Challenges and Opportunities for Engineering Education. There was Defense Ministers healthy inspiration speech followed by Dr. R. Natarajan, Prof Lueny Morell, Mr. Xavier, In a nutshell, an Eco System needs to be built to bridge between real world and traditional University providing degree. I am quite lucky that my current University encourages me to follow the suits. I always charged up to test the water before take the theory in my mind. This kind of conference is always helpful to reinvent the wheel about our curricula and make our vision and mission clear that where we need to reach and what are the tools can equipped us to address those upcoming future problems once we reach there. End of the day, I have felt that I got my target track where I need to walk.
Gururaj Deshpande ("Desh" Deshpande) is an Indian American venture capitalist and entrepreneur, who is best known for co-founding the Chelmsford, MA-based internet equipment manufacturer Sycamore Networks, the Deshpande Center for Technological Innovation at MIT and the Deshpande Foundation. Presently, Deshpande is the Chairman of A123Systems, Sycamore Networks, Tejas Networks, Hive Fire, Sandstone Capital, Sparta Group, and sits on the Board of Airvana. Deshpande is also a Life Member of the MIT Corporation; the Board of Trustees of MIT. Such a high profile person with his wife Jayshree visited our class. It was huge impact on us. He discussed about the learning from each culture and main aspects of this kind of program. He discussed how the difference makers help us to be different. He wants to continue such kind of collaboration.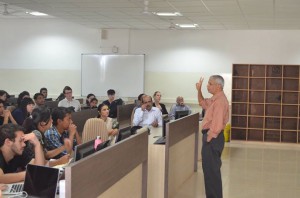 All those events took the student exchange program in an incredible heights and values.