by: Fahad Alden, Fine Arts, Humanities, and Social Sciences Well-being Leader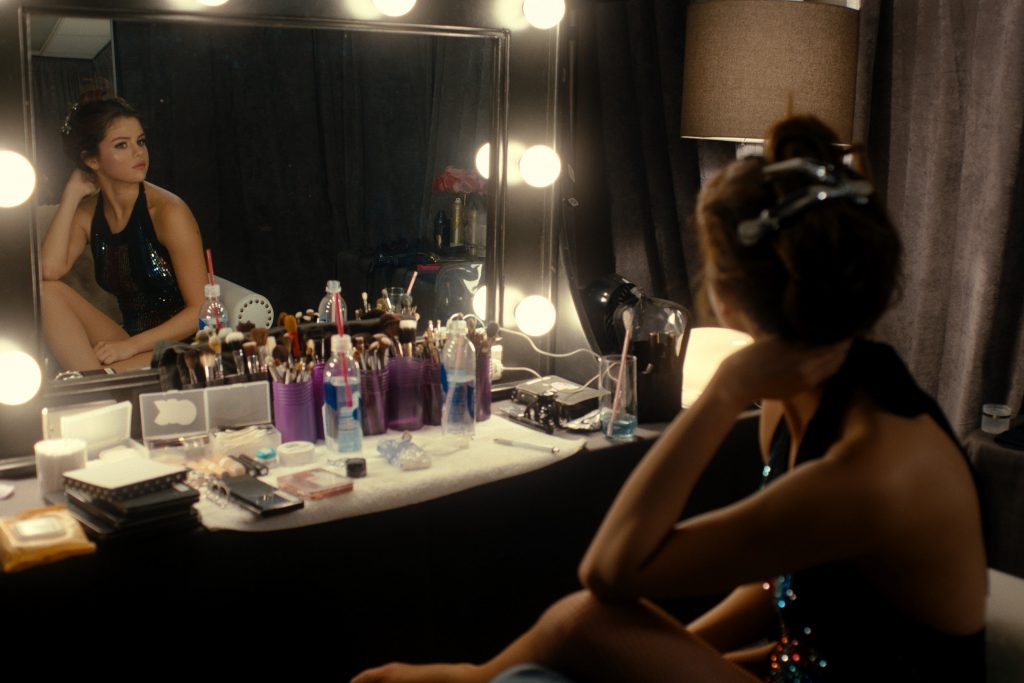 Selena Gomez's long-anticipated documentary "My Mind & Me," which has been in the works since 2016, is finally out on Apple TV. Gomez was initially known for her breakout role as a Disney star beginning with "Barney" and then "Wizards of Waverly Place," Not only that, she has starred in several films such as Monte Carlo, Spring Breakers, Romana and Beezus, and Princess Protection Program.
She has also become a more mature actress and an award-winning singer with three albums under her belt. The albums are Stars Dance, Revival, and Rare. With her first album, her singles "Come & Get it" and "Slow Down" did so spectacularly that they both ended up getting RIAA (music certification for greatly played music)gold certified. She then built off that momentum and excitement and went on a world tour with her next album, Revival. However, her health concerns, including lupus and depression soon took over. Her PR representatives cited they were greatly concerned that she checked herself into rehab.
In today's "me" culture, when everyone is always sharing everything, Gomez has kept her lips sealed on a wide range of events surrounding her. Even through her turmoil, breakups, AMA award show disaster, or falling outs with friends, she rarely gave us glimpses into her life, which is why this documentary was heavily anticipated. One reason is that the director is Alek Keshishian, renowned for directing Madonna's truth or dare documentary, smart water commercials, coca cola, and even directing one of Gomez's most viewed music videos, "Hands To Myself." What made this documentary even more appealing was that he mentioned that Gomez's documentary was shelled in 2016 due to her not being in the best place, but it will be revisited. But this documentary was hinted at through Gomez's interviews and close sources within the span of six years.
The viewer can see Gomez's career progression highlighted throughout the documentary, as well assee her performing during the revival tour, doing interviews for her rare album, and hearing the soundtrack for upcoming songs.
In the beginning, a critical moment was Gomez's mental breakdown. The mental breakdown ended up occurring during her revival tour. This breakdown was one of great volume and intensity, and her friends and her mother were worried for Gomez's life.
The documentary gave the viewer a big clue as to the state of her mind during this time. As we can see in the first scene, Gomez is seen at first discussing how she felt defeated over messing up her choreography while dancing. But this complaint then caused a big unraveling of a box of seemingly suppressed emotions. She began to make self-deprecating comments about her body, singing, and dancing. Then she even aimed her public persona, saying, "When am I going to be good enough — just me by myself, not needing anybody to be associated with?"
This could be seen as an emotionally impactful moment in the documentary. To the public, she seems so independent and fearless on stage; in reality, that is not the case. This scene was powerful because it was not just a simple shot of her tearing up. We got to see her frustration, her hand waving, and the hugging from her manager to console her.
The humanization of Gomez as a person and then as a product fights against the perception of the notion that fame and money can not insulate her from these emotions. We see her high heel tapping, her sarcastic comment towards the reporter, her crying, and her need for a consultation when distraught. What may confuse a viewer is Gomez's decision of what she chooses to tell and what she does not. The general focus on her hard past, her broken relationship with her father, working at the age of 7, and dealing with the press were points she lightly touched on.
She also gives us the illusion that she shares much of herself, but everything is vague. That is why even though the documentary is 90 minutes long, it still felt too short, as a great deal of time showed her getting ready for places or the car rides and not diving deeper into her personality and history.
Viewers finishing the documentary could possibly be left with more questions than they started with,such as what were things she did in a state of rage, as her ever coming wrath caused her to do reckless things? What caused the fracturing of her relationship with her dad? Were headlines shown in the video about possible drug use true?
I would say the strong foundation of the documentary was its cinematography. There are beautiful shots of her looking out of a car window, giving speeches, and a creative shot of her in a rose-petaled bath with some audio of her poetry being recited in the background. There is also videography highlighting the beauty of South Africa through the natural environment and animals, with wide and close-up shots galore. The videos also demonstrated a sense of imprisonment for her fame. She was seen leaving restaurants and parties, and with every shot, the paparazzi's comments about her weight, relationship, and more were echoed in the background. As well, some pictures of cutthroat headlines were put on the video. Sporadically thrown throughout the documentary, these shots demonstrated where some of her self-loathing could stem from.
I did enjoy her inclusion of some short poetry in the documentary. Specifically, an audio recitation of her talking about how she has everything she has ever wanted to achieve, but how there is always "Selena ." Referring to her name, not as her name but more of a burden. She says so slowly and so quietly that it makes you feel as if you are being told a secret. It is a great artistic choice, but I wish there were more of these audios, and it was spread out more than strictly in the start. That is exactly what I loved about what they did with her song, also titled "My Mind & Me," the snippets of her music were placed throughout the documentary. The snippets were long for us to enjoy but not long enough for the song to be spoiled.
Overall, this documentary shows that perception is not always what we believe. To many, Gomez embodied the American dream- fame, beauty, and money- yet as she shares the stories of her struggles with bipolar disorder and lupus and being haunted by her past, we see that what seems simple is not. The documentary is, in many ways, a teaser to the next chapter of her journey.