Alumnus Mike Johnston is at the culmination of an incredible rookie year with Merrimack Valley Robotics and the FRC 5962 team. At the start of this school year his team was just a small group of local kids hoping to add FIRST into their robotics club project. With 25 days before registration was due for the 2016 season, they were informed that the team could not be supported by the school. They were homeless, but, they were determined.
The students shifted their focus, and aimed to create a team that was a collaboration of numerous local communities – rather than one town. Full of passion, they came to UMass Lowell, and asked for help. We were happy to offer our new Makerspace, which included many of the tools that would be needed to construct the robot.  FRC 5962 then partnered with the Boys & Girls Club of Greater Lowell, and reached out to local schools to seek team members and additional mentors. Their recruiting efforts paid off, and the team grew to include students from Lowell, Dracut, Haverhill, Methuen, North Reading, Chelmsford, Tewksbury, and Tyngsboro MA and Salem NH.
By December 1, more than 30 middle-school and high-school students had "moved in" to the Makerspace, prepared to spend the next six weeks (at times I'm sure it seemed 24-7!) designing and building a robot for the international FIRST (For Inspiration and Recognition of Science and Technology) Robotics Competition.
The students put their technical skills to the test by constructing a robot that can complete a variety of tasks and games. Their creation, named "Scorpio," is built with materials — and limited instructions — provided by the contest's organizers. During the six-week period, team members learned to use power tools and run sophisticated computer programs under the guidance of engineers from companies such as Analog Devices, Kronos Inc. and IBM. Many of these mentors are UMass Lowell alumni.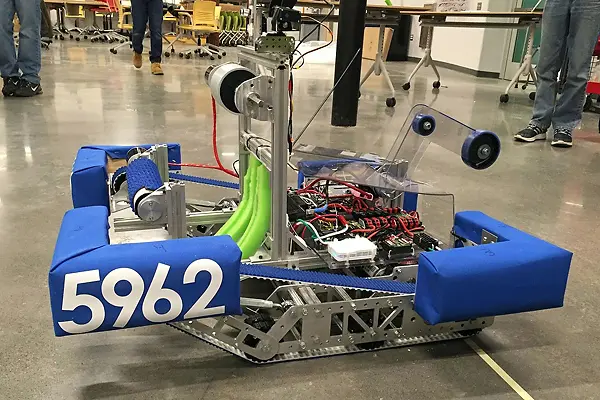 Scorpio measures approximately 2½ by 2½ feet and stands 18 inches high. The unit weighs about 120 pounds and is powered by a 12-volt rechargeable battery.
Though the season has come to an end, FRC 5962 has made a significant contribution to the FIRST competition, and garnered an impressive number of awards. Their final ranking for the robotics season includes:
Rookie All-Star Award – North Shore District Event: Celebrates the rookie team exemplifying a young but strong partnership effort, as well as implementing the mission of FIRST to inspire students to learn more about science and technology.
Gracious Professionalism Award – UNH District Event: Celebrates outstanding demonstration of FIRST Core Values such as continuous Gracious Professionalism® working together both on and off the playing field.
Highest Rookie Seed Award – UNH District Event: Celebrates the highest-seeded rookie team at the conclusion of the qualifying rounds.
Rookie Inspiration Award – New England District Championship: Celebrates a rookie team's outstanding success in advancing respect and appreciation for engineering and engineers, both within their school, as well as in their community.
Ranked 48 of 181 teams – FIRST Robotics Competition 2016, New England District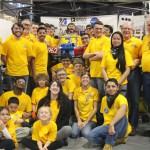 We are extremely proud of the dedication of PerSEVERE's students and mentors and their AMAZING finish in their very first contest. It has been fun to witness the students' energy and excitement for engineering while working away in our campus lab over the past several weeks. We look forward to more building in the future!
-Joe