Many of you participated in the culmination of Engineering Week with our celebration at the hockey game — attended by over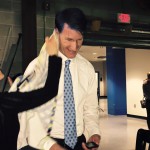 450 alumni! I sincerely thank you all for showing your support of our college.
Team "UnCIVILized" took home the crown by winning the sled race, just ahead of our faculty team comprised of Drs. Sukesh Aghara, Meg Sobkowicz-Kline, Juan Pablo Trelles and Jay Weitzen. Thank you to the faculty for being good sports and participating in the sled race!
Team "The Today Show" pleased the crowd with their winning T-shirt launcher. And yes, if you were present, you saw my hair turn a royal shade of blue — fulfilling my promise to dye it at the game if we received donations from 500 new donors, including spring graduates, to the College. While it took four washes to get out, I'm thrilled that we have increased our donor base!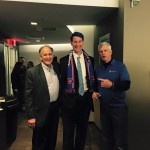 Tremendous thanks to Nancy Ficarra, Erin Caples and Sally Washburn, for pulling off a great event (and week). It was fitting that our hockey team beat BC to clinch a bye week in starting our bid for a Hockey East title.
More photos from E-Week and the UML vs. BC game to come! Be sure to follow us on twitter at @umlengineering and on Facebook: www.facebook.com/umasslowellengineering.