LOWELL ' June 24, 2013 ' M2D2, in collaboration with the Multidisciplinary Assessment of Technology Centre for Healthcare (MATCH), a UK-based organization, taught more than a dozen U.S. entrepreneurs over two days last week, focusing on international business decisions for medical device entrepreneurs.
On the first day, teaching took place at the M2D2 Innovation Hub located on the UMass Lowell campus at its medical device incubator facility. Day two took place at the UMass Club in downtown Boston.
The course covered topics relevant for medical device start-up companies. Topics included:
' The Headroom Method for economically evaluating medical device and related products;
' Analysis of optimistic headroom;
' Realistic headroom and maximum reimbursable price;
' The role of the maximum reimbursable price when making price decisions;
' The concept of maximum reimbursable price in relation to investment decisions;
' An introduction to analyzing clinical trial evidence.
University of Ulster Professor Brian Meenan of the University of Ulster provided a welcome message. He heads the Biomaterials & Tissue Engineering Research Group (BTERG) within the Nanotechnology & Integrated Bioengineering Centre (NIBEC) at Ulster.
Professor Terry Young educated the group about the MATCH project, as he is credited with winning the research council grant which established this organization in cooperation with the University of Birmingham and the University of Nottingham. Professor Young also has publications to his name which address healthcare delivery in terms of service, systems and technology, including commercial and investment decisions, uptake and adoption.
Professor Richard Lilford taught on the evaluation of medical technologies, both in terms of devices and pharmaceuticals. Professor Lilford is an expert in a wide range of areas of health related research, from developing clinical trials and research ethics to assessing the cost effectiveness of treatments for health service.
Dr. Amanda Chapman shared her studies in the field of early economic evaluation of medical devices. She undertook this study as part of the MATCH research collaboration. Amanda also works on a number of health technology assessment projects commissioned by the National Institute for Health and Care (NICE).
And Mr. Alan Girling taught on the subject of statistical methodology as it relates to health research. He is an expert in the field, having worked as a researcher in statistics and as a professor of mathematics for many years.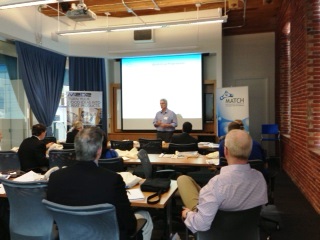 Professor Brian Meenan providing welcome and introductions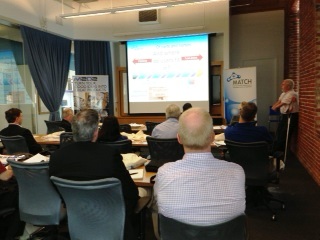 Professor
Terry Young educating the group about the MATCH project
The MATCH organization is a well-established research collaboration between four leading UK universities (Birmingham, Brunel, Nottingham & Ulster) and a cohort of industrial partners, also supported by stakeholders from the NHS and other public sector organizations. MATCH, funded since 2003 by the Engineering and Physical Sciences Research Council (EPSRC) and partner subscriptions, provides a critical research mass in the field of health technology assessment (HTA) in its widest sense, bringing together expertise in health economics, engineering and social sciences.
M2D2 helps entrepreneurs develop products every step of the way, from proof-of-concept to commercialization. In addition to these services, the Commonwealth, under Governor Patrick's tenure, provided $4 million for the M2D2 innovation hub we are in today.
M2D2 has assisted more than 100 start-up companies and entrepreneurs sincethe program kicked off in the spring of 2007. M2D2 has helped its companies secure over $20 million in funding. The incubator at the headquarters is nearly full with 14 client companies.