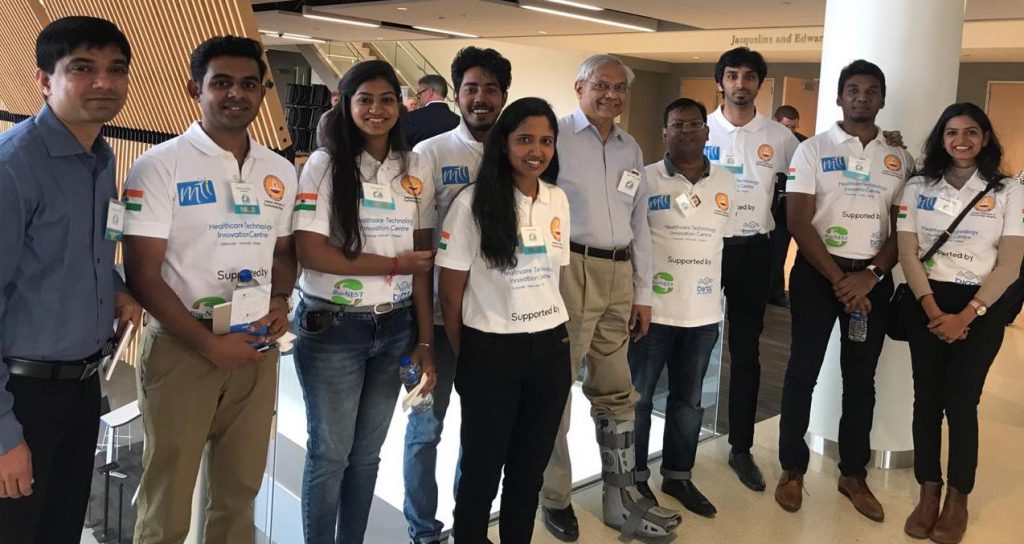 With support from the Deshpande Foundation, three finalist startups from an incubator in Chennai, India were able to pitch their life sciences innovations in Lowell on March 27. Not only did they compete, but they were also able to immerse themselves first-hand in the burgeoning biotech ecosystem that's making Boston and environs the talk of the innovation economy.
Meet the "Team India" startups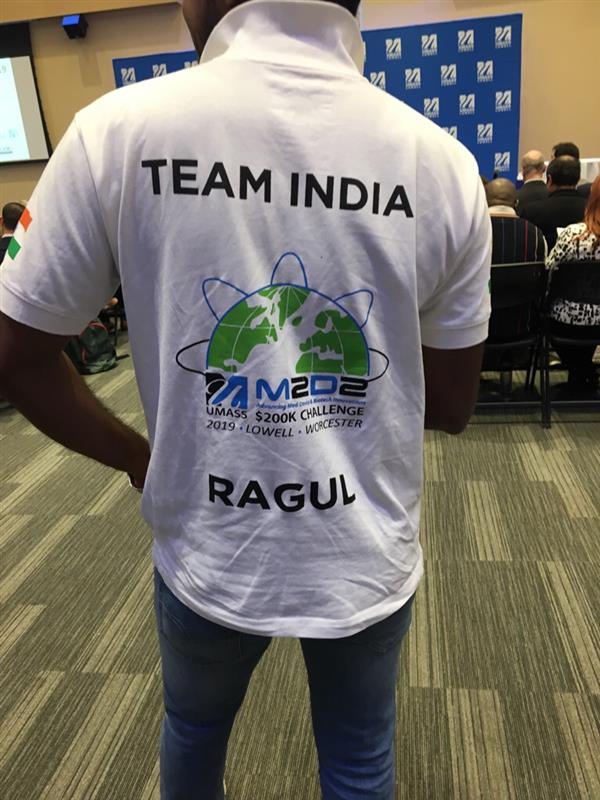 All three of our Indian finalist startups came to the Challenge from their shared base of operations, the Healthcare Technology Innovation Centre (HTIC) at the Indian Institute of Technology-Madras. They are:
BuzzArk Simulations, creators of a virtual reality simulator for natural orifice surgery training
IMOV Motiontech, who are developing a minimally invasive electrophysiology device for diagnosis and treatment.
MediSim VR, developers of a haptic enabled VR surgery simulator.
Winding up for the big pitch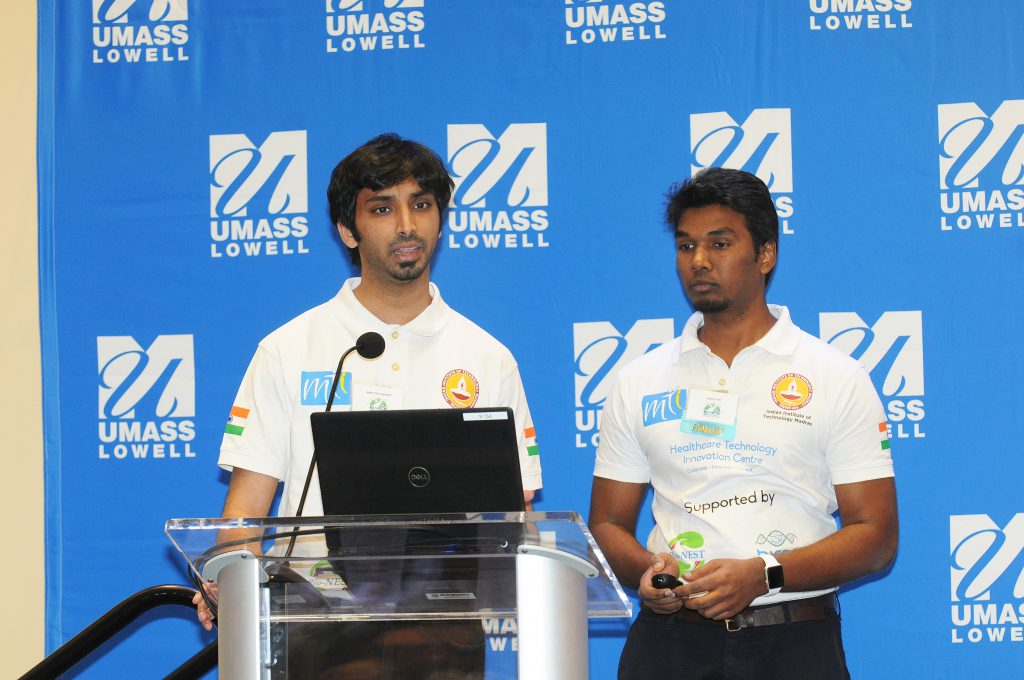 The three startups and their HTIC mentors arrived in Lowell the weekend before the March 27 pitch-off. Job #1: Fine-tuning and practicing their pitches with help from M2D2 staff and subject matter experts from M2D2's corporate sponsors.
Ragul Puhazhzendi of BuzzArk spoke to the importance all three teams placed on perfecting their pitches: "The Pitch-Off was a very big platform for us, and quite a big stage for our startup to get a chance to interact with the best of the best in the medtech environment."
MediSim VR's Sabarish RC said, "This was a great learning experience. It was inspirational looking at all my fellow entrepreneurs proactively striving to address a plethora of problems in diverse fields." Ragul added, "Participating gave us confidence that we are in the right mix of people and with the correct work ahead we could do wonderful things in the US, too."
Networking makes the world (of innovation) go 'round.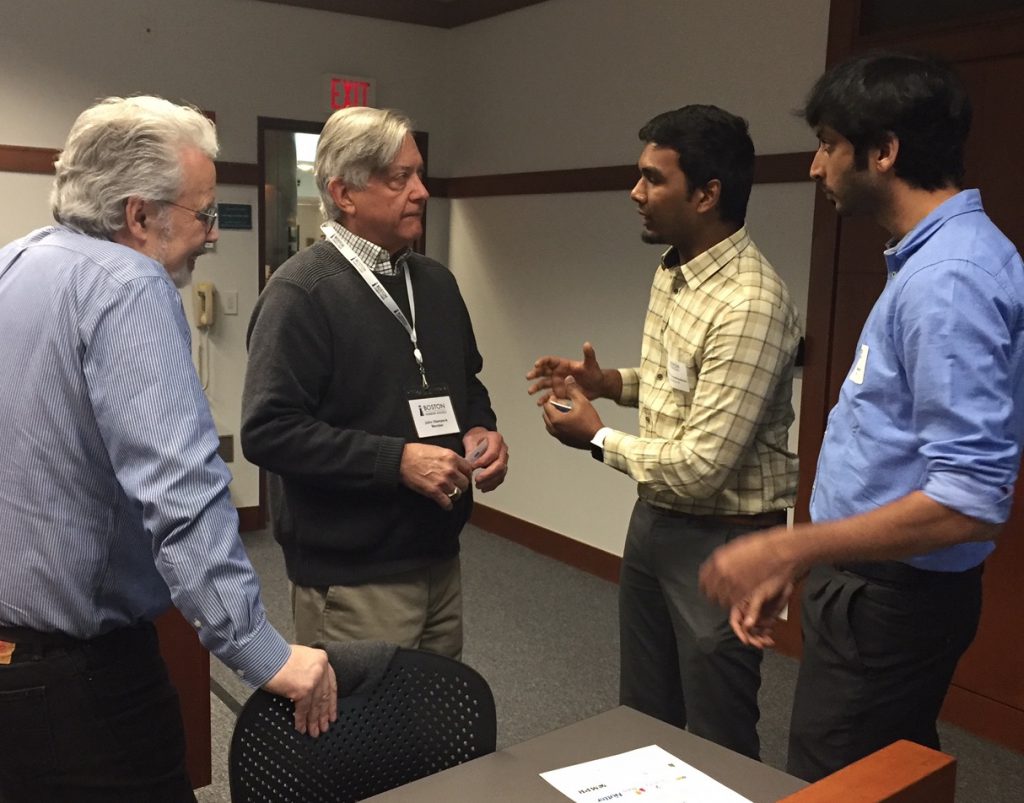 The world of 2019 is a much smaller place, but it's still tough to make beneficial business connections and nurture mentoring relationships from halfway around that world. That kind of networking is very much a part of the $200K Challenge Finalist experience, and the Team India startups certainly got their fair share.
The M2D2 team, led by Director of Operations Mary Ann Picard, built Team India's itinerary around networking opportunities in financial, industry, and academic spheres.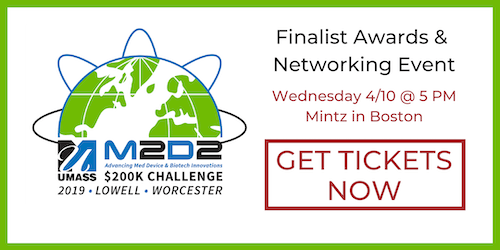 And like any good networking effort, the results were exponentially positive. Geethanjali R of IMOV Motiontech shared their experience: "Mary Ann connected us with investors, other technologists, and most of the companies that work in-line with ours. The feedback from the investors and VCs we met was very useful, and they have also looped us in with other investors in our field. Other finalists and visitors at the Pitch-Off were also very helpful in referring us to experts and investors in our field."
Ragul emphasized the importance of the Challenge's networking opportunities for Indian start-ups with a big, important idea: "We believe the connections we're making are truly game-changing for us, could help us scale up, and could be the differentiators for us with our competitors and peers in both countries. We feel we've gained sufficient knowledge to work toward establishing a base in the Boston area."
Taking time for downtime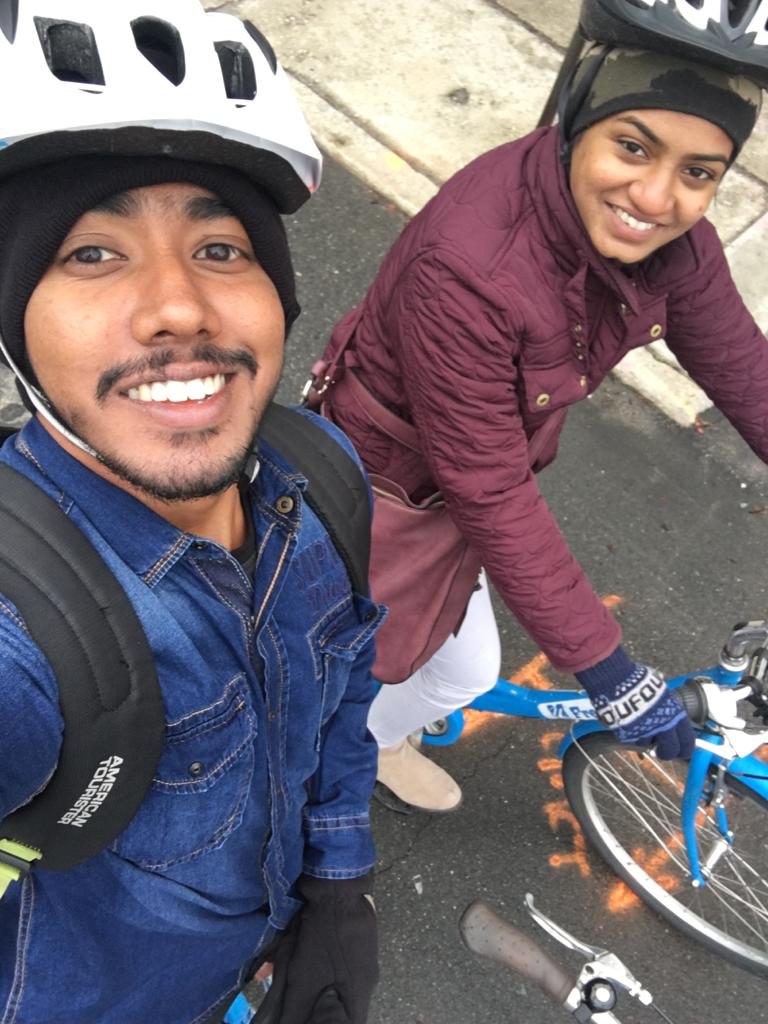 If you're a startup with your sights set on the Boston/Cambridge ecosystem—and you've traveled halfway around the world to pitch your innovation here—then you've GOT to get the lay of the land! Mary Ann gave Team India that and more with a day exploring the Hub. South Station's food trucks, a harbor cruise, and just exploring in the city all received winning reviews from our visitors. (They even thought "the T" is pretty cool!)
Whether or not they win, all three of the Team India startups are feeling confident about their future prospects after participating in the $200K Challenge. Sabarish describes the big takeaway for the MediSim VR team: "We now understand what we need to do to establish a presence in the Boston startup ecosystem. With continued support from our mentors and HTIC and M2D2, our presence in the US market will be a question of 'when' rather than 'if'."
Winners of the 2019 M2D2 Challenge will be announced at the Award Celebration and Networking Event, tomorrow night, April 10, at the offices of Mintz in Boston. Tickets available here.