One of my favorite movies, "Amelie", was also filmed in Montmartre. While we were there, we did a little scavenger hunt about places that appeared in the movie. Actually, they are not hard to find at all. First we passed by a window that was covered with Amelie's posters and screen shots from the movie, and then we realized that it was the Collignon's fruit stand.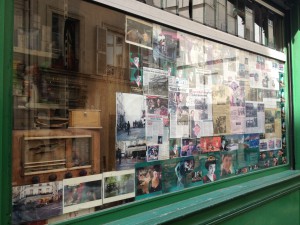 Later in the day, after we finished the tour, we all agreed to find the cafe that Amelie used to work at. The bar is still called "Café des 2 Moulins" as it was in the movie, and the interior of the bar was not changed that much. In reality, there is no tobacco stand in the cafe. The WC is really interesting, they kept something that appeared in the movie, such as the Mr. Pig lamp beside Amelie's bed, Amelie's father's red hat dwarf, and some pictures from the movie.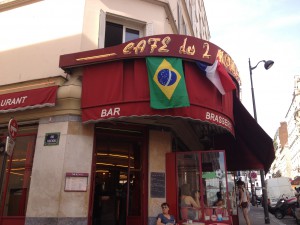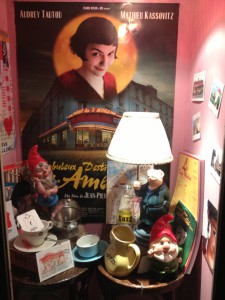 At night, our professors took all of us to the Moulin Rouge.  It is the most famous cabaret in Paris, the famous French Cancan dance originated from here. The big red wind mill is its signature, and it has red lights all over the place. There are three shows everyday, one at 7:00 pm, one at 9:00 pm, and one at 11:00 pm. We watched the one at 9:00 pm. People are not allowed to take pictures during the performances, because there are professional photographers to take pictures for the customers. Moulin Rouge is a very commercial place, and most customers are visitors from all over the world. It is a variety show with dancing, acrobatics, animal performances, ventriloquist, etc. All of the dancers wear very elaborate costumes. Of course, the male and female dancers are all pretty and handsome. The interior of the Moulin Rouge is authentic to the 19th century, I really like the decorations, and took many pictures of it. After the show ended, all of us came back to the Cité Internationale by specially reserved cars instead of taking the metro. It was the first time for me to see the night view of Paris, it is beautiful.