Yesterday we had a walking tour round the medieval Paris, also we had a wonderful professor of medieval linguistics, Olivier Bertrand, to lead us.
The first place that we went is an ancient roman arena called Arenes de Lutece, and Lutece is the name of Paris during that time.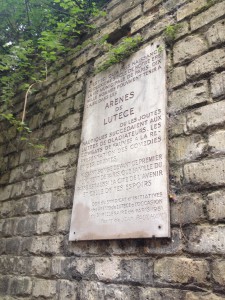 We  have been walking through many narrow roads that were built during the medieval age. And when we came to the modern and wide streets, we saw some le panthéon, the law school of the university of Paris, and Sorbonne University.
Then we went to the Notre Dame and spent the most time there, and we also visited the Notre Dame Museum. The museum exhibited how does Paris looks like and the history of the city when it still called Lutece.
Our professors also read a chapter from the "Notre-Dame de Paris" in both English and French. It was a very special thing to do, even though it was raining, I enjoyed it anyway.
To end the tour, Prof. Bertrand inveited all of us to his apartment to have some snack and drinks. Visiting a Parisian's apartment was an experience that we would never have if we just travel to Paris by ourselves.