Today we went on a day trip to Giverny to see the house and garden of Claude Monet. It was an hour long train ride up to Normandy.
Before we arrived at Monet's house, we stopped for lunch at a restaurant.
It was one of our quickest meals using the express menu because we had a bus to catch. Normally we'll do as the French and sit and talk for at least two hours!
The house was large and colorfully designed. Monet had a large collection of Japanese wood work art which inspired many of his paintings. The tour guide explained that one of Monet's favorite color combinations was blue and yellow. So that is why his dining room plates are blue, the dining room itself is yellow, and the kitchen is blue. Unfortunately we couldn't take pictures in the house.
The first garden originally consisted of fruits and vegetables, but as Monet earned more money he planted flowers for more of a leisure garden. There were many different plants of varying colors, textures, and heights. After awhile, he decided he needed a larger  and purchased land across the street. This is where he created his water garden with the bridge and water lilies. Later in his life he paints the water garden 250 times!
It was interesting to see the gardens he used as inspiration for some of his paintings we saw a few days ago at the Musée d'Orsay.
Rowdy enjoyed the trip and the gardens!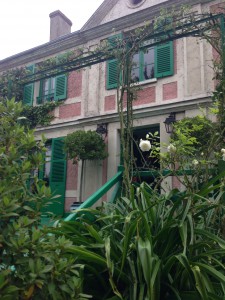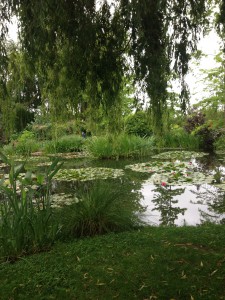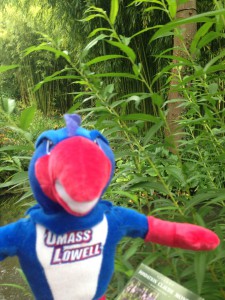 And tomorrow we'll learn about medieval Paris!