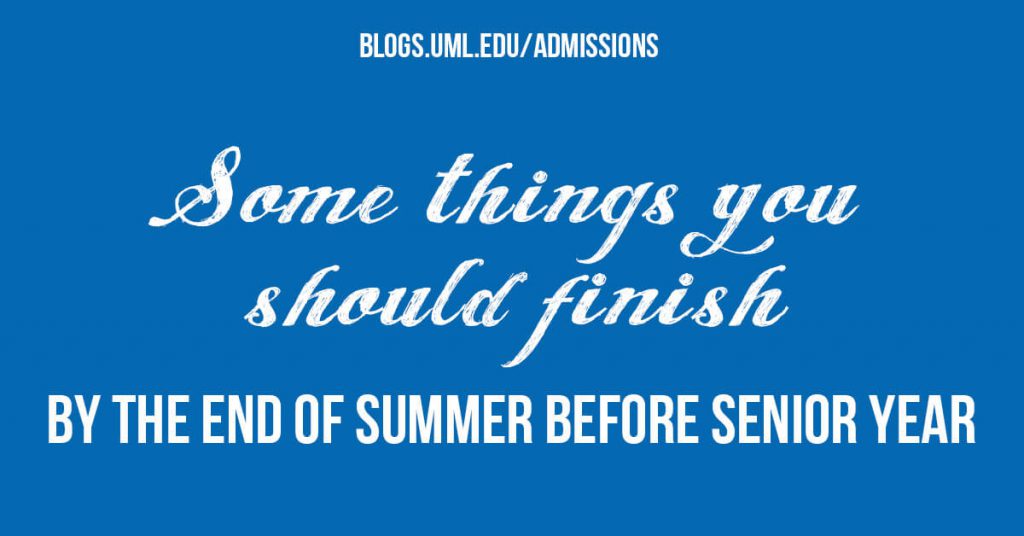 This blog post is part of a series that will help you as you apply to colleges. Today, I'm sharing some things you should finish before senior year to stay on track as you narrow down your school list and prepare to apply to colleges.
Are you late to the party and want to know what's going on? Start here.
This post is relevant to you if it is the summer before your junior year or if you are currently in your junior year of high school.

1. Develop a list of colleges and universities you plan on applying to
By now you should have done some preliminary research into a handful of schools and have an idea about how you think you'll vibe with them.
The next step is to develop a list of schools you'll apply to and under which deadline. There are many types of deadlines, be sure to check the deadlines for *each* the colleges you intend to apply to.
Your school counselor is an invaluable resource to help you understand each deadline AND all aspects of the college application process. Be proactive and reach out to them for guidance as you work through this process.
Some of the most popular college admissions deadlines are:
Early Action: You submit your application early in the fall of your senior year, and if you are accepted you have until the spring of your senior year to commit to the school.
Early Decision: Like Early Action, you submit your application in the fall of your senior year. However, if you are accepted, it's binding and you must withdraw all other applications and attend that school. So, you must be 100% sure that an Early Decision school is where you want to go. You also need to be sure you can swing the full tuition. Early Decision schools typically have you commit to attending before they send you financial aid packages. Needless to say, a small number of students choose this option.
Regular Decision: This is the later deadline that takes place after Early Action and Early Decision. The decision is not binding if you are accepted.
Rolling Admission: Colleges that accept rolling admissions will take applications any time up until a certain date. Colleges usually accept applications for as long as there is space for students. Even though it is not binding, you'll want to apply sooner rather than later because space is limited.
On your list of schools, it's important that you don't have too many or too few. You'll also want to have some safety schools, reaches and community colleges in mind. Your list should have about 8-10 schools you plan on applying to. Any more than that is going to be overwhelming.
**Make sure you have the contact info of admissions counselors to each of the schools you plan on applying to. That way you can get in touch if you have any questions.
2. Start touring campuses on your list before senior year
Seeing is believing, and there's no better way to believe that you're a good fit for a school than to see it for yourself. It's a great way to cross some schools off your list, narrow down the order for your top choices and to get a solid idea of what you're looking for in a school.
**When touring campuses, take the time to explore after the group tour is over. Colleges show you what they want you to see on tours. Walking around campus by yourself is a great way to get a more personal feel for the school.
3. Work to improve the subject areas you struggle in
You should take the SAT/ACT sometime in the spring of your junior year. Review how you did on the PSAT/Pre-ACT and work to improve the areas you struggled in. Most of the time, this means you should review the materials you're already learning in your classes. Don't be afraid to talk to your teachers to see if they have study hours after school to review areas you want to improve.
**This applies to improving your writing skills. Don't worry if writing isn't one of your strengths—you don't need to write the next great American novel. A solid understanding of the basics of writing will go a long way. It will help as you work through these standardized tests, and it will also come in handy as you write your college essays.
4. Register for and take the SAT/ACT
Taking the SAT/ACT three times is the optimal number of times to take it. Statistics show that up to a 200-point improvement on the SAT and a 3-point improvement on the ACT is possible. However, statistics also show that scores tend to go down or plateau if students take the test a fourth time.
You should take it for the first time in the spring of your junior year, and then take it a second time in the fall of your senior year if you want to improve your score.
**Talk to your college counselor to see if you qualify for an SAT/ACT fee waiver. They will be able to help you determine if you meet the criteria for a waiver.
**Some schools now accept Test Optional applications. It's a totally legit way to apply, too. BUT all schools have different criteria for Test Optional—be sure to check each school's policy individually. That said, it is still a good idea to take the test because then you at least have the option to choose if you want to apply with or without it.
The bright side of taking these tests more than once is that schools will accept your highest score regardless of when you took the test. For example, say you take the SAT/ACT for the first time in the spring, and score well in reading but do poorly in math. Then, you take the SAT/ACT in the fall of your senior year, and do better in math and your reading score goes down. Many colleges superscore, which means they will accept your highest score on each section—so they'll take your high score in reading from the fall and combine it with your high score in math from the spring.
And that's it! This list may seem daunting at first, but take it one step at a time and work through some of the items on the list a few times a week. You don't need to do everything all at once. Next, we'll talk about what should do in your senior year to stay on top of the admissions process.