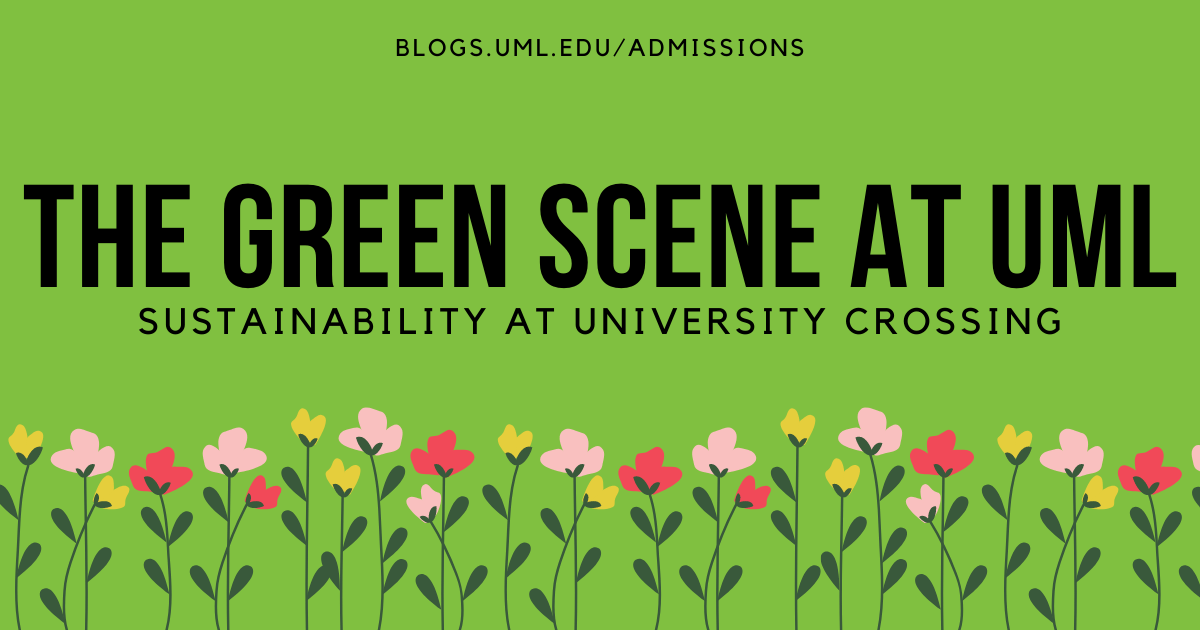 Guiding you as you realize your potential to take on a world of opportunity is our number one priority.
We want the world to be a better and more sustainable place for you, your loved ones and for future generations.
But we're not here to check a box for the show of it or to make a splash (we're pretty big into conserving water and resources tbh). That's why lot of our sustainability efforts are ingrained into the very fabric of the university—even down to the design and construction and furniture we use in our buildings. It's all hidden in plain sight.
Most people, don't realize at first a lot of the things they see around campus are actually calculated, sustainable choices UML has made.
Today, we're going to explore these choices in a building you might be familiar with if you've toured campus: University Crossing.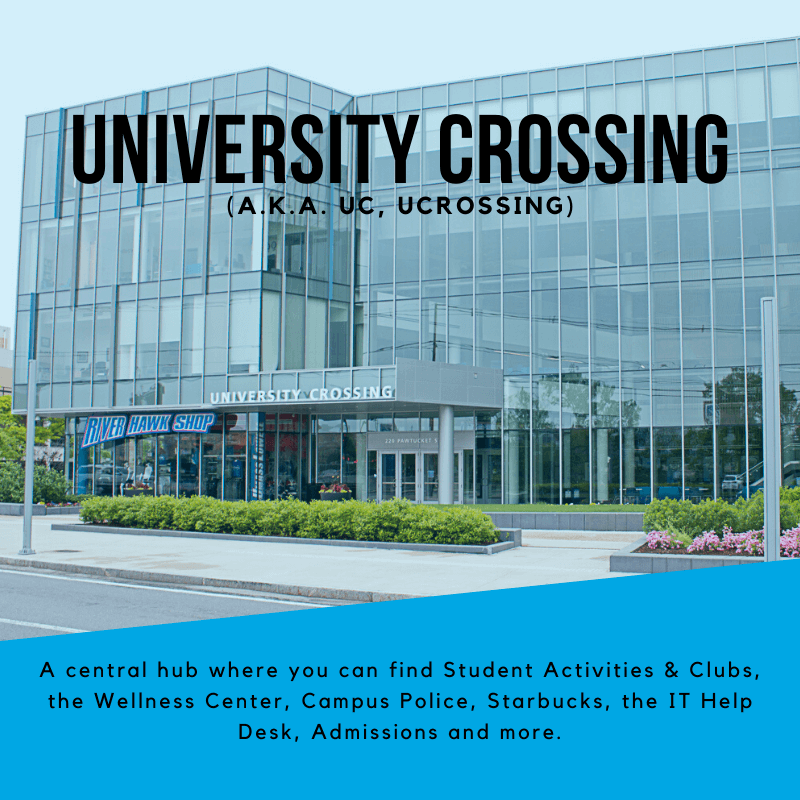 The buzz around campus
If you listen closely before you step into UCrossing there's a good chance you'll hear buzzing. The greenery and flower beds you see outside? They aren't there to just look pretty—they're filled to the brim with plants and flowers that bees and other pollinators find irresistible.
They're Pollinator Gardens, and we have them all over campus.
They provide food and refuge for bees, butterflies and hummingbirds that, in turn, help pollinate and strengthen the local ecosystems around campus that provide us with food, clean air and water.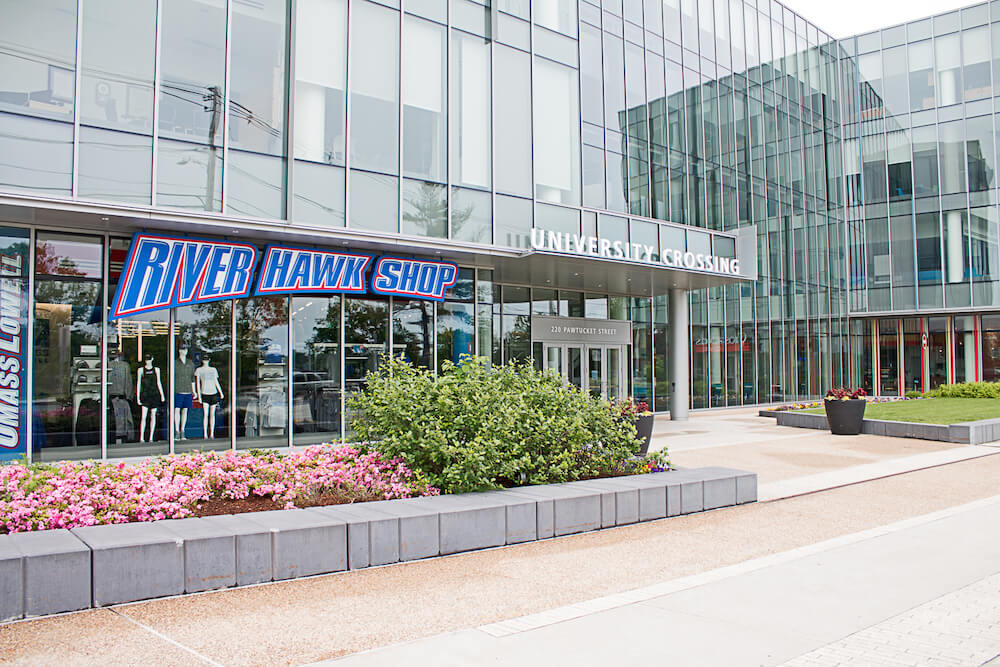 These pollinators set off a chain reaction in the city and campus community. Not only do they help boost our ecosystem, they also helped us transition to becoming a Bee Campus. By working with Bee City USA, a national organization that raises awareness of the important role that pollinators play in urban communities, the city of Lowell and UMass Lowell recently became certified as a Bee City and Bee Campus respectively.
The increase in pollinators around the city and campus led to the UMass Lowell Sustainability Farm Share team to partner with Carlisle Honey and New England Bee Keeping. This partnership not only helps promote a healthy bee population around campus, it also provides the community with fresh honey products.
Check it out: Let them eat grass
Sustainability is a work of art at UML
As you enter University Crossing, what you'll notice first is all the windows. They're floor-to-ceiling and hard to miss. As you walk further into the main atrium, you'll see what looks like a massive, art structure hanging from the ceiling, but it's doing more than creating an aesthetic.
You see, UCrossing relies mostly on natural lighting. The windows provide the light source and the hanging, vaguely-modern, art piece isn't just part of the décor. It's a giant reflector that helps distribute the natural light as far into the building as possible.
This means that the building can operate using less energy and electric lighting. There are even daylight harvesting controls that use photo sensors to measure how much light is coming in from outside and automatically adjusts the electric lighting to save energy.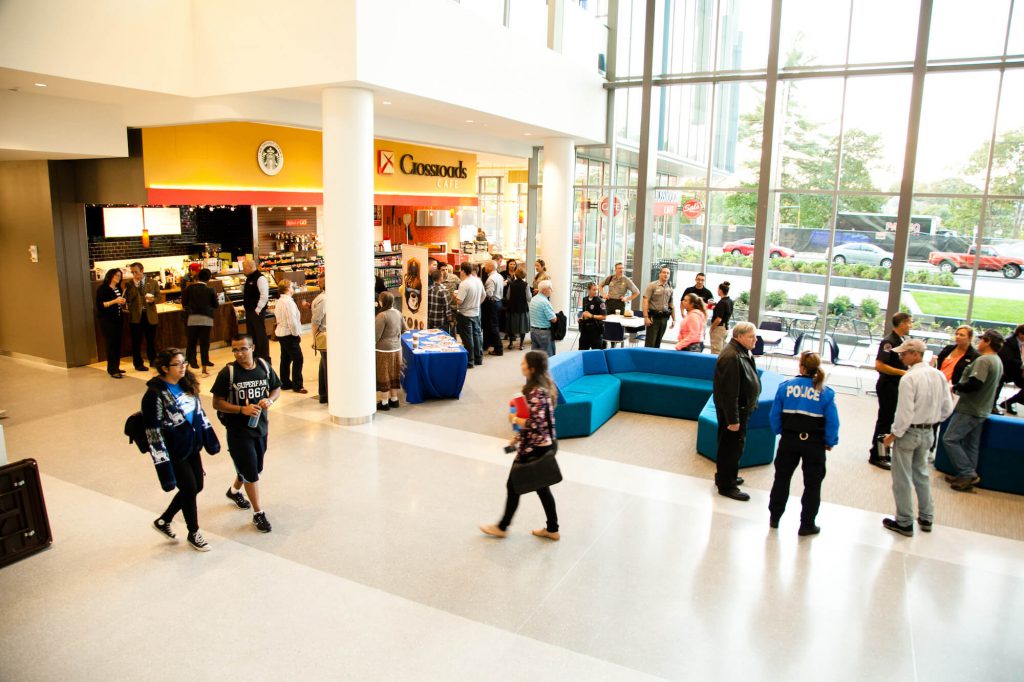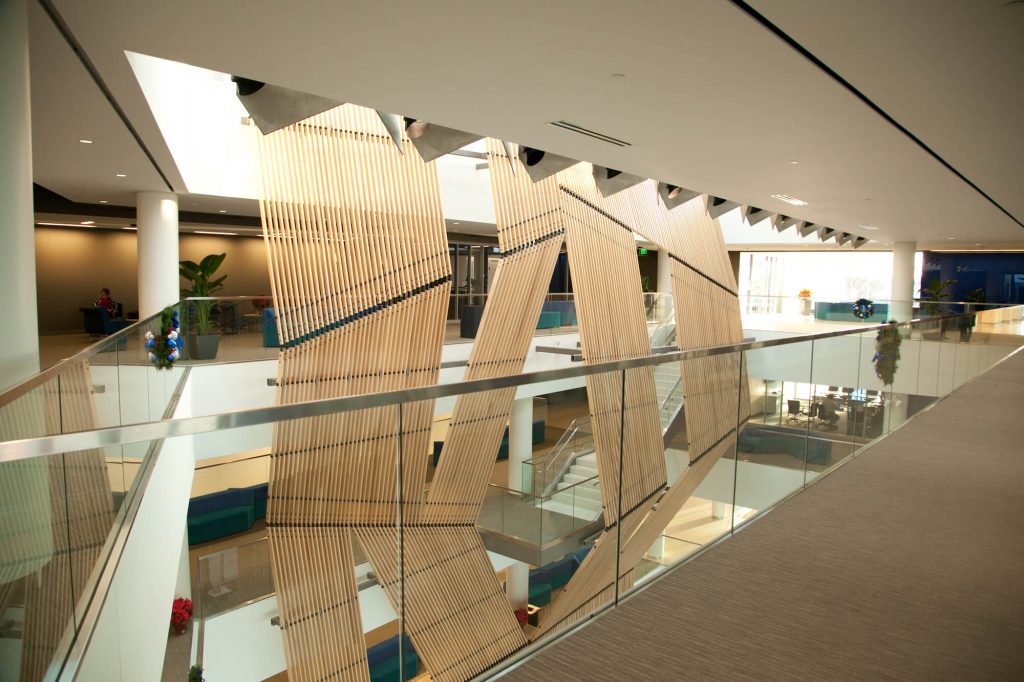 The sustainable food cycle
After taking in the atrium at UCrossing, you'll probably notice all the dining options, and even those operate in an eco-friendly way! From Starbucks to pizza to soups, salads and made-to-order sandwiches, the Crossroads Café satisfies every craving our students have. Every meal is made with sustainably sourced ingredients.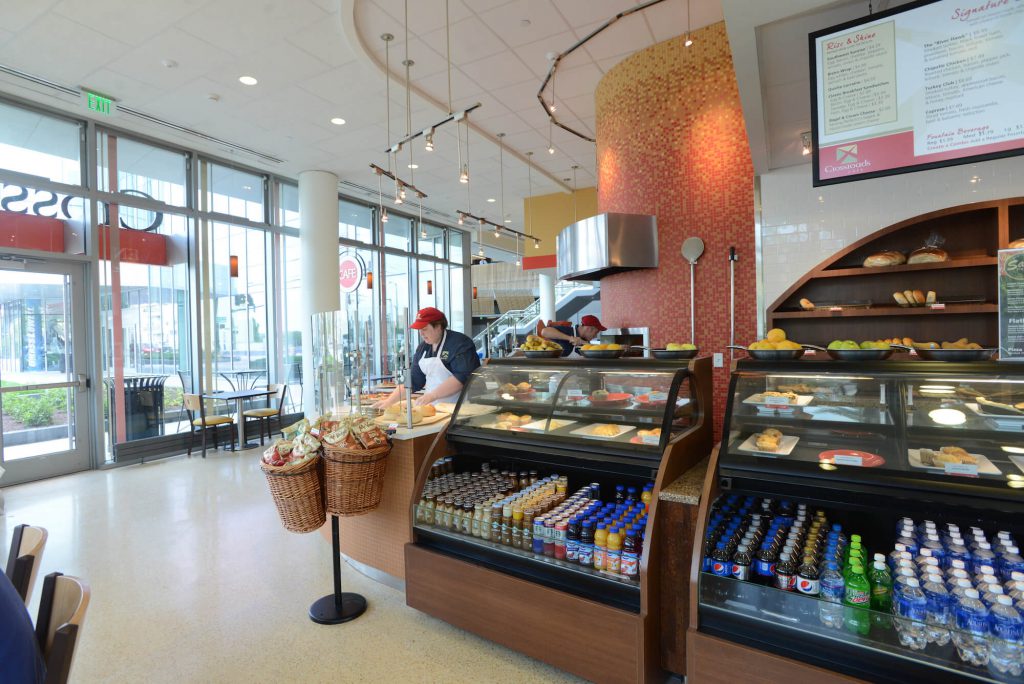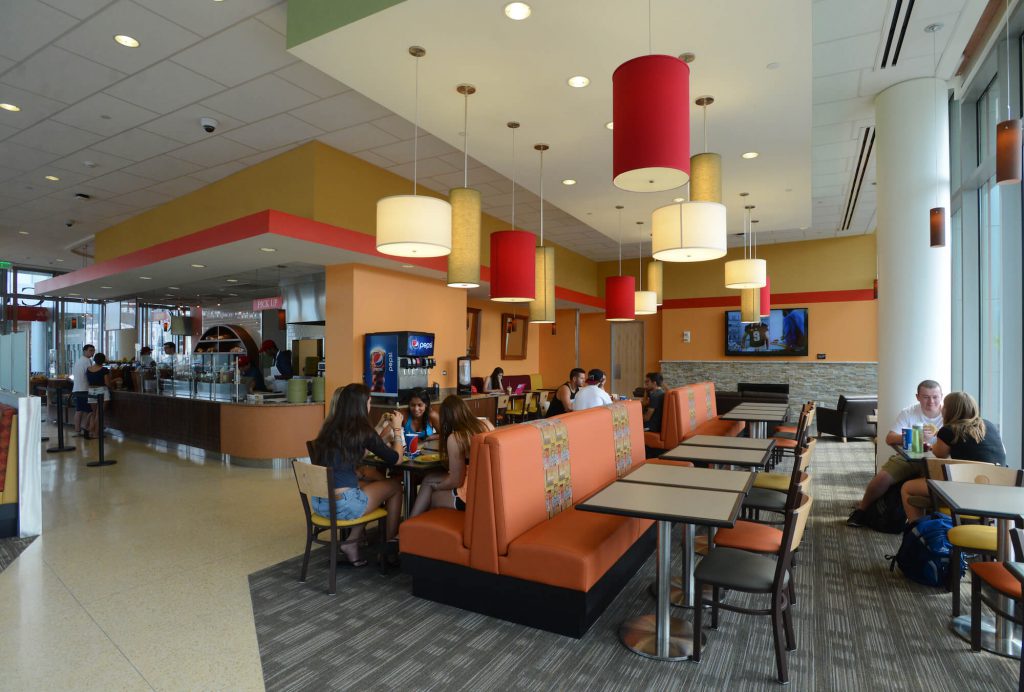 When our students' eyes are bigger than their bellies, all those leftover food scraps are composted. That compost is then used as soil for the rooftop garden that's on top of UCrossing.
Check it out: Raise the roof! It's growing food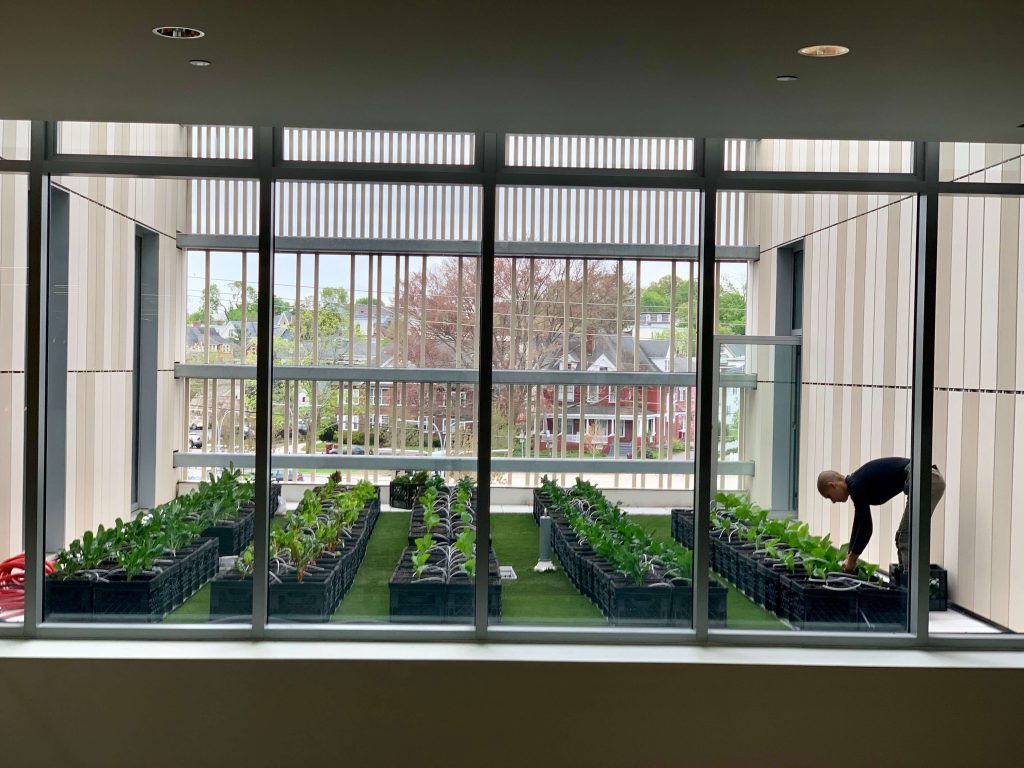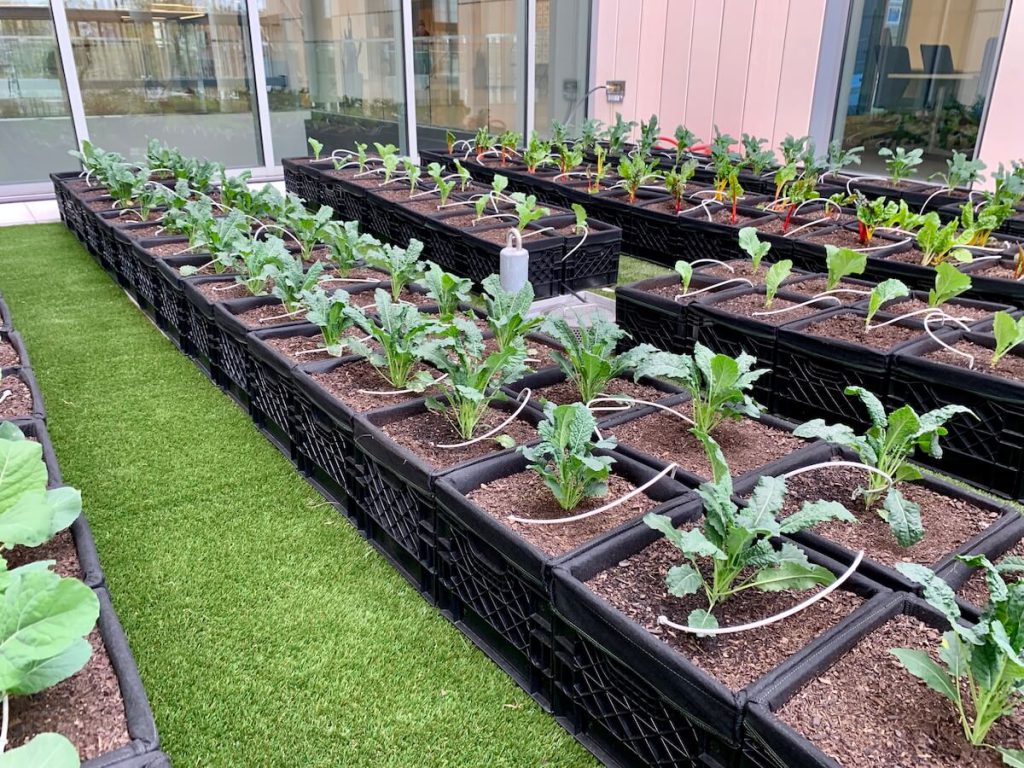 The plants you see were grown from seedlings in the 1,800-square-foot urban agriculture greenhouse and urban farm on the university's East Campus. The seedlings were then transferred to milkcrates filled with compost that originated from campus dining. A smart drip irrigation system controlled by an app that adjusts to the weather outside waters the garden.
The produce grown on the rooftop garden in turn feeds the Lowell community.
It's a cycle of sustainably-grown food. Like the circle of life, but with veggies.
These are just a few of the many sustainable choices that contributed to UML being the highest-rated campus in Massachusetts for sustainability. We're here for the long haul because, at the end of the day, we only get one planet to live on, and we've always been on the side of the do-ers and dreamers who fight for a better world.