Campus tour season is in full swing at UMass Lowell. To make sure you get the best experience when you visit us (and other colleges on your list), I spent some time talking to my colleagues in the Admissions Office about how you can best prepare. So, before we take this offline and you visit us, here are a few quick tips to help you get the most out of a campus tour.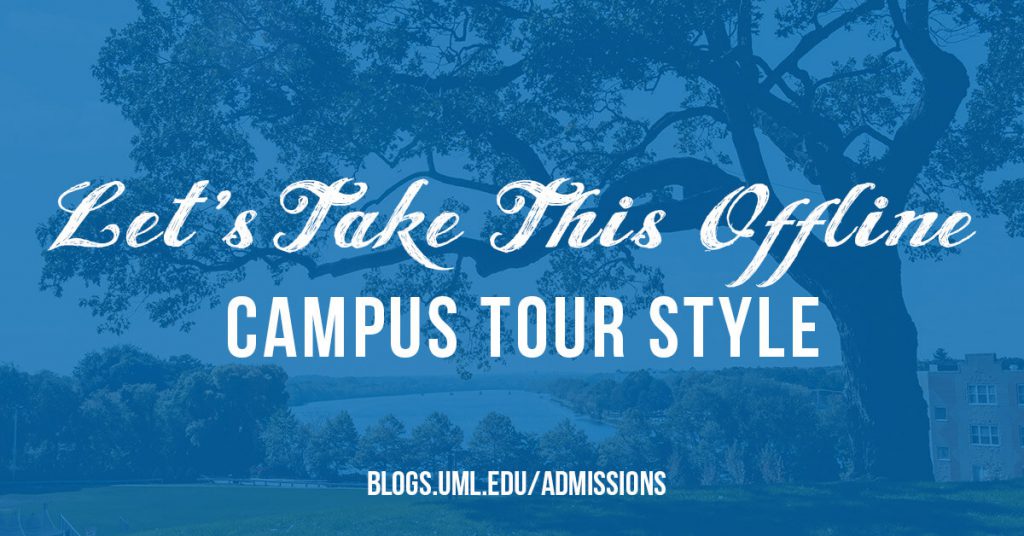 The basics you should know before you schedule a campus tour
Do they offer the major that interests you?
This seems obvious, but you want to be strategic about your campus tours. Chances are that you'll be going on a few of them—you don't want to waste your time on a place that doesn't offer the major you want to study.
What kind of campus tour atmosphere are you interested in?
Campus tours that take place during school breaks and on holidays or weekends are larger than tours given during the week. If you want a smaller, more personal experience, you should consider touring campuses on a regular day during the week. There's no wrong way to tour campus—it's all about what you prefer.
**Remember: If you take a campus tour on a school day, many admissions offices will give you a pass to excuse you from class if your high school offers excused absences for visiting colleges. All you need to do is ask.
Double check that you signed up for the correct tour.
Some colleges break their tours up based on areas of academic interest or location on campus. For example, at UMass Lowell, we have tours based on some majors, but also offer general tours based on location.
Check this out: Choosing a major: Following your passions and figuring out what they are
What you should ask during the info session
If you're not familiar with a school you're touring, it's a good idea to sign up for an info session. During the info session, someone from the admissions office will give a presentation so you can get a basic introduction to the school. They'll tell you about how many majors you can chose from, the average class size, information about the sports and clubs they offer, what makes their university unique, when their deadlines are, how to apply and more.
Simply put, colleges design info sessions and campus tours to answer your questions. Don't be afraid to ask for clarification—helping you understand the college is literally the entire purpose of this.
If you're unsure about what you could ask, here are a few ideas to get you thinking:
What co-op and internship opportunities are available?
Are undergraduates able to participate in research?
What are the classroom settings like and how many students are typically in a class?
Where can I go for help if I'm struggling in class?
What is student support like on campus? Is there tutoring, advising and counseling?
Who can help me if I'm feeling stressed out or overwhelmed?
Is housing guaranteed for all four years?
Is study abroad available for all majors?
Some things you can ask your tour guide
Tour guides are great because they provide insight into how life is at their college. They can tell you all about the college experience and atmosphere. You shouldn't feel awkward asking them questions—they signed up to be guides because they love their school and want to share why you should go there. They. Want. To. Answer. Your. Questions.
Here are some things to ask that could break the ice if you feel nervous:
What clubs and activities do you participate in?
What do you do on the weekend?
Have you ever switched majors or thought about it? How did you get help to figure out what direction you should take?
Where do students hang out off campus? Where is the best place for pizza? Are there any concert or sport arenas nearby?
What do you wish you had known going into your first year at UML?
What surprised you about campus life here?
What's a typical week day like for you?
Check this out: Don't write a college essay…
Keep this in mind when you take a campus tour…
We know that first impressions are everything. Here are some things to remember as you develop that impression:
Is there any construction going on? It means that the college is growing and improving.
Check how wall space and bulletin boards are used. Do you see any posters promoting activities or events that interest you?
Is faculty and student research on display anywhere? Are there any cool research facilities or makerspaces open to students?
How safe does the campus feel walking around it? Are the emergency call boxes easily accessible?
See something you like? Take a picture or jot down a few notes on your phone. It's likely that you'll end up on many campus tours at different schools, and this will help you keep track of what stuck out to you about a particular school.
Listen to your gut. Campus tours aren't just about understanding academics and student life at a college. How does the college make you feel?
You can learn all about a college's class sizes, residence halls and the activities available to their students on their school website, but at the end of the day, it's not the same as seeing these things for yourself. Taking a campus tour is the best way to imagine yourself there.
If you found this post helpful and want to learn more about the college admissions process, this blog series will help you.