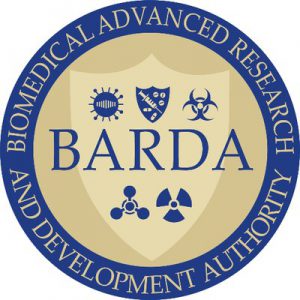 As  New England's only DRIVe program incubator,  M2D2 is excited to spread the word that DRIVe, under their E.N.A.C.T. program, is now offering grant funding to startups who are working on game-changing technologies and novel innovations in health security.
Too often, people do not receive adequate and timely treatment for infectious diseases. We either do not seek care, or do so many days late, leading to severe illness, and transmission of infectious agents within the household, at the workplace, and in communities.
According to their .gov website,
"Biomedical Advanced Research and Development Authority (BARDA), part of the HHS Office of the Assistant Secretary for Preparedness and Response, was established to aid in securing our nation from chemical, biological, radiological, and nuclear (CBRN) threats, as well as from pandemic influenza (PI) and emerging infectious diseases (EID). BARDA supports the transition of medical countermeasures such as vaccines, drugs, and diagnostics from research through advanced development towards consideration for approval by the FDA and inclusion into the Strategic National Stockpile."
About E.N.A.C.T.
Early Notification to Act, Control, and Treat (ENACT) will disrupt the traditional clinical care paradigm of healthcare being provided outside of the home (within a physician's office, urgent care center, or hospital). The ENACT program will rapidly leverage the power of transformational technologies to empower individuals to be aware of their own health status and to take action.
ENACT leverages advanced data analytics and algorithms coupled with innovative detection modalities to accurately and quickly diagnose patients who have been exposed to pathogens and prognosticate outcomes. ENACT will close the gap between diagnosis and treatment by utilizing the power of telemedicine to bring clinical care into the home. The de-identified data from these individual signals will create real-time information for public health officials about outbreaks in communities.
Areas of focus:
Technologies and methods to identify, characterize, and broadly adapt biological, biometric, behavioral and physiological signatures that can determine health status among pre-exposed pre-symptomatic and exposed pre-symptomatic disease stages
Technologies and methods to predict health outcomes from recovery to homeostasis or progression to severe illness and death
Multimodal, point-of-use diagnostics
Biological and physiological sensing technologies
Predictive disease indicators
Novel approaches that empower patients with early notification of exposure that enables providers to act, control and treat illness
Technologies and methods to eliminate the effects of sepsis: clinical management strategies, multimodal detection technologies, diagnostic platforms, integrated health analytic technologies, novel biomarkers, predictive platforms
Novel approaches to the clinical management of sepsis: identification and application of biological indicators (chemical, physical, molecular, immunological, serological), and diagnostics
Machine and deep learning methods for early identification of sepsis and intervention in both patient and pre-symptomatic populations
Disruptive innovations that will have the ability to transform Health Security
About DRIVe
DRIVe aims to empower people; to give them a greater role in their health outcomes. Better ways to detect threats, point-of-use indicators, biological and physiological sensing technologies—these are the types of solutions that can mean the difference between life and death.
For more information on this grant program, ENACT, or DRIVe, contact Mary Ann Picard, M2D2's Director of Operations.