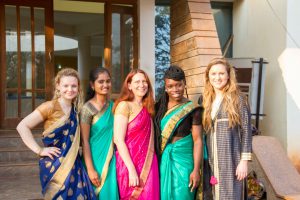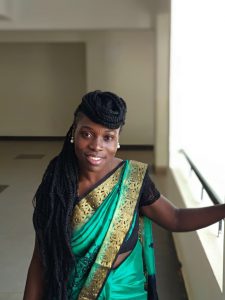 One of the best experiences on this trip was prepping for the cultural day. On Monday, January 8th, 2018 we celebrated culture day by dressing in our traditional clothes and show up to class. We were also informed that a special meal will be arranged for us on that day and would be something to look forward to.  A day of cultural representation and appreciation; I couldn't wait.
I must admit, I wasn't prepared with any cultural clothes from back home but it was still important for me to participate. The other girls from the US and I decided to dress like an Indian woman and to experience their culture! So it was set, on Sunday afternoon we ventured out to purchase our very first saris for the next day of class. I was looking forward to it. Being the shopaholic I am I knew that this experience would be one for the books.
We arrived at the sari store and as we entered the store were asked to take off our shoes. We were invited to sit on padded mats with the sari seller. We formed a small circle and left an open space in the middle for him to display the saris. It was familiar to story time back in third grade except for this time the sari seller was the storyteller as we navigated how the story would be told based on our comments and questions. We started off my mentioning our budget to him and he started to call out to his co-worker who was in charge of getting the saris off the shelf to him. It was beautiful the process that is. One by one box of saris were open before us and thrown unto the mat one after the other. Whatever we liked we were asked to select and put to the side for further consideration. About 50 saris later I found it!  The perfect color combination and pattern. I tried it on in the mirror and got feedback from Laura. "You look like a queen" she said and was finally convinced. After getting the saris we visited nearby shops to purchase our tops and the skirt that went underneath.
The next morning some aunties from campus came by to get us ready. When we arrived to class I was pleased to see how many people participated. Everyone was dressed so nicely and colorful. We took lots of group pictures and ate a beautiful culture meal for lunch that was served on a banana leaf!