Happy 2018.
As we approached the ending of 2017, I sat at outside the scholar house watching my new friends play an Indian game called Lagori which required a ball, and pieces that were stacked one on top of another. One member of a team was to throw the ball and trying to knock the pile over. The team tries to restore the pyramid as the other team tries to get them out by touching the person with the ball. Getting to watch them, reflecting on the year and enjoying the sun was exactly what I needed.  I reflected on how far I have come. I thought about all the things I was able to accomplish this year as well as the things I am yet to accomplish. I thought of the struggles I had to overcome as well as the long-lasting memories I was able to create. 2017 was a year of definition…
Later that night was our new year's eve party. The scholar house quad area was separated into a dining area and dance floor. A DJ system was set up with two large speakers. Our festivities started around 7:30 pm. Everyone ate dinner and presumably gathered to the dance floor. We listened to all types of music while gathering in coordinated dance moves, pumping our fists up and down and taking pictures with another.
11:50pm came around and we all walked over to the field to perform some activities they have during their new year's here in India. We watched as fire workers were set off by our peers at 11:58 pm. We hugged one another shouting Happy new year! We then all surrounded a delicious chocolate cake and three representatives from each country was to cut it. One from India, one from America and one from China. After cutting a slice of the cake the tradition is to feed it your neighbor. Each representative started it off my feeding their neighbor and from there, everyone was invited to cut a piece of cake and feed another person. I ate about 3 bites of the delicious chocolate cake and cheered with my friends. After the cake, we proceeded to light up lanterns and set them in the sky. It was beautiful to watch and even more fun to try out. After the lanterns and socializing we all headed back to the scholar house and were off to bed to prepare for the next full day of exploring Hubli; seeing the temple, malls, and bonding with our friends.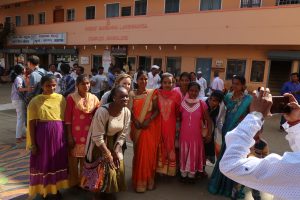 This new year has been my first new years away from my family and friends. It was different from what typically do No church, no Chinese food, and no afrobeat music to start the year but the experience I had here made me feel just at home.
Let's make this year a great one.