Today was our fourth day in San Sebastián; however, not even a bit of the culture shock I experienced on the first day had settled inside me. Today, a group of half of us made our way to La Parte Vieja, the historic district of San Sebastián, to sample the craft they created and honed over nearly the past 100 years. I'm referring to Pintxos (written in Euskara, the Basque language, and pronounced "pinchos") which might have originated in San Sebastián in 1946 and was created by Joaquín Aranburu. 
Though the concept of pintxos are similar to that of tapas in that they both are cheap, bite-sized meals, pintxos are distinct because many utilize complicated French cuisine techniques with the fresh Basque ingredients while tapas remain simple. Like tapas, pintxos can be shared amongst friends and to be ordered with a round of drinks before moving on to the next bar. These bar crawls create a uniquely social approach to dining that we in America only get to experience on nights out while, for the Basque– among other Spaniards–, it is an ingrained part of their lifestyles. 
Because this is a vacation to a foreign land, I had set a goal for myself to experiment with new things enthusiastically, which had already proven to have great results so I believed that the pintxos would also have rich rewards for the risks. The first place we visited was Haizea Bar, a quaint location on a corner in the scenic Old Part of San Sebastian. For people like me, the most glaring thing you'll notice about Spanish bars is the lack of personal space. One must fight their way to the bar to order— and to find a table, you have to wish on a star on the third day of the month while spinning around, or have hawk eyes on your surroundings then pounce when the opportunity strikes. Luckily, we had the expert professor to order for us, but I was honestly doubting his taste buds when he placed the first dish in front of us. It was bright green for one, and I couldn't pinpoint the few ingredients it consisted of, which was troubling. It appeared to be something similar to green beans, skewered to what I thought was the black tongue of some reptile, topped with an olive, and drenched in olive oil. I wasn't inherently disgusted, but I felt I should have eaten before going there in case it didn't work out. This concoction called the Gilda after Rita Hayworth's performance in the 1947 film of the same name was in fact made up of olives, Spanish peppers, and anchovies on a toothpick. Able to consume it in one bite, it was salty, spicy, and every bit of umami that I didn't know I needed. To follow up, we had another skewered dish that looked like chicken to which the vegetarians of our group looked apprehensive, but to our surprise, they were actually artichoke hearts. The combination of the peppers, artichoke hearts, olive, and a drizzle of whatever sauce they create in-house was a strange and delicious marriage in my mouth. Our final course at this bar looked more like a Christmas present than something to eat. It was a packet of minced salted cod (Bacalhau) wrapped in thin, fried sheets and secured with a bow. After these dishes, I had the impression of pintxos as something that doesn't look like it would taste good but defies your expectations.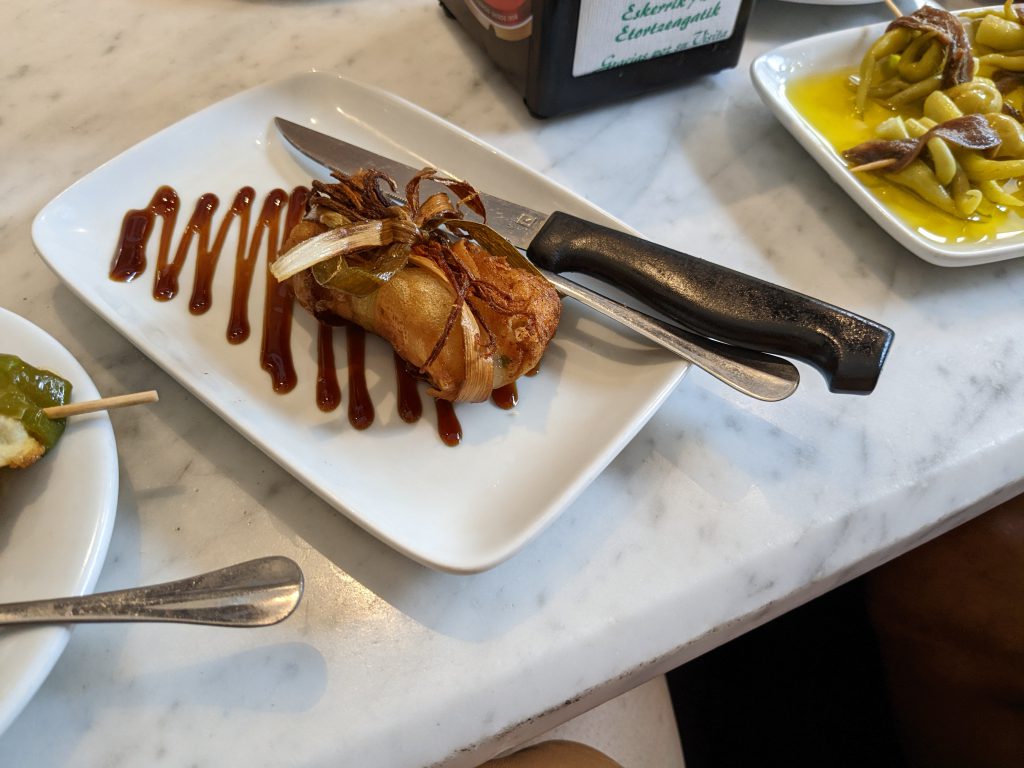 We moved onto the next bar, Bar Borda Berri, rated amongst the best for pintxos for locals, tourists, and critics alike. However, it was here that things began to get…weird. There were some highs: salmorejo ( a fresh, cold soup like gazpacho, but better), risotto with smoked cheese, and the most tender beef cheek. And there were some definite lows: tripe of cod (yes, the texture of fish intestines is as bad as you think it is) and pig's ear which I didn't try but between 3 people, they couldn't finish a little serving of it.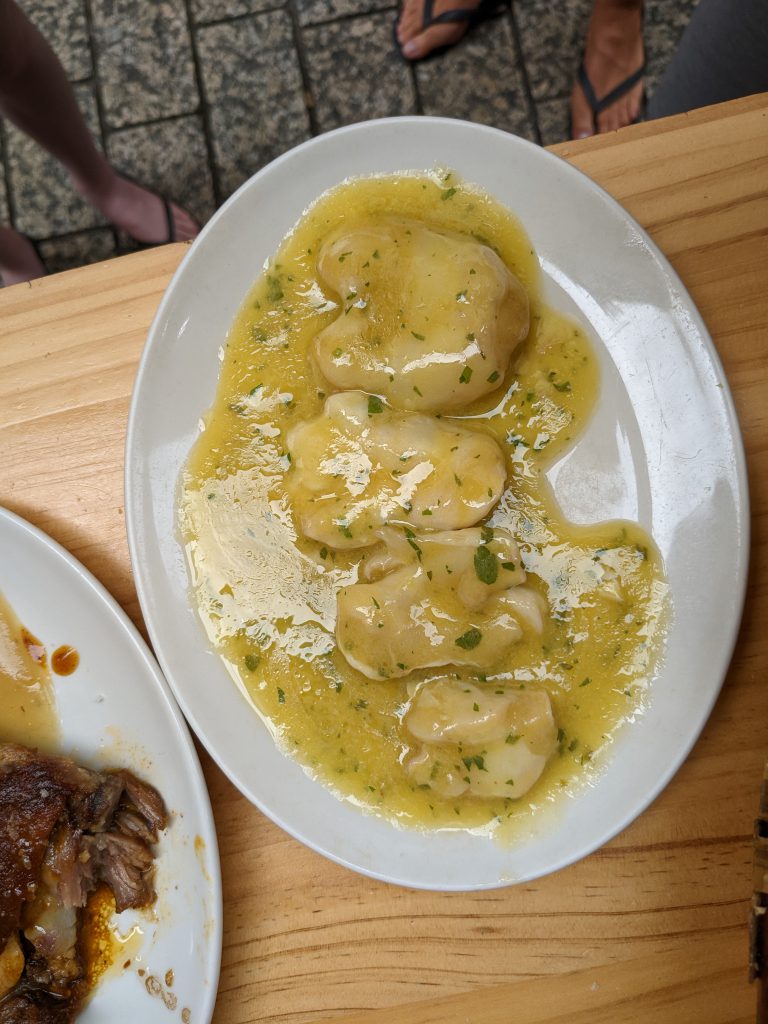 Next, we visited Txepetxa. In doing my research on pintxos, I discovered that Txepetxa is actually the Basque nickname of the local, Joaquin Aranburu, mentioned earlier that inspired the first pintxo. Therefore, I believe the restaurant is aptly named in that they specialize in anchovies, a core ingredient of the first pintxo. Unfortunately, I didn't try said specialty because I was stuffing my mouth with a delicious bite of sea urchin on a baguette slice and topped with sea urchin roe. As someone who doesn't eat fish often, I was pleasantly surprised. By this time, I was thoroughly full, but Professor Z had other plans for us.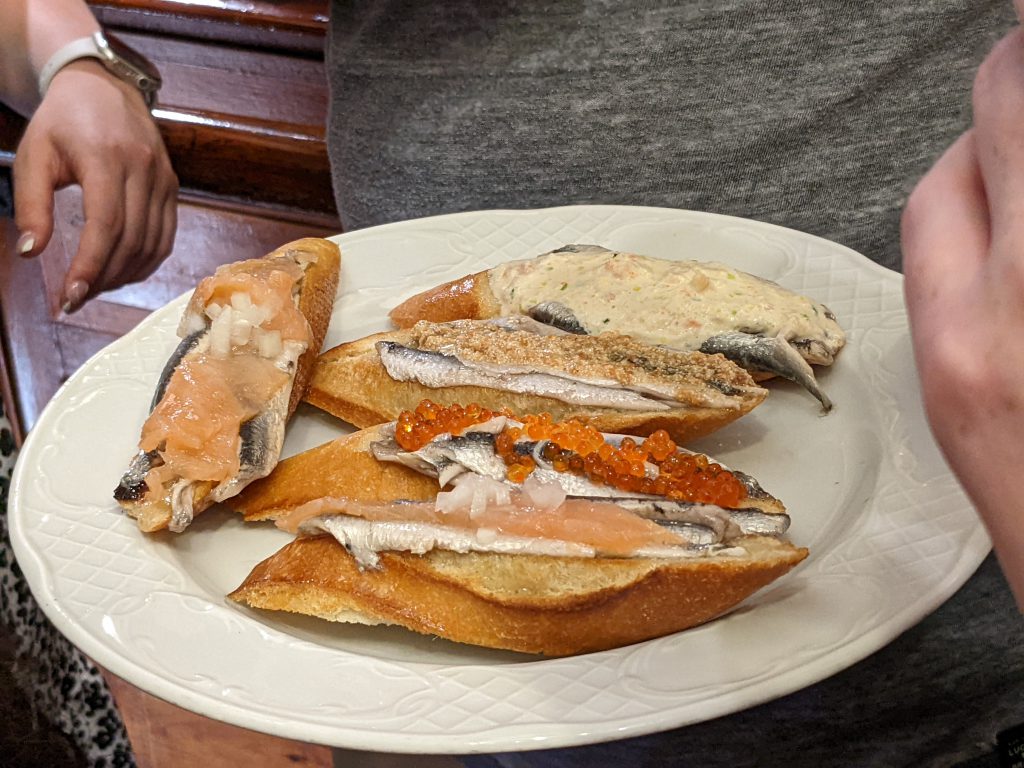 Our next stop was Ganbara, a renowned pintxos bar that was packed to the brim with those trying to get in their last orders of food before the gates closed. Here, I ate smoked salmon on a mini croissant. Seems simple, no? Yet the depth of flavor of that salmon was unreal. I could definitely imagine it going well with the local effervescent white wine, txakoli, that many bars serve. Our final stop was La Viña for dessert. This bar is famous for being the creators of the Burnt Basque Cheesecake. It is less dense and more loose than the traditional New York Style cheesecake we are used to in America. I can say that the burnt element of the cheesecake was lacking, but I nonetheless cleared my plate.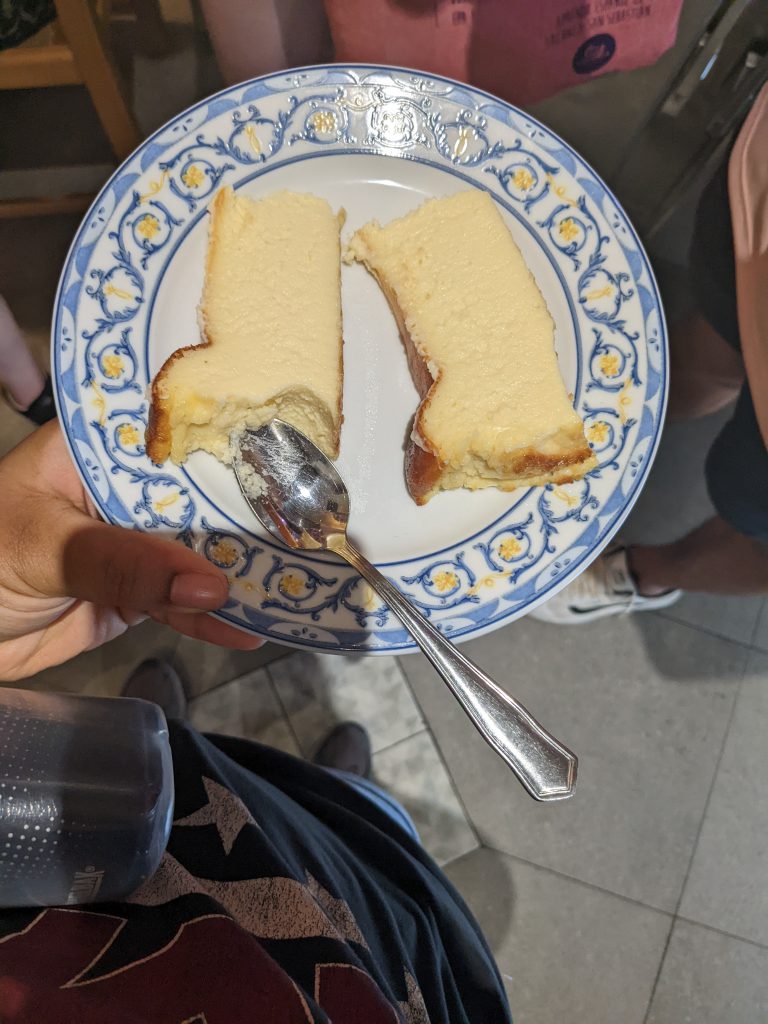 By 4pm, my stomach was hurting from all the bloat, but I didn't feel sick. Basque cuisine utilizes the best of its wealth of fresh ingredients with interesting but refreshing combinations that stay on one's tongue long after they have left the bar. I think it's impossible not to understand the Basque's love of life when you taste their food. I am in reverence that I could experience what the late Anthony Bourdain raved about as one of his top two food capitals in the world.