It comes as a bit of a shock to me to be writing this, but we've now finished our fifth day in San Sebastián. It still almost feels like less than a day ago that I felt the bump of our plane finally touching down in Bilbao just a minute short of midnight. Today, after hearing all about it from our classmates the day before, the second half of our group got the chance to explore San Sebastián's pintxo bars and culture. Today, rather than repeat yesterday's circuit in la Parte Vieja, we moved over to the Gros part of town, where we hopped around between five different Pintxo bars.
Although yesterday's article offers some explanation of what pintxos are, I'll provide a bit more since there is some rather interesting history to it. While one could be forgiven for thinking pintxos have been an essential part of Basque culture for centuries based on their ubiquity, the tradition actually has its roots in more recent times. During the Great Depression, bite sized portions of larger dishes, served alongside a small glass of wine or other alcoholic beverage, became popular among bars and restaurants as a way to keep customers coming in. Smaller and less expensive portions were more economical and allowed people to still enjoy the experience of dining out when times were tough financially. Later, in the 1970s, a group of Basque chefs who had been trained in nearby France put their own spin on the Basque classic, bringing French culinary methods to more traditional Basque ingredients and laying the groundwork for the complex and forward-thinking pintxo recipes that are served today.
Our pintxo tour began at an establishment called Casa Senra. Decorated with traditional stone and wooden beam construction, and featuring a long wooden table and matching benches, sitting down really felt like going back in time. This was appropriate as Professor Zabalbeascoa gave us a brief lesson on the history of pintxos while we enjoyed a small glass of white wine alongside some very good fresh tomatoes before we ordered our pintxos. Here, I was drawn to the salted cod, a dish I know from my Italian family's cooking as Bacala, similarly named Bacalau in Spanish. Trying the bacalau, I was not in the least disappointed. It was delicious, as were the few bites of venison and thin-sliced Iberico ham that I sampled from others' dishes. The ham is supposedly the best in the world, made from pigs fed only on acorns and free to roam in rural Basque pastures. Personally, I think it is a good example of diminishing returns, because, although it was indeed very tasty ham, I've had some non-acorn-fed prosciutto that was also pretty good.
The bacalau, with ham croquettes and venison in the background: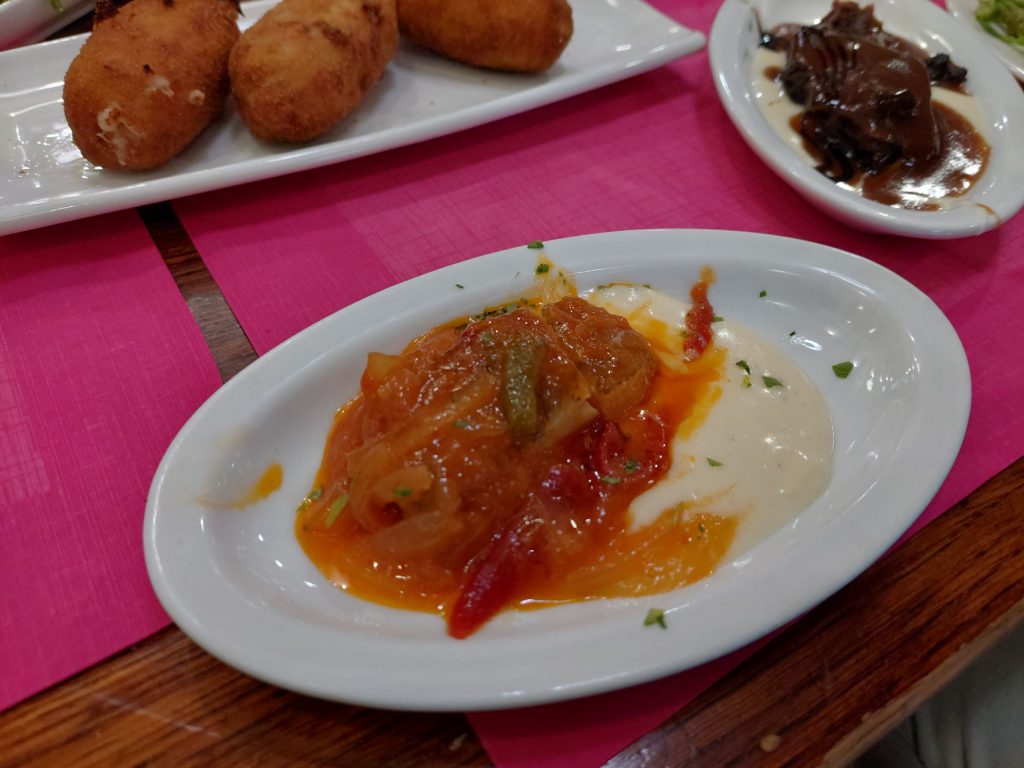 Moving on from Casa Senra, we passed several other restaurants and pintxo bars, each time getting the scoop from Professor Zabalbeasco about what was a good spot and when to go. Before long, we came to a small bar on a corner, with just a couple of tables out front and a counter full of pintxos inside. Here I sampled another fish pintxo, with some sort of yellow sauce on it. Unfortunately, despite the cute looks, neither the atmosphere nor the pintxo I tried justified spending much time there.
Next up, we found ourselves at a much more upscale establishment, and although I can't recall the name, I do remember the proudly displayed Pintxos
99 Best award on the wall. The award is given to the 99 best Pintxos bar in San Sebastián (and there are plenty more than 99 to choose from) by a group of Michelin stared chefs from the area. Here, we each sampled a Russian salad pintxo. It featured what was essentially a potato salad, dressed up with a few more small bits of vegetables and some cream on top, served over a small baguette slice and supposedly with some tuna mixed in as well, though I couldn't taste it. This was one of my favorite pintxos of the day, without a doubt. I do love a good potato salad, and although I'd probably rather forgo the fanciness of this pintxo in a larger serving size, it was fun to have something a little more adventurous for a few bites.
We came next to a place called Ramuntxo Berri. Here we tried a couple of pintxos, beginning with another one that I really liked, a piece of "carbon brie", brie cheese covered in poppy seeds, so it looked like a block of coal, with a ring of sweet jam made from peppers around it. This was another peak on the pintxo tastiness meter. In addition to this, we also tried a few small chorizo sausages, which were good, but perhaps not quite enough for me to say you won't find something similar closer to home. I also took the chance here to try a "gilda". A gilda is supposedly the original pintxo, a combination of olive, pepper, and an anchovy, all atop a small slice of baguette and held together with a wooden skewer. Not being someone who particularly likes olives or anchovies, trying a gilda was really more for the historical experience than anything else. If you do like anchovies and olives, you'll probably enjoy this pintxo more than I did.
The Carbon Brie at Ramunxto Berri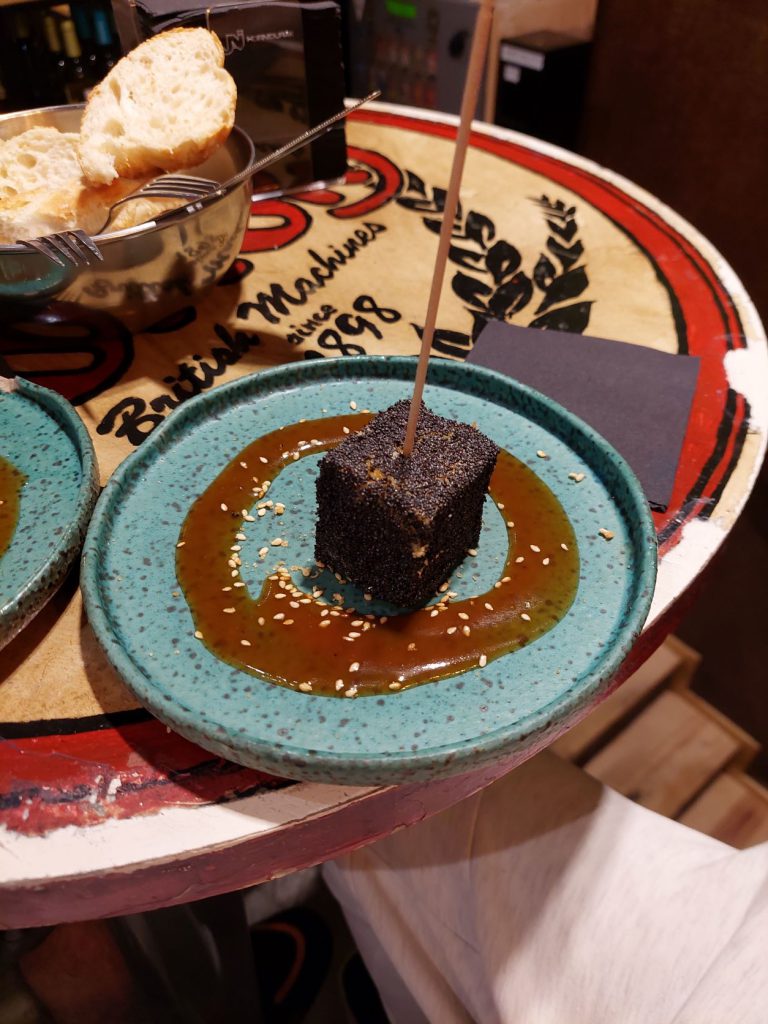 Before moving on to our dessert courses, I'd be remiss not to mention the last thing that I, and several others, enjoyed before leaving Ramuntxo Berri, which was perhaps one of the best bathroom experiences I've ever had in my life. Tucked away in the basement, a subtle blue glow graced the white porcelain facility from above, and the sink, sitting gently atop an elegant wooden counter, seemed poised to take flight like the graceful wings of a swan as the faucet poured into it what I can only describe as water so cool I could feel the crystals of alpine snow as they melted away on my hands.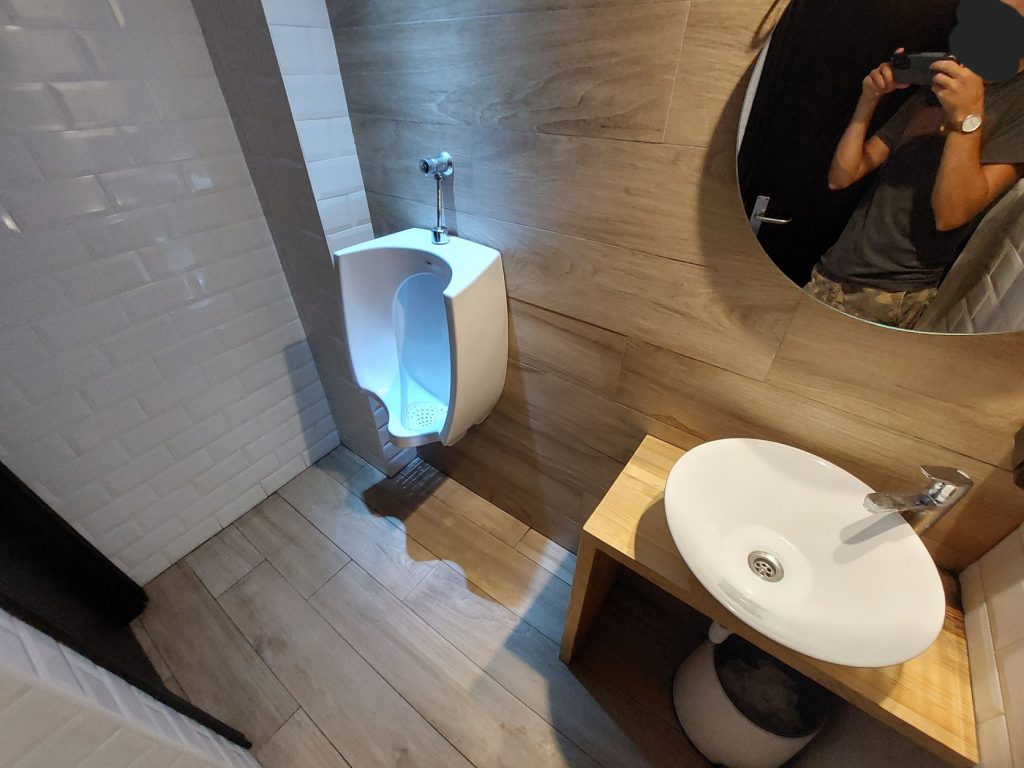 Finally at the end of our pintxo tour, our stomachs were full. Between the advice a former coach of mine once gave, to "never eat on an empty stomach", and the well-known old adage, "there's always room for dessert", this seemed like the perfect time for some gelato. We wandered a few streets down and across a square to a shuttered garage door. As always, our professor had the inside scoop. Not ten minutes later, the door was lifted and business resumed after the 1-4pm siesta. It was a good thing we'd gotten there when we did; a line was beginning to form well into the plaza by the time we'd finished ordering. Just as on the American side of the Atlantic, the Spaniards love a frozen summer treat.
We capped off our culinary Tour de Gros with a bit of cheesecake and some reflection before heading back to the hotel. In the end, while our pintxos tour was not quite the unrelenting marathon of orgasmic and heavenly tastebud experiences that I'd come to expect based on Professor Zabalbeascoa's descriptions, the highs far outweighed the lows, and I think I certainly have a new appreciation for the uniqueness and unabashed creativity of the culinary culture in San Sebastián. It is a special blend of old and new. It brings together the past and the present, using modern and adventurous styles and techniques with traditional and local ingredients to really push the envelop of what good food is. I should not forget to say, I am very glad to have experienced it, and I look forward to much, much more during the rest of our time in San Sebastián.