If I have learned anything while I have been in San Sebastian, I have learned that meals here are more than just meals. The residents of San Sebastian seek out meals in different and exciting ways. I have seen the art that is food-first hand. In crowded bars we have found small beautifully arranged pintxos. Pintxos are similar to appetizers in the United States-or tapas at your neighborhood spanish restaurant.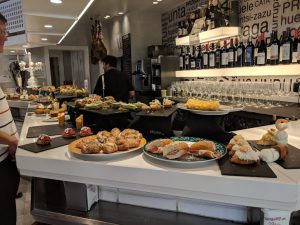 They are the small sandwiches, rice dishes, and bird livers creatively perched on top of every bar. They are a huge part of the culture here in San Sebastian. Pintxos were originally created as aquick and delicious lunch. Between the hours of 1:00pm and 4:00pm stores throughout the city close. This gives their employee´s a couple of hours to go into the city in search of lunch; more specifically in search of Pintxos.
Friday afternoon we (being Me, Amalia, Brianna, Emily, Nick and Rachel) sought out to experience the traditional restaurant experiences in San Sebastian with-ofcourse-Prof Z. guiding our path. Similar to the employee´s I mentioned above; we were also in search of Pintxos. We visited all the Pintxo bars that the eye could see in t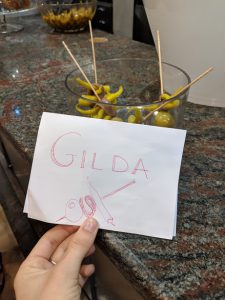 he little neighborhood known as Gros. In each restaurant we tried something different. In the first restaurant I tried what the Basques know as ´Gilda´. Gilda is a skewered pepper and an olive wrapped in an anchovy. It was quite a combination. From one restaurant to the next Julian pushed each of us out of our comfort zones in unique ways. Exploring food had never felt like such an adventure. While there our group tried everything from cow cheek to Oxtail. The food was delicious, scary, but delicious. And yet that didn't even seem to be the most important part of the tour. I discovered that pintxos are more than just appetizers. Pintxos are what bring people into the bars but are not what keep people coming back. It´s the environment, the culture, in Loren terms "it's the vibe". The vibe is a safe and exciting environment for native Basque citizens as well as for silly American students. The friendliness and helpfulness I saw from the bartenders, waiters, and even the other restaurant goers was amazing. Everyone welcomed us inside with excitement and anticipation. I discovered that pintxo bars are places to gather together socially. They call people from all across the world to step inside, feel their environment, and to try the squid.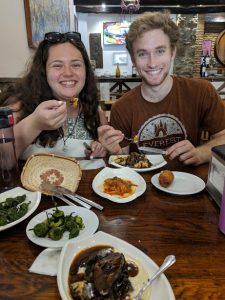 Food has always been known as something that brings people together, to share a meal is to share a bond, but what surprised me was that even in such a fast paced environment everyone is able to savor the moment. Pintxo Pote is a little event found In San Sebastian, centered all around-you guessed it-pintxos. It is similar to bar hopping in the United States. Similar while at the same time oh-so-different. It originated in the time of the Great Recession where people stopped being able to afford eating out. At that point restaurants were a luxury that very few people could afford. Pintxo Pote was created to repair this problem. On Thursday nights all the bars on one street in Gros offered people a deal. The price of one Pintxo and a beer was dropped significantly. To an affordable 2€ This made it so that people from all around were able to afford to eat out. They could grab a pintxo and be an active member of their community. I attended Pintxo Pote with a couple of students and experienced first hand how exciting it was. Like I explained above the food was just a ticket inside. Once inside you were able to meet new people, interact genuinely with bartenders, and experience bar culture in a foreign country. All while filling your stomach for a measly 6€. I believe that this is another great example of how important togetherness is in the Basque culture. It brings people together and leaves no one behind; all through bite sized appetizers!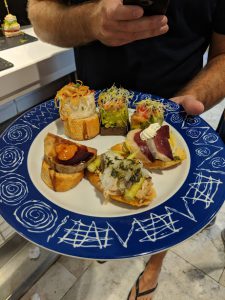 Within our little group we have vegetarians, lactose-intolerance, and picky picky people. And yet no matter what you ate, whether it be the mussels or the quiche-like tortillas, you could find a bar that welcomed you into the Basque culture with open arms. Pintxo bars are a place for diverse and exciting socialization. They cater to people all over the world as well as the citizens of San Sebastian. The restaurants and bars are places to see friends, family, and to create new relationships. I believe that the importance of food in the Basque culture stems from the importance of human relationships and of connection. Food begins this connections but the Basque people extend that opportunity to all.