July 17th
Daytrip to Pasaia & The Sea Factory of the Basques
After abruptly learning of our change in plans, my roommates and I panicked, rushing home to prepare for the new adventure. How many snacks are necessary? Where are we going? Why are we just hearing about this now?  We were not prepared for the day ahead, but my roommates´ positivity and sense of humor about the situation made me feel much better.
Beginning in Gros, with the beautiful view of Zurriola beach behind us, it was difficult to imagine that the landscape could transform into something more grandiose. However, every time we found an opening through the trees, I fell more in love with this place. Although the hike was grueling, steep, and strenuous, spirits were high because the company was so good. These people were complete strangers to me a week ago, and now they are integral to my social experience. We didn't know where we were headed, how long it would take, or (at some points) if we were even headed in the proper direction. Despite this, we laughed, talked amongst each other, shared our food, and sprinted through treacherous terrain.
For example, it has become visually obvious (at several points throughout this trip) that I am cripplingly afraid of heights. Despite this, and without convincing, I climbed up a ladder to overlook the ocean.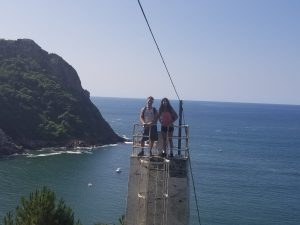 The adventurous spirit of the group continually pushes me out of my comfort zone, so much so that I feel compelled to seek out adventures myself (something my naturally introverted self tends to avoid). Through every wrong turn, we laughed. The wrong paths were happy accidents that widened our perspectives of the landscape and gave us a chance to bond, run, climb, and adventure. These wrong turns matched the unexpected, face pace of the day following our quick change in plans. Everything came together perfectly despite our confusion and uncertainty. The weather, sights, and people made for a perfect three hour trek through a foreign country.
We took advantage of any scenic outlook to not only appreciate the view but to relax and recharge. We took pictures of the scenery and of each other to memorialize the goofy mood we always seem to find ourselves in. I thought I had seen all the beauty this place had to offer, but we barely made a dent. The hike provided us with an opportunity to step out of the ´tourist agenda´ and do something that certainly not everyone physically can. The unpopulated trails left us guessing at how far we´ve gone and how far we need to go.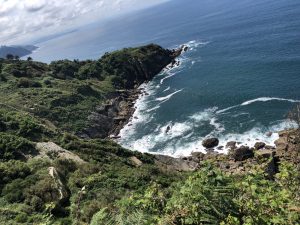 After many dog interactions and photoshoots, we arrived in Pasaia. At the Sea Factory of the Basques, we learned important historical context of the culture we have been thrown into. The replication of the San Juan boat represents unprecedented research and will contain features unique to Basque ships of the period (1565). Most notably, the keel made from beech or oakwood will have the traditional complex design will be carved from a single trunk with two adjacent planks.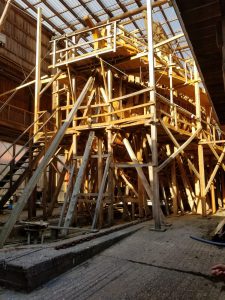 The project is in collaboration with research in Newfoundland. The replication shows the importance of communication between different countries that strives to preserve culture and history.
Although I am not fluent in Spanish, I was attentive to our guide. Relating back to our quickly formed social structure, I was happily surprised at the support I received from my classmates. They explained certain phrases to me, answered my questions, and we laughed when I couldn´t understand or keep up
The boat tour overlooked the prettiest town I´ve ever seen. Tucked into the mountainside were beautiful houses decorated with flowers and restaurants rushing to deliver wine to their customers. Food brought us all together by the ocean after a quick boat taxi ride from the museum.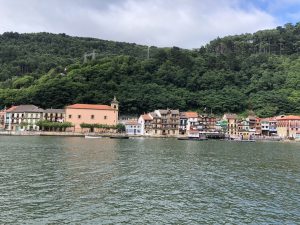 We certainly took the paths less traveled, and each time they proved to be the better way. The untouched countryside and unpopulated coastline provided us with a nice contrast to San Sebastian for a day. Although it was long and we were all very tired and hungry, the views, company, and some awesome doggos helped us recharge and continue forward. The diversity of the group keeps every conversation interesting, but our mutual values of appreciating the culture and beauty of our surroundings reassures me that I´ve made the right decision to travel here.  I´m thankful the day changed and the spontaneity kept the day interesting and fun!