San Sebastián is known for its delicious, mouth watering variety of pinxtos in every bar across the city. Pintxos are tradition in this city where people hop from bar to bar tasting small samples of different foods. In order to fully immerse yourself in the Spanish culture and feel a part of the beautiful place that San Sebastian is, you must try as many pintxos as your stomach will allow.
During our trip, the group was offered an amazing experience to get a behind the scenes look at how pintxos are made. To start the day, we all were able to sleep in due to the Spanish holiday that meant to school. After several days packed with excursions, learning, and long walks, it was nice to be able to have the day to relax and poke around the city. My friends and I went to the beach called Zurriola to soak up some sun in the early afternoon. From there we walked around the city looking through some stores around the old part of the city. After having this relaxing day off of school, we went to a restaurant called 'Euskal Billera' where the chef took us downstairs to the kitchen with food ready to be cooked and cider waiting to be tasted.
We started our cooking extravaganza with the desert since it would take the longest to prepare. The desert was a light, fluffy pastry filled with a smooth cream and topped with nuts. Once it was filled, we put it in the oven and went on to try the first pintxo. This dish was called a Hilda which consisted of anchovies, olives, and sweet peppers that were skewered by a toothpick that you build on your own. This was the first standard pintxo that started the trend of all of these delicious snacks years ago, and while it was not the most diverse pintxo we tried, it was equally delicious.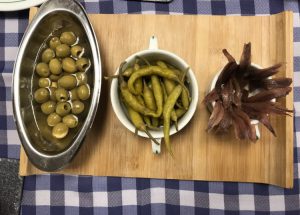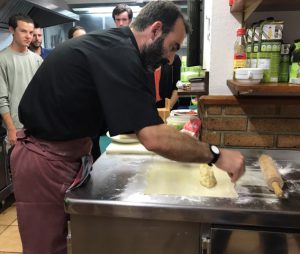 The next pintxo we all devoured was a shrimp dish. While I am not the biggest fan of seafood, I still wanted to give it a try, and all things considered it as pretty good. The shrimp was dipped in an olive oil and then covered in bits of coconut to create a great combination of flavors. As compared to cocunut shrimp in America, it tasted much more natural and wasn't fried which gave it a lighter taste. Overall, it was far better than it is back home.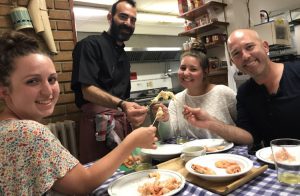 After we finished the shrimp we moved on to another more basic pintxo between the rare ones we embraced. To make this dish, we started by glazing a warm slice of bread with garlic, and then we spread a creamy tomato sauce over it. To top it off, we added a few juicy tomatoes and ham. The ham here is exceptionally good; it comes in thin slices and has a saltier and richer taste than the type of honey ham we typically eat back home. This simple dish still tasted as complicatedly delicious as the other meals we tried due to its abundance of new flavors in familiar foods.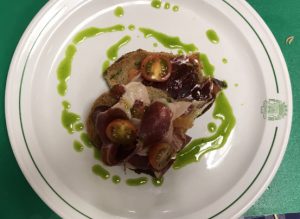 The last dish we tried was a unique mixture of greens and seafood. I was still a little apprehensive about the seafood, but from what my friends say, the average seafood lover would be highly impressed by this dish. The chef brought us into the kitchen once more to show us how to make it; he grabbed a large bowl and added some boiled octopus to start. Then he mixed in some crunchy onions, green peppers, and red peppers along with salt and vinegar to increase the flavor. We sat around the table once this was finished to try the food and yes, even I gave it a shot. As far as seafood goes it wasn't that bad, and all of my friends seemed to love it. To finish off our cooking experience and meal together, we took the desert we made out of the oven and finished off our ciders smiling from ear to ear as we all discussed our fun experience in the kitchen.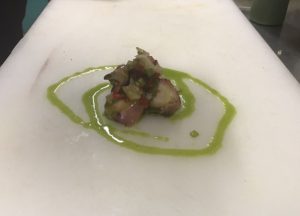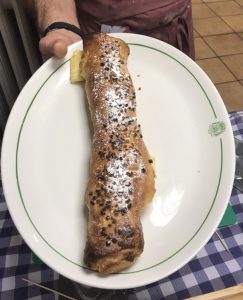 Since we have been here for about a week and a half already, we have all tried numerous different pintxos in many different bars. This made our experience in the kitchen even more unique since we already had a basic understanding of what pintxos were. For me, I'm excited to be able to continue tasting different pintxos in San Sebastián for the rest of our time here while knowing now how they are prepped and served in the background of the kitchen. ¡Me gusta la comida de España!