This morning, after having filling breakfast at with our host families, we headed off to Spanish class where we honed our conversational Spanish skills. Once Spanish class was over we got lunch and went off to Santa Clara, the island off of the coast of San Sebastián.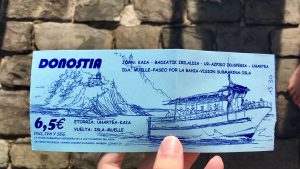 We took a boat cruise tour to the island. The tour boat went through the harbor of San Sebastián and around Santa Clara. On the boat we also got to see the beach La Concha from a completely different view. I also personally love boats so this was definitely a highlight for me. Not to mention we got to see La Concha from the boat, which was absolutely breathtaking. Until this point I didn't think that San Sebastián could become more beautiful. Of course, I was completely wrong. Not only were the views on the boat amazing, but so was the boat ride itself. There was a spot in the middle of the boat that allowed you to look down through glass to see the water going by down below. It gave us all some amazing pictures and a nice ride to Santa Clara. The boat ride alone gave me a thirst for adventure that I don't think I've felt in years.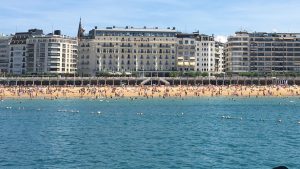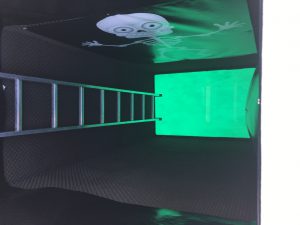 After the 30 minute boat ride we docked on Santa Clara. To say the island is magnificent is an understatement. The island had picture perfect water that sparked like a starry night, the type of water that you just wanted to jump into immediately and never leave. I was rather disappointed we couldn't go in as soon as we got there, but it was more to look forward to after class.
A fun fact about Santa Clara is that its beach disappears at high tide, so you can only truly enjoy it at certain parts of the day. I find this to be a fascinating little secret, more discovery at every turn, and I absorbed every ounce of it.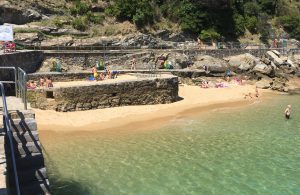 After a short but steep hike we got to a grassy spot over looking that sparkling water, and we began our class. We discussed a book that we were assigned and some of the political history it goes over.
For our trip we read All That Followed by Gabriel Urza, a work of fiction based on real events and stories in the Basque Country. The book went into the ETA, a terrorist group that was based in the Basque Country in Spain, as well as the stories of a few people who's lives changed because of them.
The author tells a story where the majority of the book is based on the past rather than the future or present of the characters. Something I found to be different as rather than wondering how the book will end in terms of events, you focus in on the people that said events had a direct effect on. What I liked in particular about this book is how it was a classic example of don't read a book by its cover, that is in respect to the characters. The three characters that the story follows are easy to make assumptions about when you first read the book. Mariana, the poor widow of a politician who was murdered five years earlier and left to raise her child by herself. Then there's Iker, a wild teenage radical who helped in the murder of Mariana's husband. Lastly there's Joni, who has spent fifty years in Basque country whom, according to the locals, has and always will be a foreigner, but is still there anyways. As I read the book, I discovered that there was so much more to them than my initial assumptions. The more you know, the less you know, in a sense. It made me question my assumptions on things and people in general. I feel as though besides telling a story, it teaches us to truly double check before judging something or someone. As I read more about these people, I wanted to learn even more.
We also discussed something that I've been curious about for months. Why haven't I heard of San Sebastián, or Basque Country for that matter, until I signed up to come here? Well the answer to that lies within its history. Back in the 1980's and 1990's the ETA caused a lot of violence and unrest in the country. The Basque Country was then used as a scapegoat after the Spanish Civil War for much of the suffering that occurred as a result. The Spanish Civil War sought to get rid of what made Basque Country so unique and amazing. Nearly a whole generation of Basque natives didn't get to learn their own language due to it being banned by Franco. When the ETA was formed, among many other reasons it started the violence for the of independence the Basque Country, to seek justice for the crimes committed against its people and to give a voice to them when it was taken away.
When I learned about this history it made me think of how sad it must have been to have your own culture denied to you. It also made me think of how big our world truly is in respect to its history. Like how a Western European country had a dictator for a good portion of the 20th century. As I think about how such things did happen, it makes me question what could happen in the near future of our country and the developed world as a whole.
This group of terrorists, which took nearly 60 years to disband, made it easy for the rest of Spain to blame Basque Country for so much violence and chaos. The Basque Country as a whole was, in a way left alone and forgotten by many people. Although peace has been here for a quite some time, San Sebastián as well as its surrounding cities and villages remain a hidden treasure to much of the world.
It is due to this sad fact that places such as San Sebastián remain undiscovered by many travelers.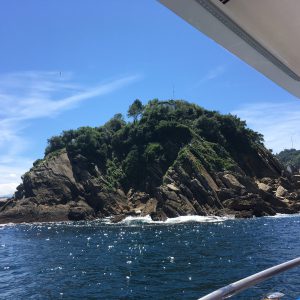 When we were done discussing All That Followed and Basque Country's recent political history, we finished the trip by swimming in the sparkling, refreshing water that surrounds Santa Clara. It was a great way to end such an amazing class.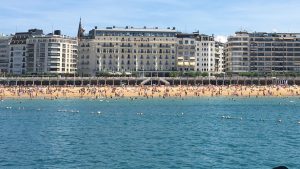 I hope that in the coming years that San Sebastián and the other places like it will no longer be known as a hidden treasure, but rather as a well known place in the world. A city that more people dream of going to and want to experience for themselves. It's a place I'm glad to know exists, I've never seen such stunning scenery. In a way I'm glad to be here now before this treasure is more well know to the world, it allows me to experience the city in depth first hand before it gets overwhelmingly crowded. There is a beauty to it that is simple yet so complex at the same time. It's clean, open, warm, sunny and uplifting. It particularly ruins other places for me because of that. In the only two weeks we've been here I can already tell that this world has so much to it that I want to discover and see with my own eyes. San Sebastián is a majestic part of our world and I'm glad that I have the unforgettable opportunity to truly experience it.