"Reality is not a short story, rather a large and memorable novel." Just one of the many brilliant quotes told to us by celebrated Basque author Bernardo Atxaga toda. Like every morning, waking up was a struggle for my roommate Grant and I. No matter how nice and cozy our beds felt, we knew what obligations awaited us.
At 10:30, our group met at a bus station to head to the village of Asteasu, the hometown of Atxaga. After a 20 minute bus ride, we arrived in this quaint little village. My first impression was a nice, quiet, somewhat desolate town. However, I soon learned that this impression was false as quite a few famous people were born there including Atxaga, the coach of the Spanish national team and his family, along with the coach of Barcelona.
A couple minutes after arriving, a small older man in a suit jacket walked over to us. We immediately realized this was the well-known author Bernardo Atxaga. He proceeded to show us around his home village consistently stopping to talk about oral stories passed down through time such as the kids who got infected by rabid dogs or how the church came to this village and dominated it which helped build the culture of the area.
The views are as breathtaking in Asteasu as San Sebastian's own vistas. One of the best sights in my opinion so far was the wide range of grassy plains and hills along with the houses perched atop them. Quite a breathtaking image to take in.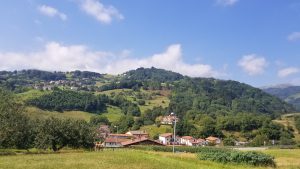 Another sight that was far more reachable while equally as aesthetic was the church. It truly personifies the culture and beauty of the village. Part of Atxaga's short story Young and Green actually took place on the steps of this church. According to Atxaga, religion was a heavy influence in the village. It helped modernize, and acted as a form of unification. For example, there were unique bells that tolled for different situations. One chime was for alerting of fire, one was to announce a death, and one even signaled the start of a fiesta. Clearly the church played a massive role in shaping today's society.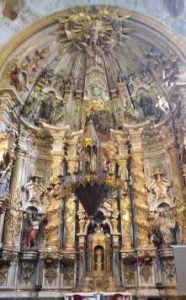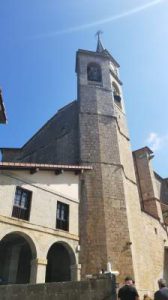 After discussing religion, politics, and a few other topics, we headed back down to indulge in some fine cuisine. It was undoubtedly the most delicious and filling meal I've had in my two weeks here. From a numerous appetizers to fish and meat entrees, with tiramisu for desert. It was truly a full course meal and the end to a well-spent day in Asteasu.
Bernardo Atxaga imparted some sage wisdom to me that I will keep in mind. When expressing my gratitude for welcome us into his town, he responded that "Reality is not a short story, rather a large and a memorable novel." These are words to live by: It's necessary to have a complete life full of adventures and experiences instead of just short snippets. Our time is short and we must make the best of it everyday. Excellent advice from the kind, clever, and humble author Bernardo Atxaga.