Here in San Sebastián our days have been nothing short of full. There are so many different activities done on each day that the days are morphed together and it's hard to believe something that felt so long ago was indeed just done a few hours ago, or that we have only been here a week. The excursions here in San Sebastián have been diverse. From an aquarium trip, going to the beach, walking tours of the city, Spanish language classes in the mornings, pintxo tastings around the city, or visiting a near by winery to see the process, we are really trying to experience all that San Sebastián has to offer in our three weeks in this beautiful city. Each thing that we do on a given day is just as important to our experience as anything else that we have done thus far.
The main reason I came on this trip was to emerge into the basque culture; a completely different culture than I have ever known before. I had never taken a Spanish Spanish class, tried a pintxo, or had to live with someone who did not speak the same language as me. I wanted to be apart of something completely different than lifestyle of my small town in Massachusetts, and see the way of life across the Atlantic Ocean and what better of a place than the beautiful and quaint city of San Sebastián.
Today in class we went to a nearby winery located in Zarautz, a nearby town of San Sebastián. A small family run company in its 4th generation, they create about 100,000 bottles a year focused solely on quality rather than quality. We were walked through the process of creating a perfect bottle of Talai Berri Txokoli, a white wine native to the basque region. There were many specific steps that went into creating a wine that meets the high standards. From hand picking each of the grapes to drinking the wine within a year of it bottling, there are so many crucial steps to make the Txokoli wine.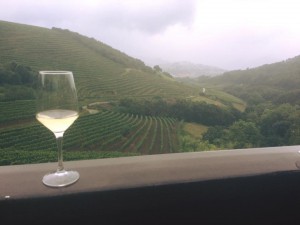 This excursion reminded me a lot about our time here in San Sebastián. Each thing that we do is crucial to becoming unified with the basque culture. My own personal battle has been the native food. Being a picky eater, the pintxo tasting was not exactly my favorite thing on the trip so far. When I saw a dish of anchovies, olives, and peppers on a dish in front of me I immediately cringed. I thought, I've ever eaten a single thing on that plate. That is how the pintxo tasting went for me. Most of the things put in front of me were things I thought I would never even think about eating. From that day, however, I have been trying to taste the things I could never imagine myself eating before. I have come to the conclusion that eating the native food is crucial to emerging into the culture. Just like how the Talai Berri winery examines every single grape to make every bottle of Txokoli of the highest quality, I must take risks I could never imagine myself taking to make the most out of my three short weeks here in San Sebastián, Spain.
Thank you Talai Berri winery for showing me that everything is a process and everything in that process is important to the end result.  Having a positive attitude and being completely committed to this lifestyle while trying everything will make for the best possible experience here in San Sebastián.